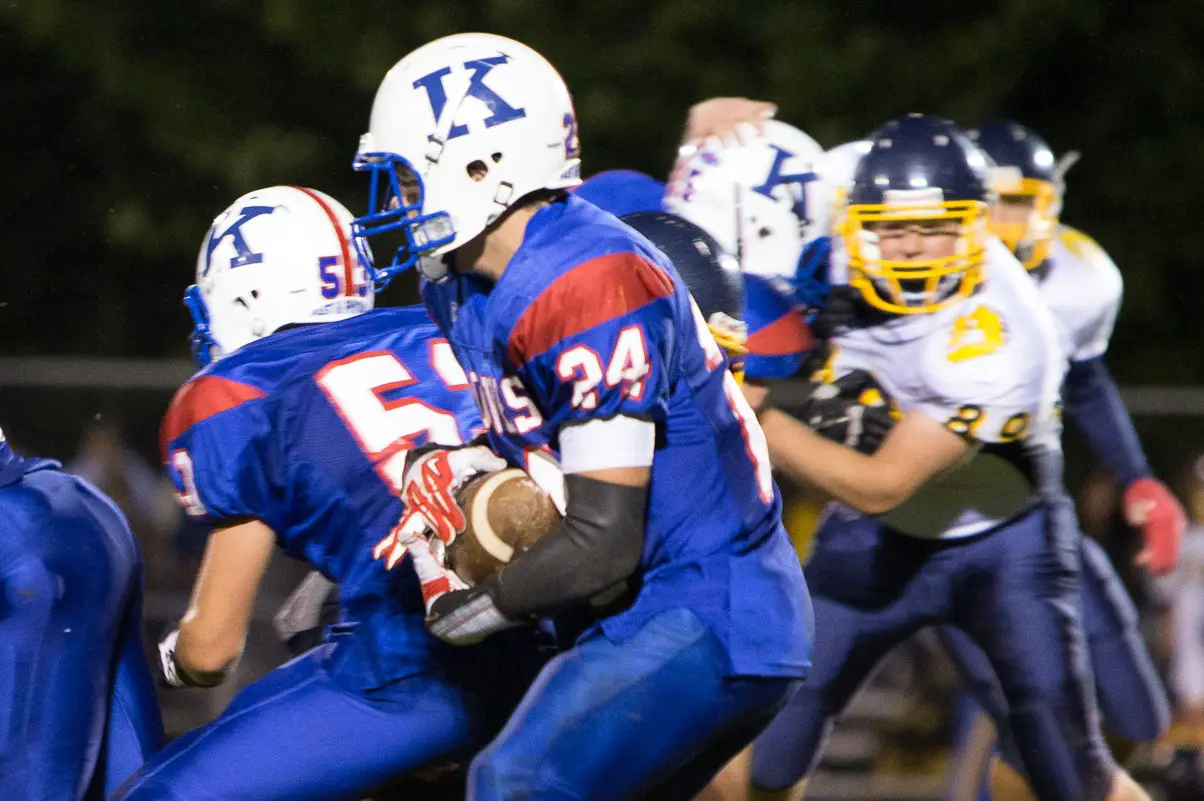 By ANDY CLOSE
DUBOIS — Kane came in to Saturday's District 9 Class A semifinal game against Clarion allowing 8.8 points per game.
That stat held true to form, as the Wolves shutdown Clarion's explosive offense, beating the Bobcats 18-8 and advancing to next week's championship game against Brockway.
And while they hit their average, this one was extra special given the magnitude of the game and the fact that Clarion, considered a heavy favorite by most, was averaging 48.7 ppg.
"Top to bottom, from our scout guys getting us ready this week to the way our offense and defense played tonight, I can't say enough about our guys," said Kane coach Todd Silfies. "Obviously, that's a great football team that is extremely well-coached and extremely talented. You don't do the things they've done the past several years without being a good team. I'm just so proud of our guys."
Fittingly, it was a play made by the stout Wolves' defense that turned the tide late in the third quarter.
Trailing 15-8, Clarion handed the ball to Destin Strauser on 2nd-and-goal from the 1-yard line on the second play of the fourth quarter. The Kane defense swarmed the Clarion senior, knocking the ball out. Kane's Ryan Swanson not only recovered the fumble, but also the momentum for his squad.
It turned out to be a back breaker for Clarion.
"We've got kids who believe, no matter what," Silfies said. "Until you're in, you're not in. We got a helmet on the football and popped it loose. That was a momentum changer."
And, while the Wolves didn't score on the drive, they moved the ball out to the 41 and effectively took the wind out of Clarion's sails.
"That was huge" admitted Clarion coach Larry Wiser. "We made mistakes out there tonight. The turnover battle went against us."
Kane had taken the lead on the previous possession leading up to the fumble, with Jack Kocjancic connecting with Logan Zuzek on a 17-yard touchdown on third-and-two, capping a 9-play, 66-yard drive.
It was part of a banner day for Kocjancic, who completed 15-0f-21 passes for 125 yards and a pair of scores.
"Jack Kocjancic had a special night," Silfies said. "I don't know what his numbers were and I don't really care, he was a difference maker for us tonight."
A 45-yard punt on the possession immediately following the goal line fumble pinned Clarion at its own 10.
The Kane defense, led by Jamie Lingenfelter, which held Clarion to 48 second half yards and just two first down, forced a three-and-out, and the Wolves got the ball on the Clarion 43 with 6:48 to go.
A couple of key runs by John English, who was a workhorse with 111 yards on 30 carries, set up a 32-yard field goal attempt by Mattis.
Mattis, who already owns a game-winning field goal this season, put the game on ice with a kick that appeared as if it would have been good from 50.
"Dillon's had some ups and downs this season, but that field goal at the end was huge," noted Silfies. "He's worked hard in the weight room and gotten stronger and has become a great kicker."
Fittingly, the Kane defenses ended the game forcing a Clarion turnover on downs, completing what was a physically dominating performance.
"They flew to the ball tonight," Wiser said. "I was really impressed with their speed to the ball."
In the first half, Kane dominated time of possession, but it was actually Clarion that struck first.
A 41-yard pass from Taylor Smith to Thomas Plummer put the ball at the Kane 1-yard line and Ian Corbett did the rest, punching the ball in and then catching a pass from Smith on the two-point conversion attempt to make it 8-0.
"They hit us over the top early on that one," Silfies said. "He (Corbett) is a great running back. I'm not sure if he was 100 percent healthy, but I thought we were able to bottle him up. You saw when he had the ball in space, we were just happy to get him down. He's a special kind of athlete."
The Wovles were able to respond, however.
Midway through the second quarter, Kane's defense came up with the first of many big plays, as Tyler Rolick made a great play and intercepted Miller at the Clarion 48-yard line, seemingly ripping the it away from Plummer and setting up the Wolves' first score.
Kocjancic went 3-of-3 on the drive, capping it up with a 7-yard TD pass to Tyler Weidenhoff, with the same duo connecting for the two-point conversion that tied the game 8-8 with 4:49 left in the half.
"He played a good game tonight," Wiser said of Kocjancic. "He played really well and kept us off-balance in coverage."
With the win, the sixth-seeded Wolves advanced to see No. 5 seed Brockway in the title  game.
It will be a rematch of a 9-7 Kane win on Oct. 3.
KANE 18, CLARION 8
By Quarters
Kane    0   8   7   3— 18
Clarion 8  0   0   0— 8
Scoring Summary
First Quarter
C — Ian Corbett 1 run (Smith to Corbett 2-point conversion pass) :56
Second Quarter
K — Tyler Weidenhoff 7 pass from Jack Kocjancic (Kocjancic to Weidenhoff 2-point conversion pass) 4:49
Third Quarter
K — Logan Zuzek 17 pass from Kocjancic (Dillon Mattis kick) 2:29
Fourth Quarter
K — Mattis 32 field goal 3:16
Team Stats
K                    C
First Downs       15                    8
Rushes-Yards    40-122          27-110
Passing Yards     125                41
Comp-Att-INT    15-21-0        3-9-1
Total Yards          247                151
Punts-Avg.           3-44.3          4-33.0
Penalties-Yards   4-40            8-65
Fumbles-Lost      0-0               3-2
Individual Stats
Rushing — Kane: John English 30-111, Tyler Rolick 8-11, Shane Rolick 1-2, Jamie Lingenfelter 1-(minus)2; Clarion: Ian Corbett 19-83, Jacob Troutman 2-18, Thomas Plummer 1-4, Colton Rapp 1-3, Destin Strauser 3-3
Passing — Kane: Jack Kocjancic 15-of-21, 125 yards, 2 TDs; Clarion: Taylor Smith 4-of-8, 41 yards, 1 INT, Ian Corbett 0-for-1
Receving — Kane: Shane Rolick 5-56, Tyler Rolick 3-25, Jamie Lingenfelter 3-24, Logan Zuzek 1-17, Tyler Weidenhoff 1-7, John English 2-(minus)4; Clarion: Thomas Plummer 1-41, Ian Corbett 1-2, Josh Kriebel 1-(minus)2