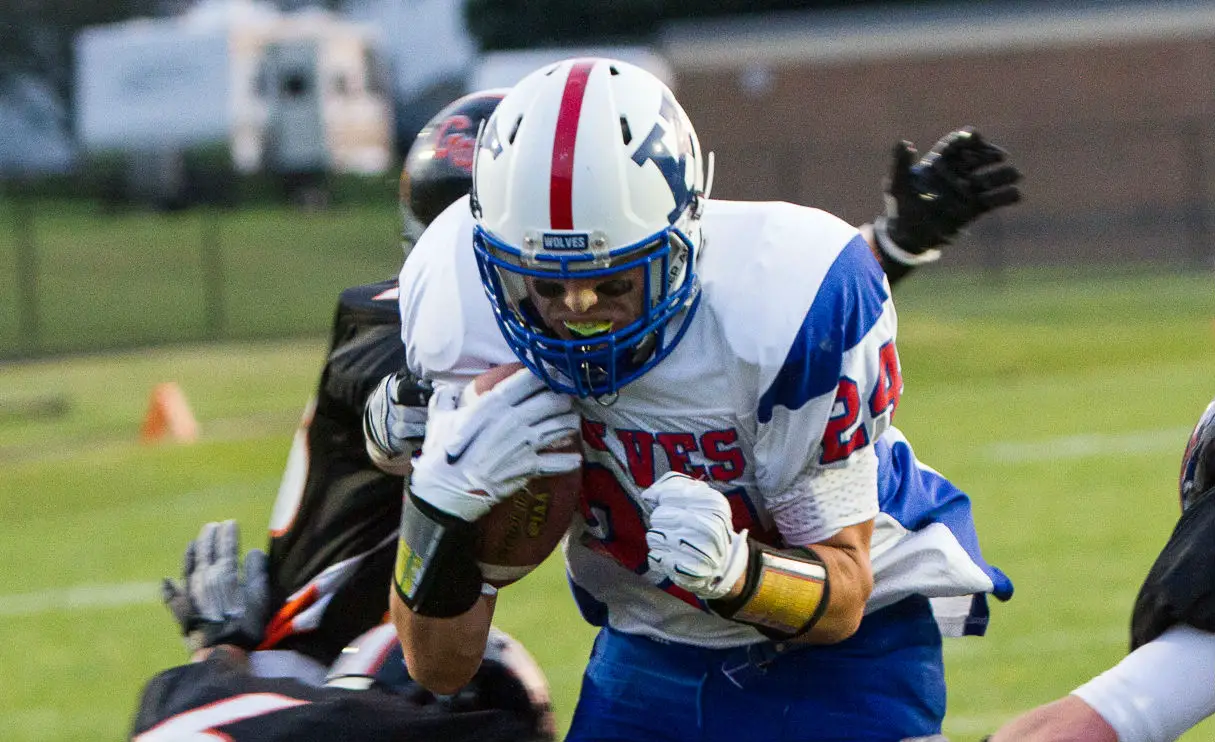 Kane Schedule; Kane Statistics
Sharpsville Schedule; Class A state bracket
By Rich Rhoades
SLIPPERY ROCK — It's on to the state playoffs for the Kane Wolves, who won their second district title in last Friday's win over Brockway in the District 9 Class A Championship game.
Next up for the 9-3 Wolves is District 10 champion Sharpsville. The Blue Devils (10-3) won their district title last week with a 29-14 win over West Middlesex, their second win of the year against the Big Reds.
Kickoff is set for Friday at Slippery Rock's Mihalik-Thompson Stadium at 7 p.m.
The Wolves take on a Sharpsville team that won its third district title in four seasons. Last week against West Middlesex, the Blue Devils jumped out to a 22-0 lead before holding off a late rally to get the win as 19th-year head coach Paul Piccirilli won his eighth title.
George Keck ran for 140 yards on 22 carries and Greg Popatak ran for 81 yards on 16 carries with two touchdowns. Quarterback Luke Henwood completed 6 of 14 passes for 93 yards, but was intercepted twice.
The Blue Devils, who opened with a 46-8 win at Otto-Eldred, started the season 5-0 before losing to defending D10 champion Lakeview, 12-6, in Week 6. They also lost to Farrell, 20-13, in Week 8 and D10 Class AA runner-up Greenville, 42-27, in their regular-season finale.
From there, the postseason run began with wins over Iroquois (62-35) and Wilmington (27-0) before beating West Middlesex last week.
Meanwhile, the Wolves head into District 10 territory with four straight wins. Last week's win over the Rovers was their second of the year against their AML-South rivals and thanks to 19 unanswered points in the fourth quarter at Clarion University, the Wolves get a shot at Sharpsville.
The Wolves got a balanced effort offensively against the Rovers as John English ran for 111 yards on 29 carries and quarterback Jack Kocjancic completed 9 of 12 passes for 112 yards. English has been a workhorse all season — 22.4 carries per game — but especially in the postseason where he's carried the ball 79 times in the last three games.
Tyler (414 yards) and Shane Rolick (240 yards), and James Lingenfelter (235 yards) also get carries out of the backfield. The Rolicks, Shane (36 catches, 347 yards) and Tyler (22 catches, 410 yards, 3 TDs).
It was Lingenfelter who led last week's fourth-quarter surge with two touchdowns, including a 45-yard fumble return. He recovered two fumbles, continuing a dominating season on defense as the team's top tackler. He went into the Brockway game averaging 14.4 tackles per game.
Friday's winner meets either WPIAL champion Clairton (13-0) or District 5 champion Berlin (12-1) in next week's state semifinals. Those teams meet Friday night at Elizabeth Forward High School.
This will be the eighth meeting between Sharpsville and a District 9 team in the state playoffs. The Blue Devils are 4-3 in those matchups.
KANE STATE PLAYOFF HISTORY
2007-Kane 12, Mercyhurst Prep 7 (Class A Quarterfinals)
2007-Serra Catholic 48, Kane 21 (Class A Semifinals)
SHARPSVILLE STATE PLAYOFF HISTORY VS. DISTRICT 9
2012-Port Allegany 28, Sharpsville 21 (PIAA Quarterfinals)
2011-Sharpsville 35, Port Allegany 33 (PIAA Quarterfinals)
2004-Curwensville 34, Sharpsville 6 (PIAA Quarterfinals)
2001-Sharpsville 35, Coudersport 21 (PIAA First Round)
2000-Sharpsville 7, Curwensville 0 (PIAA First Round)
1999-Cameron County 21, Sharpsville 20 (PIAA First Round)
1997-Sharpsville 27, Clarion 6 (PIAA First Round)