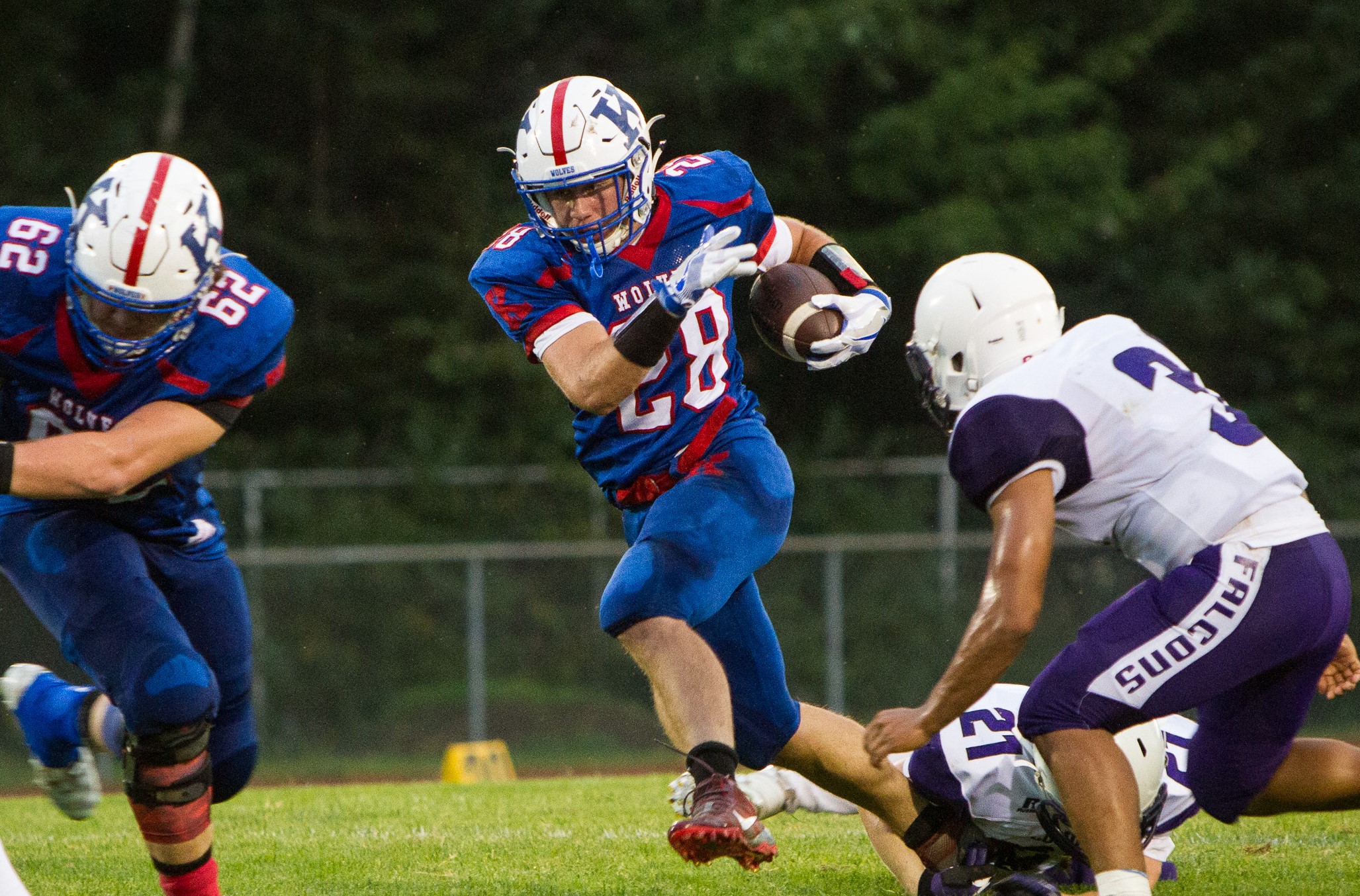 SHIPPENVILLE, Pa. – Two weeks in a row, two unbeaten teams, no problem for Erik DeLong and the Kane Wolves.
(Cover photo by Shawn Murray. Check out more of Murray's work here.)
A week after helping Kane (6-0) knock off unbeaten Curwensville, DeLong was at it again rushing for 242 yards and a touchdown while also making 12 tackles on defense to lead the Wolves to a 32-13 win over previously unbeaten Elk County Catholic Friday night.
Those numbers in a game of the magnitude of Friday night's contest are the reason DeLong is the Week 5 D9Sports.com District Football Player of the Week.
Joining DeLong in being honored are 15 players on the District 9 Honor Roll.  
The Player of the Week and Honor Roll honors will continue through the conclusion of the regular season.  
D9SPORTS.COM CO-PLAYERS OF THE WEEK
Erik DeLong – Kane: 26 carries, 242 yards, 1 touchdown; 1 catch, 20 yards; 12 tackles – Kane 32, Elk County Catholic 13
D9SPORTS.COM HONOR ROLL  
Mitch Vleminckx – Bradford: Intercepted 2 passes on defense; 2 catches, 37 yards – Ridgway 13, Bradford 0
Hunter Miller- Brockway: 12-for-18 passing, 231 yards, 3 touchdowns, 1 interception; 5 carries, 40 yards, 1 touchdown – Brockway 56, Curwensville 20
Spencer Miller – Clarion: 7-for-14 passing, 170 yards, 2 touchdowns, 1 interception; 3 carries, 35 yards; Intercepted a pass on defense – Clarion 31, Moniteau 6
Mike Macefe – Clarion-Limestone: 27 carries, 215 yards, 3 touchdowns – Clarion-Limestone 40, Brookville 21
Aaron Wolfinger – Coudersport: 5 of 9 passing, 134 yards, 3 touchdowns – Coudersport 34, Cameron County 0
Nick Stewart – Curwensville: 34 carries, 209 yards, 2 touchdowns; Moved into third in D9 history in rushing with 4,730 career yards – Brockway 56, Curwensville 20
Brock Adams – DuBois: 14 carries, 91 yards, 2 touchdowns; 4 catches, 69 yards – DuBois 29, Taylor Allderdice 13
Matt Miller – DuBois: 19-for-31 passing, 232 yards, 2 touchdowns, 1 interception – DuBois 29, Taylor Allderdice 13
Ray Maze – Kane: 4 catches, 179 yards, 2 touchdowns – Kane 32, Elk County Catholic 13
Reed Williams – Kane: 8-for-15 passing, 236 yards, 3 touchdowns, 1 interception – Kane 32, Elk County Catholic 13
Cullen Williams – Karns City: 7 carries, 117 yards, 3 touchdowns; 3-for-5 passing, 72 yards, 1 touchdown – Karns City 55, Keystone 0
Seth Drummond – Otto-Eldred: 27 carries, 137 yards, 2 touchdowns – Otto-Eldred 21, Sheffield 13
Colton Mohney – Redbank Valley: 11 carries, 60 yards, 1 touchdown; Intercepted 2 passes – Redbank Valley 14, Union/A-C Valley 0
Kevin Evan – Sheffield: 25 carries, 114 yards, 1 touchdown; 4 catches, 45 yards, 1 touchdown – Otto-Eldred 21, Sheffield 13
Devon Brown – Smethport: 24 carries, 159 yards, 2 touchdowns – Smethport 15, Port Allegany 6
2016 PLAYERS OF THE WEEK
Week Zero: Braden Paulinellie, DuBois
Week One: Nick Stewart, Curwensville
Week Two: Isaac Rumery, Clearfield
Week Three: Sam Leadbetter, Clarion-Limestone
Week Four: Hunter Miller, Brockway and Michael McCloskey, Clarion
Week Five: Erik DeLong, Kane
Week Six:
Week Seven:
Week Eight:
Week Nine: