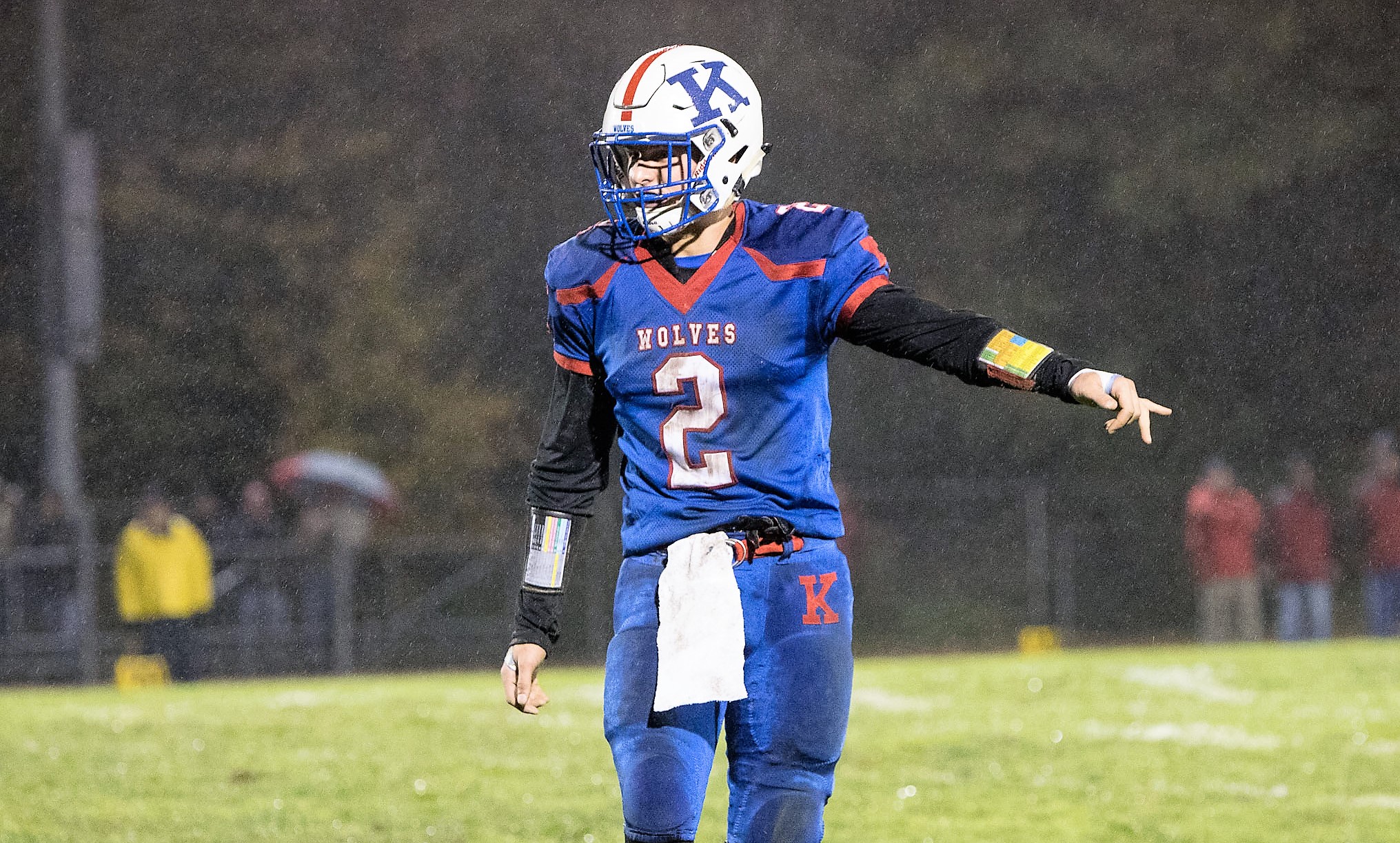 SHIPPENVILLE, Pa. – Intercepting three passes in a season is good. Doing so in a game is something else.
(Photo by Shawn Murray. Check out more of Murray's work here.)
That is part of the reason Kane's Davis Gardner is the Week 8 D9Sports.com District 9 Football Player of the Week.
Gardner had three interceptions while adding a touchdown catch and grabbing five passes for 64 yards to help Kane claim its second straight AML South title with a 14-3 win over previously unbeaten Brockway.  
Joining Gardner on the District 9 Honor Roll are 15 players including last week's Player of the Week Kyle Hopson, who had another 200-yard receiving night for DuBois.
The Player of the Week and Honor Roll honors will continue through the conclusion of the regular season with next week being the last week for the honors in 2016.  
D9SPORTS.COM PLAYER OF THE WEEK
Davis Gardner – Kane: 5 catches, 64 yards, 1 touchdown; Intercepted 3 passes on defense; Helped Kane secure its second straight AML South title – Kane 14, Brockway 3
D9SPORTS.COM HONOR ROLL
Colton Rapp – Clarion: 13 carries, 220 yards, 2 touchdowns; Went over 1,000 yards on the season (1,190) – Clarion 54, Union/A-C Valley 0  
Mike Macefe – Clarion-Limestone: 21 carries, 187 yards, 3 touchdowns; Went over 2,000 career rushing yards (2,022) – Clarion-Limestone 58, Keystone 8
Seth Caldwell – Clearfield: 21 carries, 172 yards, 2 touchdowns – Clearfield 49, Philipsburg-Osceola 0
Jared Green – Coudersport: 17 carries, 111 yards, 2 touchdowns; Returned a punt 68 yards for a touchdown – Coudersport 46, Port Allegany 20
Nick Stewart – Curwensville: 38 carries, 304 yards, 3 touchdowns; Became the third runner in District 9 history to break 5,000 career yards (5,236) – Curwensville 37, Bradford 8
Kyle Hopson – DuBois: 5 catches, 221 yards, 2 touchdowns; Caught the game-winning touchdown pass with 3:16 to play; Became DuBois single-season record holder for receiving yards (1,330) and receiving touchdowns (16) – DuBois 42, Newport 35
Matt Miller – DuBois: 12-for-36 passing, 330 yards, 2 touchdowns 1 interception; Ran for a touchdown; Threw the game-winning touchdown pass with 3:16 to play – DuBois 42, Newport 35
Cullen Williams – Karns City: 9 carries, 117 yards, 3 touchdowns; 2 catches, 13 yards  – Karns City 44, Moniteau 10
Seth Drummond – Otto-Eldred: 22 carries, 118 yards, 1 touchdown; 1 catch, 19 yards, 1 touchdown; Became Otto-Eldred's all-time leading rusher with 2,606 career yards; Helped Terrors to AML North title, the first outright divisional/conference crown for Otto-Eldred since 1985 – Otto-Eldred 39, Smethport 0
Ethan Riley – Punxsutawney: 8 carries, 19 yards, 1 touchdown; 4 catches, 69 yards; intercepted 2 passes on defense – Redbank Valley 27, Punxsutawney 6
Clint Thurston – Redbank Valley: 15 carries, 156 yards, 4 touchdowns; 8 tackles on defense with five for a loss and two sacks. Hit 3 of 4 extra point – Redbank Valley 27, Punxsutawney 6
Joey Elinski – Ridgway: 15 carries, 82 yards, 1 touchdown; 2 interceptions on defense; Scored game's lone touchdown in first quarter and helped Elkers limit Elk County Catholic to 149 yards of offense including 13 yards rushing – Ridgway 7, Elk County Catholic 0  
Cale Albaugh – Sheffield: 6-for-15 passing, 101 yards, 1 touchdown; 7 carries, 15 yards, 1 touchdown; Intercepted a pass on defense – Sheffield 26, Cameron County 6
Frank Wagner – Sheffield: 2 catches, 20 yards, 1 touchdown; 2 interceptions on defense – Sheffield 26, Cameron County 6
Parker Smith – St. Marys: 2 interceptions on defense; Returned one of the interceptions 75 yards for a touchdown – St. Marys 35, Brookville 0
2016 PLAYERS OF THE WEEK
Week Zero: Braden Paulinellie, DuBois
Week One: Nick Stewart, Curwensville
Week Two: Isaac Rumery, Clearfield
Week Three: Sam Leadbetter, Clarion-Limestone
Week Four: Hunter Miller, Brockway and Michael McCloskey, Clarion
Week Five: Erik DeLong, Kane
Week Six: Chandler Turner, Karns City and Kevin Evans – Sheffield
Week Seven: Kyle Hopson, DuBois
Week Eight: Davis Gardner, Kane  
Week Nine: