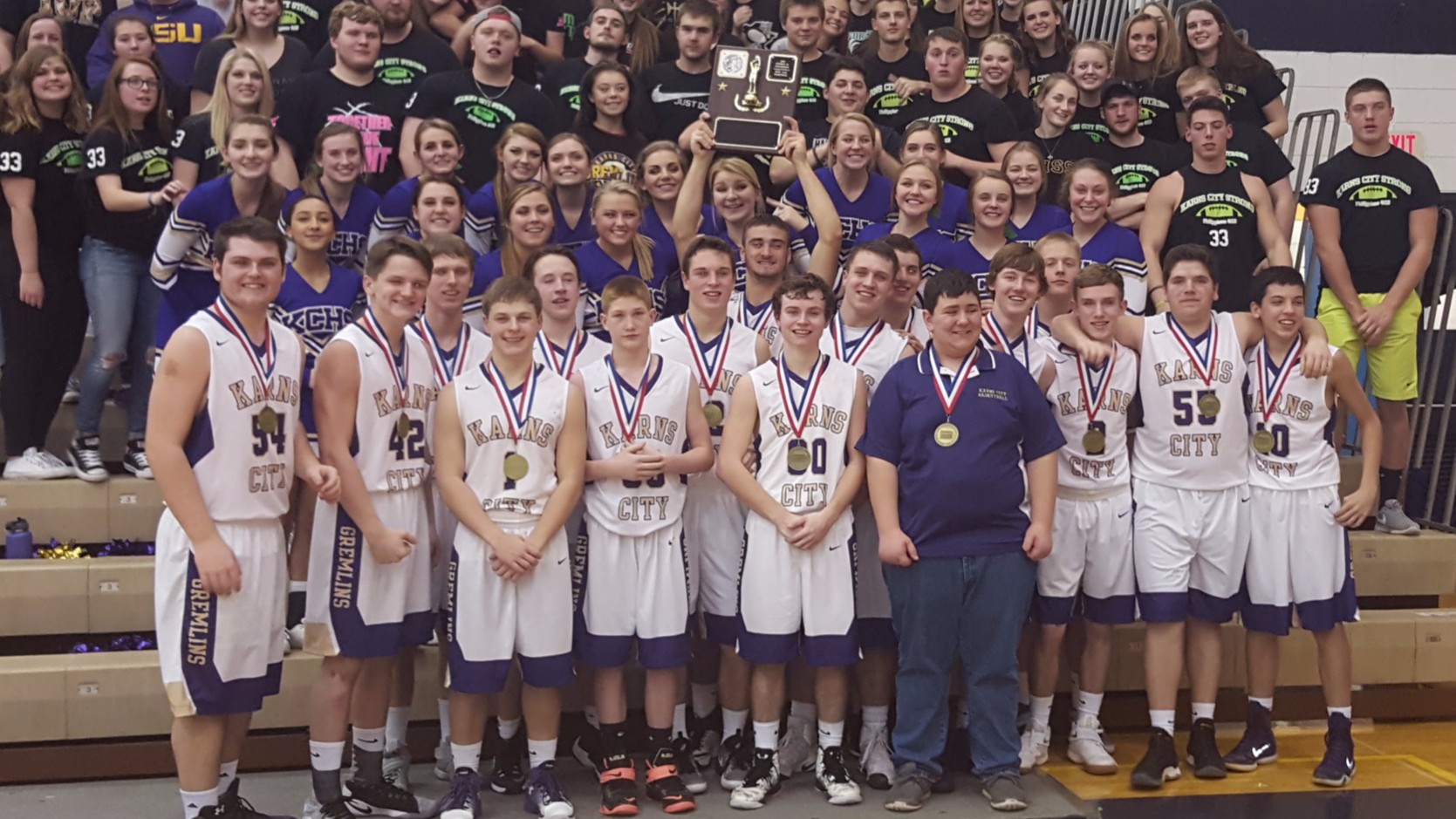 CLARION, Pa. – In some ways, it's probably fitting that a first-year basketball playing senior was the catalyst to Karns City's first District 9 championship in 12 years.
Eric Dodd netted 16 points and hauled down eight rebounds including four key points to end the third quarter to help the Gremlins (17-7) to a 56-51 win over Brookville (12-12) in the District 9 Class 3A title game Wednesday night at Clarion University's Tippin Gym.
"It means a lot," Dodd, the Hager Paving Player of the Game, said. "We haven't won D9 basketball since 2005. Come out here and getting this victory in 2017 means a lot to the school and a lot to us."
Watch Dodd's full postgame interview.
Dodd, who was asked to do a little more for the Gremlins Wednesday night because Jimmy Thompson was away on vacation, responded in a big way scoring his second-highest point total of the year, only the sixth time he has been in double digits on the season, and his highest since 19 on opening night.
"We made a couple of little adjustments defensively because Jimmy wasn't here," Karns City head coach Chris Bellis said. "We had Eric guard their point guard and also had him at the top of the zone when we were in zone hoping he could get a couple of runs outs. Fortunately, that strategy worked, and he was able to get a couple of baskets off the break. He is so athletic and fast, he is the perfect guy to try to get that opportunity to score on the break."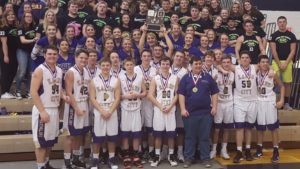 Perhaps Dodd's two biggest baskets of the game, at the 1:19 mark and 55-second mark of the third quarter, came as a result of fast breaks.
Those buckets pushed a two-point, 33-31, Karns City lead into a six-point, 37-31, advantage by the end of the third quarter.
Dodd then scored two more back-to-back hoops for the Gremlins in the fourth quarter finishing a fastbreak at the 4:47-mark and then scoring against with 3:45 to play to put KC up 10, 46-36.
But Brookville, which lost leading scorer Aaron Park, a freshman and one of the top candidates for District 9 Rookie of the Year in the first quarter to an ankle injury, didn't go away without a fight and cut the Karns City lead to two, 49-47, on a Ben Reitz layup with 56.1 to play.
"I think it shows that we haven't been in this game," Bellis said of why Brookville was able to make a run. "Not only haven't we won a district title in 12 years, I don't know if we have played in on in 12 (they hadn't). The last time Karns City boys' basketball was in a game like this, these kids were six years old. Our kids haven't had the experience in the big game situation."
Reitz scored four points during the run, while Bryan Dworek, who had a game-high 18 points, hit a 3-pointer after he got his own rebound following two missed free throws with 1:56 to play.
Karns City, though, was cool under pressure at the line with Noah Pollock nailing a pair of free throws with 32.8 to play to push the lead back to four, 51-47.
Colton Singleton answered with a bucket for Brookville on the other end and had a chance to make it a one-point game when he was fouled. But he missed the free throw, and Noah Kepple connected on two charity shots to make it 53-49 with 20.4 left.
Jacob Friel then hit one of two free throws with 10.3 to go to push the lead to 54-49 before Jimmy Moore nailed two charity shots with 5.0 left to make it a 3-point game.
Kepple, however, whose older sister Ally was a champion at Karns City on the girls' squad in the late 2000s, nailed two free throws with 3.7 left to start the celebration.
In all, the Gremlins were 8 of 10 in the final 1:03 from the free-throw line.
"I thought Noah Pollock and Noah Kepple were the guys who stepped up and knocked down some free throws for us," Bellis said. "They are good shooters and capable of doing that. I think because of our confidence in them being able to do that, we were able to take the air out of the ball with a two-point lead. We were confident our guys were going to knock down the free throws."
Things started well for Brookville with the Raiders jumping out to a 14-6 lead with two minutes left in the first quarter.
But just over 30 seconds after Reitz gave Brookville the eight-point lead, Park, who had five points, suffered the non-contact ankle injury and had to be carried off the floor by a couple of his teammates.
Without the freshman, who does a little bit of everything for the Raiders, on the court, Karns City outscored Brookville 19-10 the rest of the half to take a 25-24 halftime lead.
"Yeah, it was to our advantage," Bellis said. "Him being in there would have definitely changed our matchup a little bit. But, at the same time, I'm also pretty confident Chandler (Turner) would have matched up well with him man-to-man."
Where Brookville missed Park the most was in rebounding with the Gremlins outrebounding the Raiders 13-4 in the second quarter and 38-29 for the game. Turner was a beast on the boards with 13 rebounds, 10 before halftime, including four offensive boards.
The rebounding edge, especially the 14 offensive boards to Brookville's nine, helped Karns City overcome a bad shooting night – the Gremlins were 17 of 46 (37 percent) and that was with them hitting 6 of their last 9 shots.
Karns City's defense was also key forcing 14 Brookville turnovers, including six in the third quarter.
"Just before Aaron went down, we went to a man-to-man," Bellis said. "I felt we played pretty good man-to-man defense the rest of the way."
Karns City moves into the PIAA playoffs where it will face the third-place team out of District 10, either Erie First Christian or Seneca. Brookville's season is over.
"It's been a challenge," Bellis said of winning the district title. "A bigger challenge than we thought it was going to be when I took over as the boys' basketball coach here. I didn't realize it was going to be this challenging. But our kids worked hard and continued to work hard every year, and this year we were fortunate some things went our way. We were able to execute some things. We've had our eye on this all year. We felt we matched up pretty well with the teams we were going against. We were happy with the way things turned out."
KARNS CITY 56, BROOKVILLE 51
Score by Quarters
Brookville 14 10 7 20 – 51
Karns City 11 14 12 19 – 56
BROOKVILLE – 51
Bryan Dworek 7 2-4 18, Aaron Park 2 0-0 5, Jimmy Moore 2 2-6 6, Ben Reitz 4 2-4 11, Colton Singleton 4 1-4 9, Seth Ray 1 0-1 2, Nick Keth 0 0-0 0, Trenton Gilhousen 0 0-0 0, Alec Lachnicht 0 0-0 0. Totals 20 7-19 51.
KARNS CITY – 56
Noah Pollock 3 6-8 14, Ian McElroy 5 5-7 16, Eric Dodd 8 0-0 16, Jacob Friel 0 1-2 1, Chandler Turner 1 0-4 2, Noah Kepple 0 5-6 5, Nolan Riley 0 2-2 2. Totals 17 19-29 56.
Three-pointers: Brookville 4 (Dworek 2, Park, Reitz). Karns City 3 (Pollock 2, McElroy).