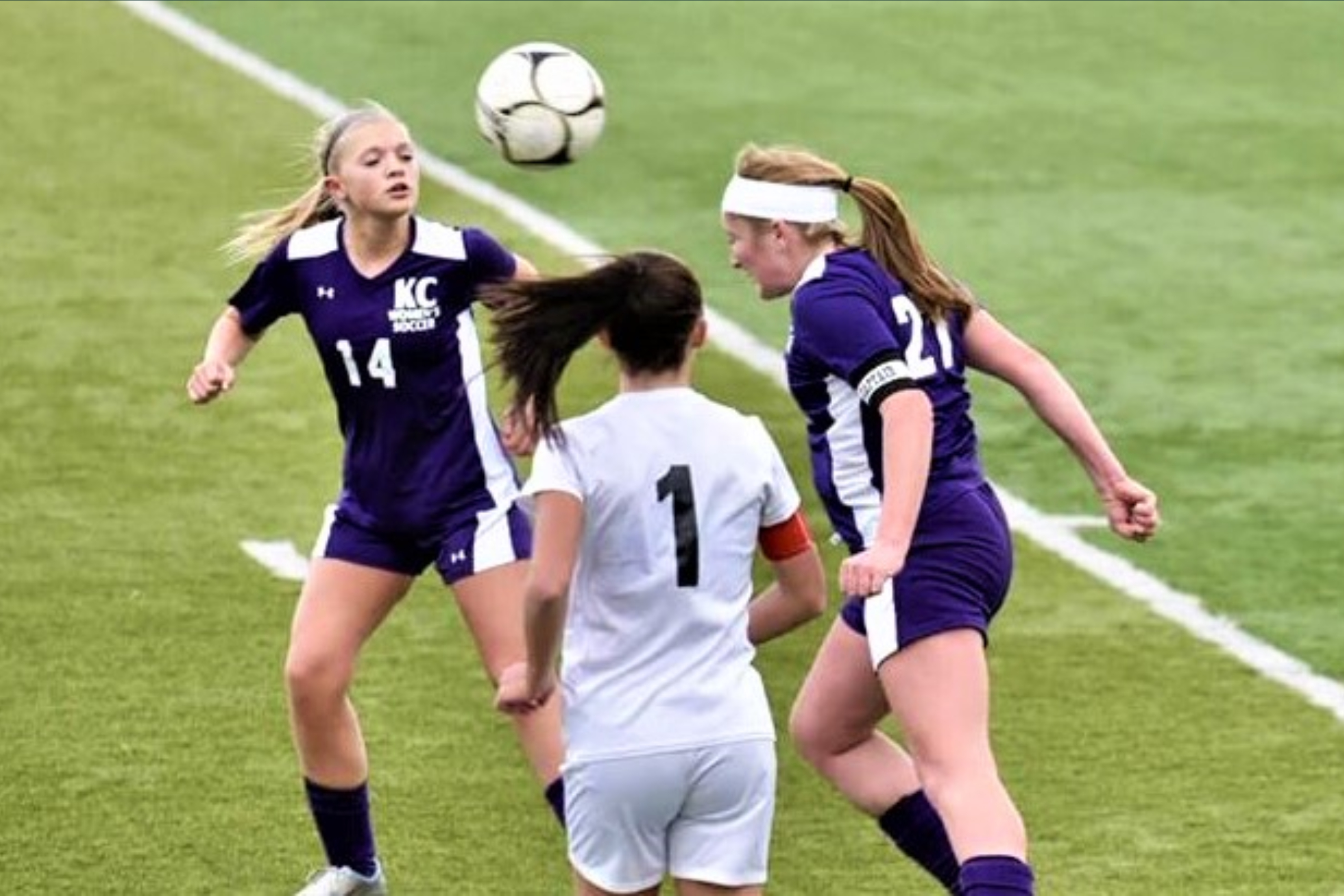 BROCKWAY, Pa.  – Two Hunter Dittman goals 54 seconds apart just a little over midway through the first half lifted second-seeded Karns City to a 2-1 win over third-seeded Clearfield in the District 9 Class 2A girls' soccer semifinals.
(Photo of Hunter Dittman heading the ball Tuesday vs. Clearfield. Photo by Howie Dittman)
Played at Varischetti Field in Brockway, Dittman scored early in the 22nd minute off a corner kick by the Lady Gremlins.
Alyson Fennell took the corner from the right side of the net and Alexis Moore knocked it down then tried to kick it towards the net. The ball glanced off Clearfield's Lydia Brown and went right to Dittman, who was about 10 yards out. Dittman was then able to beat Lady Bison keeper Hayley Moore just inside the left post to give Karns City a 1-0 lead.
Dittman's second goal, just moments later, was much flukier. In fact, the Lady Gremlins senior said she wasn't even taking a shot on goal just trying to put a ball through the Clearfield defense. But the ball took a large hop off the turf at Brockway and ended up bouncing over the head of Moore and into the back of the net just below the crossbar.
Dittman talked about the goal and the victory.
After halftime, Karns City looked determined in the early minutes of the second half to add to its lead with both Olivia Rumbaugh and Alexis Moore having good opportunities.
But it was Clearfield that answered the bell when Alayna Ryan was taken down in the box early and was awarded a penalty shot, that she buried early in the 51st minute to get the Lady Bison within a tally, 2-1.
After the Ryan goal, Karns City had a couple of good chances over the next eight minutes to regain the two-goal lead, including at least three corner kicks. But the Lady Gremlins couldn't connect.
Then starting in about the 61st minute, Clearfield, playing desperate, started getting the better of the chances.
Emma Hipps had a shot that just went over the top of the net from the side, and the Lady Bison ended up with three corners in the final 15 minutes but couldn't connect.
Karns City head coach Tracey Dailey talked about the victory.
BROOKVILLE 2, ST. MARYS 1
BROCKWAY, Pa. – Fourth-seeded Brookville stunned top-seeded St. Marys, 2-1, in the District 9 Class 2A girls' soccer semifinals at Brockway's Varsichetti Field.
Few gave the Lady Raiders a chance coming into the game considering they had not only been beaten twice by the Lady Dutch during the regular season but neither game was even close with St. Marys winning 6-0 Sept. 20 in Brookville and 5-0 Oct. 10 in St. Marys.
But Tuesday night on the wind-swept, cold turf in Brockway, it was a different story.
Scoring midway through the 13th minute, Brookville grabbed an all-important 1-0 lead when Sara Muders pushed home a feed from Madison McAnich.
"We really focused on pushing the ball up the sides," Brookville head coach Kaitlyn Hill said. "Sara was able to find the back of the net. It wasn't one of those shots you know is going to go in, but she poked it in with her left foot.
"It was really important to get that first goal. I think it put (St. Marys) down right away and allowed us to keep shooting. We had something like seven shots in the first half. We outhustled them in the half, and our players really worked hard together."
Up 1-0 at halftime, Hill said her message to her team was a simple one.
"I told them, it's 0-0," Hill said. "We are still battling for this win. we need to get right back out there and play as we did in the first half. We have played a lot of games on turf this year, so we have the advantage of knowing how to play on turf."
Brookville did go right back out and continue to battle, and that battle paid off when Cassidy Kemmer scored an unassisted goal early in the 52nd minute.
"I think it came off a defender at the top of the 18 and she buried it with her left foot," Hill said.
St. Marys had a golden opportunity to get back into the game around the 63rd minute when Lauren Eckert was awarded a penalty kick.
But Eckert's try hit the crossbar and stayed out leaving Brookville with the two-goal advantage.
"I knew when that didn't go in that we had a chance and we had to take it," Hill said. "We pushed back into defense. We really focused on defense."
St. Marys did break through about two minutes after the missed PK when Kaylee Muccio beat Avery Gilhousen to cut the Brookville lead in half, 2-1, with 15 1/2 minutes still left to play.
"We knew at that point we had to pack it in and play really solid defense," Hill said. "The girls did that."
Gilhousen, who made six saves on the night, and the Brookville defense did just that and came away with the victory.
"We came out tonight and wanted to win," Hill said. "We knew we could win. It was about playing team ball and just really wanting to win today. I'm very proud of them."
The District 9 title game between Brookville and Karns City will be played next week at a date, time and location to be announced.