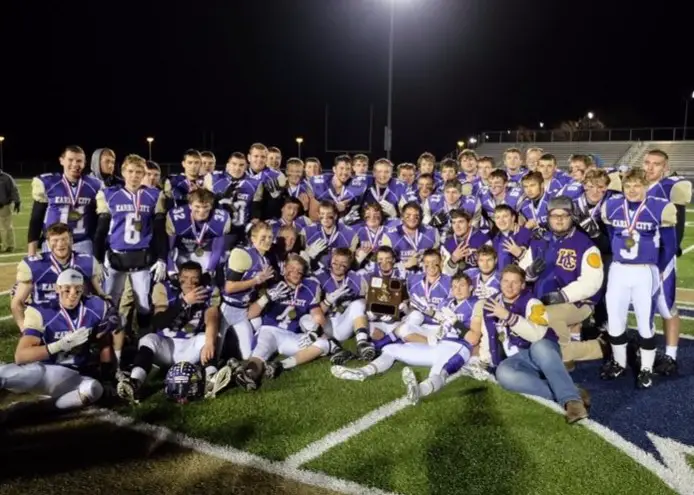 | | |
| --- | --- |
| KC receives D9 trophy | Game Highlights |
By Chris Rossetti
CLARION, Pa. – Thanks to a harder-than-it-looked 43-6 win over Moniteau in the District 9 Class AA title game Friday night at Clarion University's Memorial Stadium, Karns City achieved a District 9 first, becoming the first AA team to capture four straight titles.
And that is something that makes Karns City head coach Ed Conto very happy:
Early on, the game had the same feel as Karns City's 41-0 beating of Moniteau in the regular season, a game that saw the Gremlins up 28-0 at the end of the first quarter and 41-0 at the break.
That was because Karns City needed just 48 seconds and three plays to take a 6-0 advantage in this one, as Chander Turner scored on a 23-yard touchdown run.
But then a funny thing happened on the way to a blowout: Moniteau responded and in a big way.
The Warriors, looking for their first title since 2011, tied the score right back up when do-everything quarterback Derek Boben hit Wyatt Ifft with a 59-yard touchdown pass that saw the wide out make a couple of nifty moves after the catch to elude Karns City defenders.
"The last game wasn't an indicator," Moniteau second-year head coach Wade Vogan said. "Last game, they got 28 points in the first quarter. This game, it was 6-6."
Moniteau actually had opportunities to take the lead only to see costly mistakes play a big role in allowing Karns City to score 17 points in the final six minutes of the first half to go up 23-6 at halftime.
The first of those mistakes came right after the Ifft touchdown when Boben's earthquake rattling hit on Collin Dunmyre forced a fumble that Moniteau recovered at the Karns City 29-yard line.
But a snap that went wild over Boben's head derailed a scoring opportunity for the Warriors, who also turned the ball over four times in the opening half and five times in the game.
"Four turnovers in the first half, you can't come back against Karns City like that," Vogan said. "They're too good."
The third of those turnovers, a fumble by Shonn Kline that gave Karns City the ball at the Moniteau 15-yard line midway through the second quarter, led the the go-ahead points for Karns City, which came off the toe of Kaiden Powers, who hit a 32-yard field goal to put the Gremlins up 9-6.
"We were making a lot of mistakes because we were playing hard and fast," Conto said "But at the same time we were creating a lot of turnovers because we were hitting hard. It's a little bit of a trade off."
Another Moniteau fumble, this time on another bad snap over the head of Boben, led to a 15-6 Karns City lead thanks to a 35-yard screen pass from Jacob King to Maverick Kelsea with 3:28 to play.
Karns City's defense then forced a three-and-out which led to a 5-yard Dunmyre touchdown run, one of two on the game for the senior who ran for a game-high 113 yards, with 1:21 left in the half.  
"I hate bye weeks," Conto said when asked if not playing last week led to some of the Gremlins' first-half problems. "This is what you get after that. I wish there was some way you didn't have to have them. I think my guys were a little bit crazy and out of control (at the start of the game). We just had to settle them down. I think we were playing too keyed up and giving them too many easy plays with things we weren't doing correctly, and Moniteau played very hard."
Even up 17 at the break, Karns City wasn't able to start fully pulling away until late in the third quarter when Kelsea scored his second touchdown of the game, this time on a 3-yard run following a 36-yard scamper by Dunmyre, with 49 seconds left in the third quarter.
The Gremlins then got a 54-yard Powers touchdown run and a 4-yard Dunmyre scoring run in the fourth quarter to set the final score.
"I think that's a special thing to be able to do it four years in a row," Conto said. "It takes good groups of of classes. It takes a bunch of kids coming out in grade. I think what it says is we are doing a good job of recruiting the kids and keeping them. Normally, if you are going to win championships you need to have 15, 16 kids per grade and that's what we have right now. Hopefully we keep that up."   
Turner added 102 yards rushing while also picking off a pair of passes, while Powers had 84 yards on the ground on just four carries helping Karns City (11-0) rack up 358 yards rushing and 445 total yards.
"I'm proud of all of them," Conto said. "They are playing hard, and they are playing physical."
Boben pretty much did everything for Moniteau (5-7), as he has all year. The senior, who will play baseball at Slippery Rock next year, ran for 98 yards on 32 carries while also throwing for 119 yards, although he was just 3 of 15 passing, this after completing his first two tosses, with the one touchdown and three interceptions.
"He is a once-in-lifetime player," Vogan said. "I don't care if he had turnovers or not. The kid picks it up and keeps moving. He has a short memory when it comes to those kinds of things. That's why he will be successful next year at Slippery Rock playing baseball. I don't know if I will every have another one like that again."  
Karns City will now host District 5-8 champion Bedford in a subregional championship game at 7 p.m. Friday, Nov. 27.
"We get to play with a little bit of indigestion," Conto joked about the Gremlins having another Friday game after Thanksgiving. 
BOX SCORE
KARNS CITY 43, MONITEAU 6
Score by Quarter
Moniteau 6 0 0 0 – 6
Karns City 6 17 6 14 – 43
First Quarter
KC – Chandler Turner 23 run (Kick failed), 11:12
M – Wyatt Ifft 59 pass from Derek Boben (Kick failed), 9:16
Second Quarter
KC – Kaiden Powers 32 field goal, 6:13
KC – Maverick Kelsea 35 pass from Jacob King (Kick failed), 3:28
KC – Collin Dunmyre 5 run (Luke Salerno pass from King), 1:21
Third quarter
KC – Kelsea 3 run (Kick failed), 0:49
Fourth Quarter
KC – Powers 54 run (Salerno pass from King), 7:54
KC – Dunmyre 4 run (Kick failed), 2:02
| | | |
| --- | --- | --- |
| Moniteau | TEAM STATS | Karns City |
| 11 | First Downs | 19 |
| 46-106 | Rushes-Yards | 49-358 |
| 145 | Passing Yards | 87 |
| 4-16-3 | Comp-Att-Int | 7-12-1 |
| 251 | Total Yards | 445 |
| 3-2 | Fumbles-Lost | 3-2 |
| 5-44 | Penalties-Yards | 6-59 |
| 5-28.2 | Punts-Avg | 3-34.3 |
INDIVIDUAL STATS
Rushing – Moniteau:Derek Boben 32-98, Shonn Kline 9-34, Wyatt Ifft 3-negative 11, Team 2-negative 37. Karns City: Collin Dunmyre 15-113, 2 TDs, Chandler Turner 9-102, Maverick Kelsea 5-25, 1 TD, Kaiden Powers 4-84, 1 TD, Eric Dodd 5-32, Seth Silverio 4-17, Jacob King 3-negative 25, Cullen Williams 4-10.
Passing – Moniteau: Derek Boben 3-for-15, 119 yards, 1 touchdown, 3 interceptions. Dackota Skiver 1-for-1, 26 yards, 0 touchdowns, 0 interceptions. Karns City: Cullen Williams 2-for-4, 14 yards, 0 touchdowns, 1 interception, Jacob King 5-for-8, 73 yards, 1 touchdown, 0 interceptions
Receiving – Moniteau: Dalton Anderson 2-60, Wyatt Ifft 1-59, 1 TD, Nick Plfugh 1-26. Karns City:
Eric Dodd 1-1, Kaiden Powers 1-10, Chandler Turner 1-19, Maverick Kelsea 1-35, 1 TD, Collin Dunmyre 1-12, Seth Silverio 1-2, Luke Salerno 1-8.  
Interceptions – Moniteau: Dalton Anderson. Karns City: Chandler Turner 2, Cullen Williams.