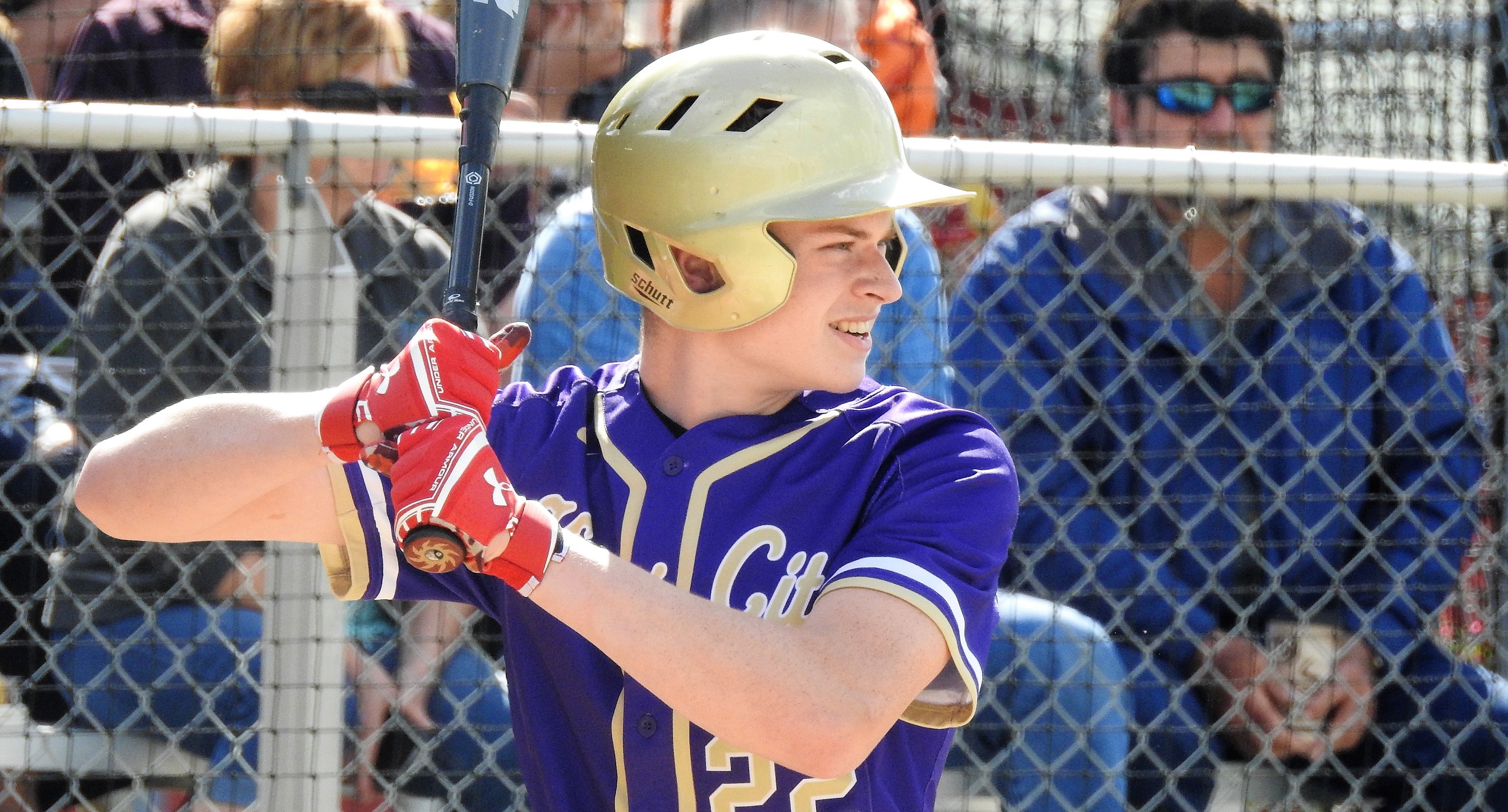 By Cory Geer
PUNXSUTAWNEY, Pa. – The Karns City Gremlins were defeated by the Chestnut Ridge Lions, 4-1, in the District 5/9 championship game Thursday at Punxsutawney's Rich Kuntz Memorial Field.
(Cover photo: Karns City sophomore Jake Weckerly. Photo by Cory Geer)
"Tonight was an uncharacteristic game for us," said Karns City head coach David McElroy. "We booted some balls and that put us in trouble."
Karns City couldn't get their offense going against Chestnut Ridge's starting pitcher Phillip Dull.
Dull, a West Virginia University commit, earned the win for the Lion's going 5 2/3 innings giving up two hits and one earned run. Dull also struck out 11 Karns City batters while walking three.
"He threw hard, but he wasn't doing anything that we didn't prepare for," said McElroy. "We just didn't put enough pressure on their defense striking out a lot early in the game."
Karns City got a strong pitching effort of its own from Eric Dodd, who pitched a complete game for the Gremlins. Dodd allowed one earned run on five Chestnut Ridge hits.
Chestnut Ridge got on the board first in the opening inning thanks to a leadoff hit batsman that gave Dull first base. Dull stole second to get himself in scoring position.
With one out, Chestnut Ridge took advantage of the stolen base. Dull was driven in by Brodie Harbaugh for the first run of the game.
Dull announced his presence on the mound in the bottom of the inning.
After a one-out walk to Nolan Riley, Dull struck out Tyler Yough and Cullen Williams to end the inning.
Dull continued his strong effort through the first three innings recording eight of the first nine outs on strikeouts.
In the top of the third Chestnut Ridge added on three runs thanks to three Karns City errors.
Dull leadoff the inning for the Lions, reaching first base on an error by Karn City second baseman Stephen O'Donnell. Dull took advantage of the error, stealing second and third base.
With Dull on third, Diehl brought him in on a groundout to O'Donnell to make it 2-0 Lions.
Lohr reached first with two outs thanks to an error by Karns City's Marcus Lantz. After the two-out error, Haupe-Persons singled to right field. Karns City right fielder Colin Hutchinson misplayed it into a triple to allow Lohr to score to make it 3-0.
Justin McCoy tacked on another run for the Lions on a single that brought in Haupe-Persons to make it 4-0.
In the bottom of the fourth inning, Karns City started taking better swings according to McElroy.
"We tried to shorten our swings up because the ball was getting on us quick," said McElroy. "We had a couple hard hit balls in the fourth we had a walk that inning and two sharp hit line drives hit right at people."
Yough led off the inning for the Gremlins hitting a sharp line drive right at Chestnut Ridge first baseman. Williams reached on an error by Jacob Weaver. With a runner on first Lantz hit a missile right at Chestnut Ridge's Harbaugh.
In the bottom of the sixth, Karns City got on the scoreboard.
Riley and Yough reached on a walk and an error to put runners on first and second with nobody out. Dull dug deep using his few remaining pitches to retire Williams striking out and Lantz flying out.
The Lions turned to Diehl to keep the score at 4-0.
Diehl walked the first hitter he faced to load up the bases for Jacob Weckerly who drew a walk of his own to make it 4-1.
The Gremlins turned to pinch hitter Jacob King to try and be a hero. Diehl ultimately won the battle striking out King to end the Gremlins threat.
Dodd retired Chestnut Ridge in order sending the Gremlins into the bottom of the inning down three.
Hutchinson led off the inning for the Gremlins with a single but was put out at second when O'Donnell hit into a fielder's choice.
With one out and a runner on third, Riley ripped a deep fly ball off the base of the right field wall. Karns city's third base coach held O'Donnell at third base. Riley didn't recognize that the runner was stopped and was gunned down at second base after taking an aggressive turn around the bag.
"Riley was just trying to make a play," said McElroy. "He hit a pitch well, and I think he was just trying to make a hustle play."
Diehl induced a groundout for the third out of the inning ending the game.
CHESTNUT RIDGE 4, KARNS CITY 1
Score by Inning
Chestnut Ridge 103 000 0 – 4
Karns City 000 001 0 – 1
Chestnut Ridge – 4
Phillip Dull p/ss 2200, Ty Diehl c/p 4001, Brodie Harbaugh cf 3011, Cody Lohr lf 3100, Victor Haupe-Persons rf 3110, Justin McCoy 3b/c 3021, Mason McVicker ss/3b 3010, Shawn Brady 1b 3010, Jacob Mowry dh 2000. Totals – 26-4-5-3.
Karns City – 1
Stephen O'Donnell 2b 4000, Nolan Riley 1b 2110, Tyler Yough ss 4000, Cullen Williams c 3000, Markus Lantz 3b 3010, Jace Ebbitt lf 1000, Jacob Weckerly dh 2011, Erick Dodd p 2000, Jacob King ph 1000, Colin Hutchinson rf 2010. Totals 23-1-4-1.
LOB: Chestnut Ridge 5, Karns City 7 Errors: Chestnut Ridge 1, Karns City 3 SB: Dull (3) Brady Sacrifice: Ebbitt Mowry
Pitching
Chestnut Ridge
Phillip Dull 5.2 IP 2 H 1 R 1 ER 3 BB 11 K 0 HP
Ty Diehl 1.1 IP 2 H 0 R 0 ER 2 BB 1 K 0 HP
Totals – 7 IP, 4 H, 1 R, 1 ER, 5 BB, 12 K, 0 HP
Karns City
Eric Dodd 7 IP 5 H 4 R 1 ER 2 BB 6 K 1 HP