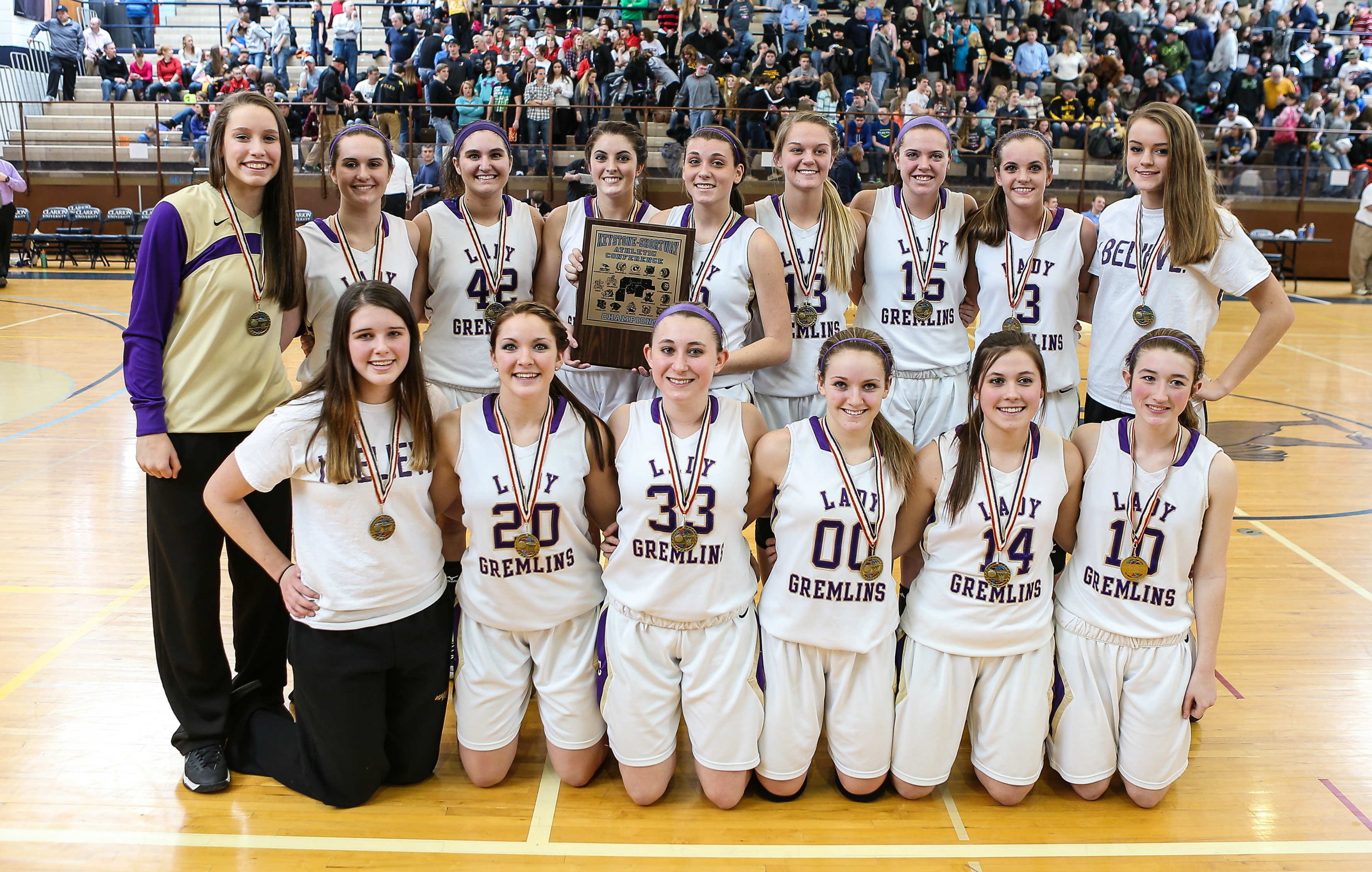 By Chris Rossetti
CLARION, Pa. – Shanel Preston was struggling something mighty. Her patented 3-point shot wouldn't fall for most of the night, and then it did.
Preston, one of the stalwarts of the recent success of Karns City basketball, nailed a 3-pointer with 2:16 to play to give the Lady Gremlins the lead for good on their way to a 55-53 win over Venango Catholic in the KSAC Title Game Friday night at Clarion University's Tippin Gym.
It was the second straight KSAC Title for Karns City (20-3), who beat Clarion in last year's championship game.
"I thought our kids persevered throughout the night," Karns City head coach Dave Kerschbaumer said. "We always talk about finding something inside themselves, that you don't play for yourself, you play for your teammates. I think we found that night. It wasn't always the prettiest, but we had to look into each others eyes in the middle of the fourth quarter and say what do we want?"
What they wanted was the KSAC title, and what Preston gave them was perseverance at its best.
Trailing 47-46 following a basket by Venango Catholic's Ava Homan with four minutes to play, Karns City's offense seemed stagnant as the next 1:30 raced off the clock without even a shot attempt by the Lady Gremlins.
Finally, with 2:25 to play, Kerschbaumer called timeout.
Out of the timeout, Preston, who unofficially was 3 of 18 to that point shooting, found herself open at the top of the 3-point arc and drained the game-changing triple that put Karns City in the lead for good.
"We called timeout and set a play for Shanel," Kerschbaimer said. "And Shanel hit the 3-pointer. She got her feet set underneath her and knocked it down."
Another 3-pointer, this time by Annie Hegedus, a minute latrer extended the Karns CIty lead to four, 52-48, with 1:22 to play.
"Annie's three was just huge," Kerschbaumer said. "It just took the weight off our shoulders. Really both hers and Shanel's did."
Venango Catholic (17-6), looking for its first KSAC crown, didn't go away quietly, as a pair of Allison Guth free throws with 39.7 seconds left brought the Vikings back within two, 52-50.
But a golden opportunity slipped through VC's hands a moment later when Emily LoPresti missed the front end of a one-and-one, the second consecutive front-end miss by the Lady Gremlins. The rebound was there for the taking, but went off a Venango Catholic player out of bounds to Karns City.
Alyssa Gibson then hit two free throws with 27.9 seconds left to restore the lead to four, 54-50.
The Vikings weren't quite done, as Moltz banked home a 3-pointer with 14.7 left to make it a 1-point game. But Karns City was able to play keep away until LoPresti was fouled with 0.4 of a second left. LoPresti hit the first free throw then missed the second one with the clock running out when the ball bounced harmlessly to the floor.
"That was what I expected," Kerschbaumer said about the tight game. "I knew after watching them a couple of times, they weren't coming to be the same team we saw the first time."
The game was tight throughout with the teams tied at 25 at halftime before Karns City took its biggest lead of the game, 37-31, on a LoPresti three midway through the third quarter.
But Venango Catholic ended the quarter with an 11-3 run to go into the fourth quarter up two, 42-40, thanks to a strong quarter by Colleen Cunningham, who scored all 10 of her points in the third quarter.
The Vikings then built the lead to four twice early in the final eight minutes with the last time being 45-41 on a Moltz free throw with 6:12 left.
Karns City, though, used strong defense to erase the deficit with back-to-back LoPresti steals resulting in four straight points that put the Lady Gremlins up 46-45 on a Emily Hegedus layup with 4:22 to play.
"In the second half, we switched our defenses up a little bit," Kerschbaumer said. "We went to  man a little bit and got after them. The kids did a great job of understanding where they wanted to get to on the floor, and we were able to get some turnovers. They were tired. We wanted to make them tired all night long. We wanted to play 90 feet with the Moltz girl, and our defense was able to do that. We did what we wanted to do."
LoPresti led Karns City with a season-high 18 points and added a team-best eight rebounds, while Emily Hegedus, a freshman, added 15 and Preston 11.
Homan, who missed the first game of the season between the teams with an injury, scored 19 to lead Venango Catholic. Moltz added 15 points and 10 rebounds.
Both teams will move into the District 9 playoffs.
Karns City, the defending champion, will be the top seed in Class AA, while Venango Catholic will most likely be the fifth seed in Class A and should host a first-round game next week.
NOTES – Karns City played without leading scorer LeeAnn Gibson, who is out with a hand injury.
KARNS CITY 55, VENANGO CATHOLIC 53
Score by Quarters
Venango 13 12 17 11 – 53
Karns City 14 11 15 15 – 55
Venango Catholic – 53
Taylor Dziekciasz 1 0-0 2, Ava Homan 8 3-4 19, Allison Guth 2 3-4 7, Claire Niederriter 0 0-0 0, Colleen Cunningham 5 0-0 10, Taylor Moltz 4 4-7 15. Totals 20 10-15 53.
Karns City – 55
Alyssa Gibson 0 4-6 4, Emily Hegedus 6 3-4 15, Emily LoPresti 7 2-5 18, Saydie Moore 0 0-0 0, LeErin Jones 1 0-0 2, Annie Hegedus 2 0-0 5, Clara Stoughton 0 0-0 0, Shanel Preston 4 0-0 11. Totals 20 9-15 55.
Three-pointers – Venango Catholic 3 (Moltz 3). Karns City 6 (Preston 3, LoPresti 2, A. Hegedus).