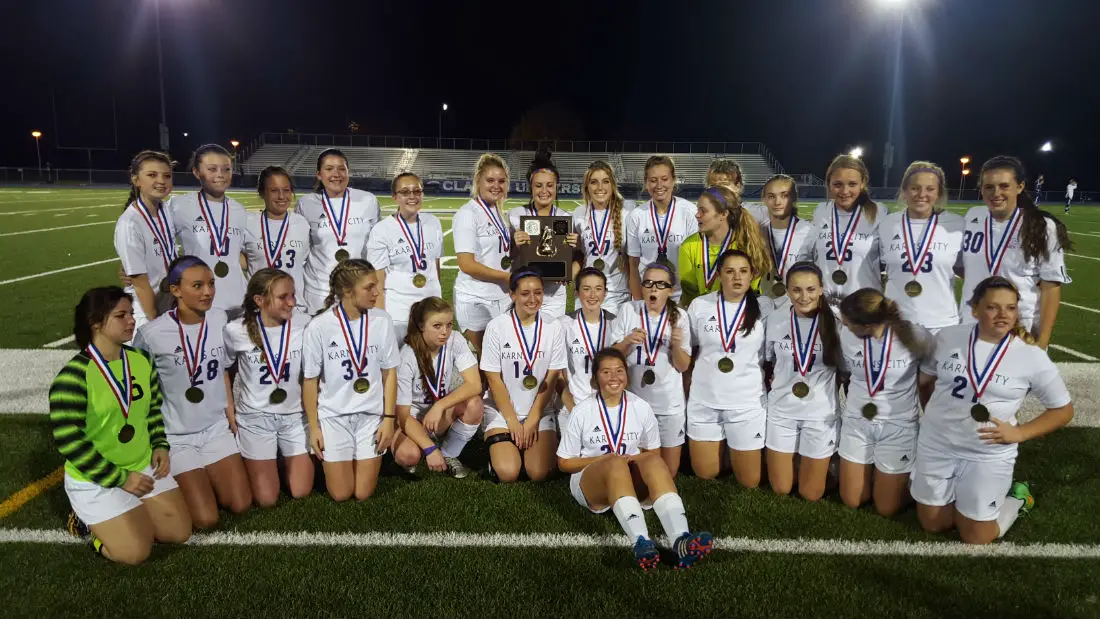 By Chris Rossetti
CLARION, Pa. – Abby Wolfe recorded the hat trick and Megan McCartney added a pair of goals as Karns City's girls' soccer dynasty continued with a 6-1 win over DuBois Central Catholic in the District 9 Class A soccer championship game Thursday night at Clarion University's Memorial Stadium.
It was the fourth straight title for the Lady Gremlins and their 18th in the past 21 years.
"We just have a tradition here at Karns City," KC head coach Tracy Dailey said. "It's something that is handed down year after year. My pregame speech was about those who went before us. It's just handed down, and I'm very involved in the youth soccer program at Karns City. So I am hoping to just keep the tradition going."
Things looked like they were going to be easy for the Lady Gremlins right out of the gate, as Wolfe scored just 29 seconds into the contest.
But DCC answered right back just under three minutes later when Kasey Baronick got free and beat Karns City keeper Alison Boltz to tie the game at one.
But Karns City quickly put the game away scoring three times in a span of 11 minutes starting with a Hannah Knoll goal in the 11th minute and continuing with tallies from McCartney, who ran past the DCC goalie and then scored on a bad angle shot, and Wolfe, who took a crossing feed from McCartney to make it 4-1 Lady Gremlins with 18:07 left in the first half.
"I think (DCC tying the game) added a little bit of fire under their butts," Dailey said. "They knew that just being up a goal didn't mean anything. We've been down in four different games this season, and we've come back. We knew going in here a goal up or a goal down, we were going to play for 80 minutes of soccer."
Up three at the break, Karns City didn't stop with McCartney making it 5-1 just 1:23 into the second half with her second goal of the game.
"Megan is just a work horse," Dailey said. "She always has been. We're looking forward to having her another year."
Wolfe then put a capper on the game and a perfect four-for-four in terms of titles with a tally about 11 minutes after McCartney's second goal to finish the hat trick and the scoring.
"Abby has stepped up for us this year," Dailey said. "This year she is very dangerous. As you can see, she loves that back post."   
Karns City, looking for an elusive PIAA win, faces WPIAL third-place finisher Shady Side Academy in the opening round of the state tournament Tuesday at a site and time to be determined. Shady Side beat the Lady Gremlins 3-2 in overtime in last year's first round.
BOX SCORE
KARNS CITY 6, DUBOIS CENTRAL CATHOLIC 1
Score by Halves
DuBois CC 1 0 – 1
Karns City 4 2 – 6
Scoring Summary
First Half
KC – Abby Wolfe (39:31)
DCC – Kasey Baronick (36:47)
KC – Hannah Knoll (29:01)
KC – Megan McCartney (21:14)
KC – Wolfe (18:07)
Second Half
KC – McCartney (38:37)
KC – Wolfe (27:38)