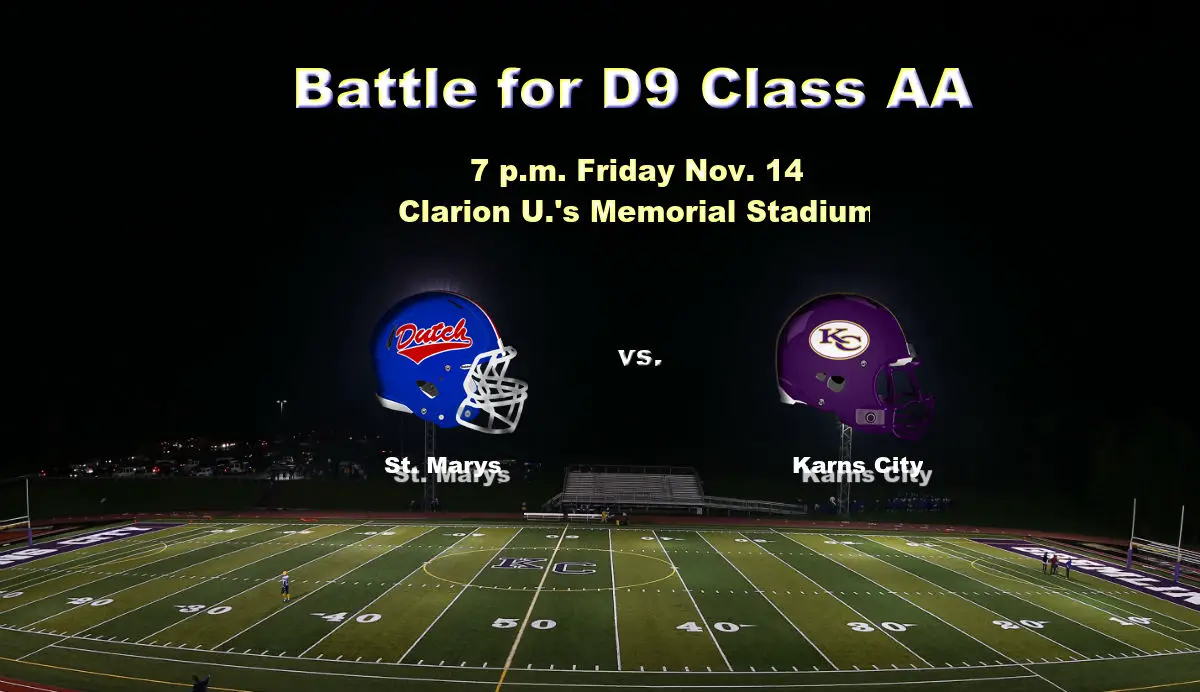 Starting Lineups; D9 Playoff Championship game history; Karns City game-by-game; Karns City statistics;
St. Marys game-by-game; St. Marys statistics
By Rich Rhoades
CLARION — With a week off, the Karns City Gremlins didn't mind some time to mend some injuries that's clouded what's been an otherwise impressive season as they take a 9-1 record into Friday night's District 9 Class AA Championship game against St. Marys at Clarion University's Memorial Stadium.
The Gremlins, ranked No. 9 in the state by the Pennsylvania Football News, have withstood some injuries to key players. That their season has been dominant is a testament to the team's depth.
Head coach Ed Conto said that he's lost eight players to injuries, four of them starters including Tyler Dunn, Cody Deal, Ethan Conto and Cooper Shepard. He also said that senior tailback/defensive end Tristan Rhoades may not be able to go Friday after injuring his hamstring in the Gremlins' regular-season finale, a 35-31 loss at DuBois.
"It's been a downer that way," Conto said. "We've had a great season and we lost a lot of talented kids. We're still excited because we play a lot of kids and we still should be OK. That's why we do what we do."
Even Conto wasn't sure if the week off would help his Gremlins get healthier, or lose any momentum they've put together during their run to another KSAC-Large School Division title.
"I don't know. Could it help? Yes, but maybe we lose focus. I hope we didn't lose that," Conto said. "Right now, it's getting into playoff mode and getting business done. We've been in playoff games where it's a rout because something might happen early and things crash down.
"You have to make sure you're ready to go, execute and don't get caught in that mode. It's a long season."
The Gremlins blanked the Flying Dutchmen (8-3), 42-0, in their Week 3 meeting as Karns City limited St. Marys to just 66 yards of offense. The Gremlins threw together a typical balanced effort with 197 yards of rushing and 146 yards passing.
Since that loss, the Dutch have won six of eight games, including a 7-6 win at home against Moniteau in last week's semifinal matchup. St. Marys managed just 120 yards of offense yet managed to win the game.
The Dutch will most likely need more than 120 yards to beat the heavily-favored Gremlins, who have beaten the Dutch in six straight games with two of those in the last two postseasons.
"We are looking forward to the challenge," St. Marys head coach Tony DeFilippi said. "Karns City is the class of Class AA because they are so balanced. They are a well-coached team. We will have to get off to a good start Friday."
The Dutch have a 1,000-yard rusher with junior T.J. Hogan (1,030 yards, 11 TDs), but have other threats as well with senior Kyle Glatt (844 yards, 14 TDs) and junior Nate Straub (249 yards, 3 TDs). Quarterback Pat Schlimm has thrown for 378 yards and three touchdowns.
"We are a ball-control team and it's our belief that solid defense and a good running game gives you a chance to win," DeFilippi said. "We would like to shorten the game and push it into the fourth quarter."
That isn't a secret game plan, obviously, but Conto is aware of possible wrinkles.
"First time around, we pointed out to the kids that we knocked their quarterback out in the first half and that changes things," he said. "Since then, they've grown and will run the ball and they have a short passing game. We'll see more of that, run and short passing and not as one-dimensional."
The Gremlins aren't one-dimensional with the ball, either, averaging 412 yards per game. They do most of their damage on the ground with 289 yards per game. Leading the way is Rhoades (714 yards, 12 TDs) with a team-high 69 rushing attempts. Collin Dunmyre (54 carries, 591 yards, 10 TDs).
Both Rhoades and Dunmyre ran for over 100 yards against DuBois two weeks ago. Rhoades had 155 yards on 12 carries and three touchdowns before leaving the game with an injury in the second half.
Overall, 19 different players have carried the ball at least once for the Gremlins.
Senior Caleb King shared snaps with Deal at quarterback at the beginning of the season, but emerged as the more throwing-oriented QB. He's completed 55 of 115 passes for 922 yards with seven touchdowns and one interception. He completed just 1 of 13 passes for 19 yards against the Beavers, but otherwise it's been an effective season for King.
"When Caleb stepped in, maybe teams were playing the run more and he was able to go with some play-action and throw," Conto said. "Now, he's doing it all. He has to stay under control and do it. He didn't have a good throwing game against DuBois, so he'll have to get back and take command and realize his team is around him and execute."
Conto figured to face an aggressive St. Marys defense.
"They blitzed a little before our first game, but decided to blitz a lot against us," he said. "It was aggressive and a very physical game. I've seen that work for them and they're doing it more. They'll probably be better at that this time around and we'll have to handle that. When we have the opportunity, we have to bust those big plays that will be there."
NOTES: The Gremlins are seeking their 11th district title, third straight and sixth in the last eight seasons. They are 11-1 in their last 12 playoff games and 10-5 lifetime in Class AA finals games. … Since St. Marys joined the KSAC, Karns City has won six of seven meetings. The last three matchups have a lopsided aggregate score of 139-6. Last year, the Gremlins won, 55-6, in the Class AA semifinals. In 2012, the Gremlins knocked the Dutch out in the semifinals, 35-14. … St. Marys won its second-ever playoff game in last week's win over Moniteau. The first one was a 30-14 win over Clearfield in the Class AAA semifinals in 2007. The Dutch have never won a district title, losing in their first three tries, a 28-7 loss to Clearfield in 2011, a 42-20 loss to the Bison in 2008 and a 21-18 loss to Clearfield in 2005. All of those were in Class AAA. … Friday's winner meets the District 5 champion next week in that state playoffs. Bedford (9-1) meets Chestnut Ridge (9-2) also on Friday night at Northern Bedford High School.