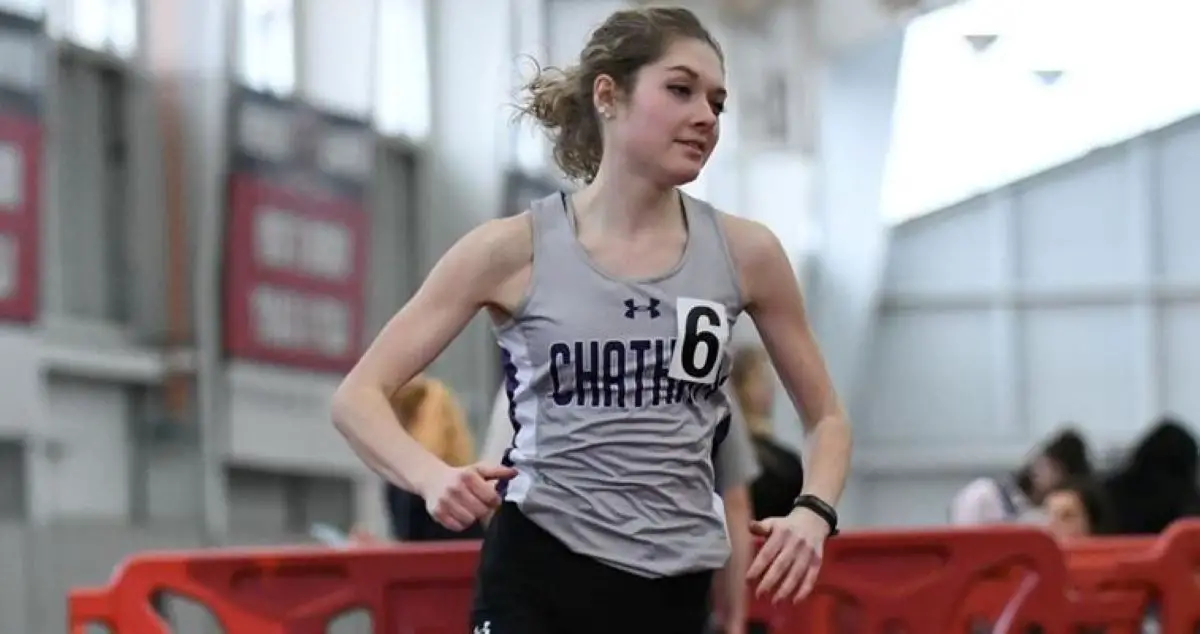 PITTSBURGH, Pa. – Karns City graduate Rebecca Pennington has quickly turned into a Chatham University Cross Country and Track & Field superstar.
(Photo courtesy of Chatham University Athletics)
Pennington became the first-ever runner in women's cross country at Chatham to qualify for the NCAA Division III Championships after a seventh-place finish at the NCAA Division III Mideast Regional Championship. That came after she won the Presidents' Athletic Conference title and became the first Chatham runner to earn PAC Runner of the Year since the Cougars joined the conference in 2007.
"I love (Cross Country) and running in general," Pennington said. "I continually want to improve my times, and I love racing and the competition. I enjoy being part of a team, and my coaches and teammates are great motivators as well as my family."
In indoor track, Pennington won the 3,000-meter run in a PAC Championship record time of 10:20.55, the 5,000-meter run in a PAC Championship record time of 17:58.46 and took second in the mile run in a time of 5:20.19. She went on to earn a second-place finish at the All-Atlantic Regional Conference championships in the 5,000 in a personal-best time of 17:38.25.
During the outdoor season, which is still underway, she recently set the school mark in the 10,000-meter run in a time of 38:13.49. She also has a PAC Rookie of the Week Honor to add to her list of accomplishments.
"I think the closest thing I have seen was Kristen Galligan at Washington and Jefferson," Chatham cross country and track & field head coach Jon Morrow said when asked if he had seen anyone with as much potential as Pennington in his coaching career. "She was a freshman my first year as the assistant there, and she quickly became one of the best runners in the nation by her sophomore year. I think Becca is off to a much faster start than even she was, so I am so excited to see her continue to improve and develop over the coming seasons.
"I think in and outside of practice she does the things that make any runner great. She keeps a positive attitude and does all of the little things. I think most young runners just think of miles, miles, miles and faster, faster, faster. But there is a lot of science to distance running. Becca is pretty good about sticking to her paces, but she is amazing about taking extra time to hydrate, stretch, use her stick and foam roller, see the trainer when she is feeling pain and doing various forms of mobility exercises."
Pennington said she pushes herself hard in training and competition to achieve success.
"(I) push myself harder in running and training, be more experienced with competition, and just enjoy it," Pennington said.
Pennington has set some goals for herself.
"I do want to achieve All-American and qualify for nationals in indoor and outdoor track," Pennington said.
Morrow had absolutely no doubt that Pennington could be an outstanding athlete.
"After watching how Rebecca finished her high school career, we knew she would be something special," Morrow said. "Just with the times she was putting up last fall, she was going to be competitive within our conference immediately. I knew, after a while, she would be competing on the national stage. She did surprise me, however, with the amount of time she dropped in just the last seven months. I thought the times she's currently posting would take a year or two to accomplish. I think she is just a great example for all of those around her, and younger than her, that if you bring a good attitude, do the right things, and work hard, then you will accomplish great things."
A great student as well, Pennington's grades at school have also been extremely impressive earning her All-Academic Individual from the USTFCCCA.
"I focus on balancing athletics, academics, work and having time to spend with friends," Pennington said. "I do not procrastinate on my work and utilize morning hours for school work. I use a lot of scheduling techniques and have a pretty easy time balancing running, academics, work and a social life."
Morrow sees big things ahead for his star runner.
"Her appearance at Regionals was a big deal for indoor," Morrow said. "I think she can get in the 5,000 for outdoor if things go the way we plan. She knows how hard it is to make it for track. It's extremely competitive, and she's finished as the No. 2 freshman in NCAA Division III for indoor, so her future is definitely bright."
Pennington created the running program at Chatham for helping her achieve success early in her career.
"I enjoyed the new running program at Chatham, the workouts, and the running structure," Pennington said. "I work hard in practice and love the sport. I believe a lot of success in running is your mental drive in racing and how hard you can push yourself."
For his part, Morrow didn't want to reveal too much of what the training consists of.
"I don't know if we can spill all of the info on her training from a specifics side," Morrow said. "She has raced at high-level meets (state championships) before, so she was somewhat prepared. But for us, a big part of that final prep is getting out to the meet site a few days early, running on it, walking through the logistics of the meet (everything from where she will check in, what the procedures will be, where she will have to set up camp, weather, etc.), things like that. I think we did the best we could have on that front. That first trip to nationals is a big shock. There are hundreds of ladies and more spectators than young athletes have ever seen."
Success on the track or course is nothing new for Pennington.
She was a great runner at Karns City High School in Butler High School where she was the KSAC MVP for Cross County and Track & Field as both a junior and senior, the Butler County Girl Runner of the Year as a junior, a PIAA qualifier in cross country as both a junior and senior and a PIAA qualifier in the 1,600-meter run and 3,200-meter run as a senior.
"I began running in seventh grade once it was an option to run cross country in junior high school," Pennington said. "I wanted to join cross country because I wanted to be involved in a high school sport, and my dad did it in high school. My dad has the most influence on me. He ran throughout high school and ran with me when I started. He works with me in practice, training, and supports me at every race. He still is a track coach at Karns City."