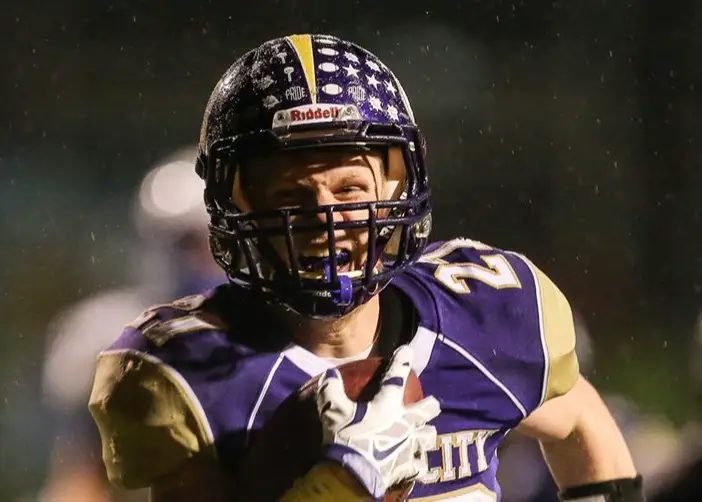 By Chris Rossetti
KARNS CITY, Pa. – Going into Friday night's PIAA Class AA Sub-Regional playoff game with visiting Bedford, Karns City thought it could play smash-mouth football and wear out the Bisons.
And in the end, they did just that in eking out a 21-17 win thanks in large part to 317 yards rushing.
"It was an old-fashioned football game," Karns City Conto said. "It reminded me of the old days. It all came down the line just opening holes and staying on their blocks and running backs running hard. I mean, it's real, real simple. It's about as old-fashion as you can get."
The drive that ended up being the difference for Karns City harkened back to the old days of East Brady and Karns City football, as the Gremlins went 65 yards in 15 plays, all on the ground, while converting a pair of third down and a pair of fourth downs before Maverick Kelsea put KC in the lead for good with a 1-yard touchdown run with 7:28 to play.
"They have a good scheme, and they have good players," Bedford head coach Kevin Steele said. "They play hard, and they have some backs who run downhill and are physical football players."
On what turned out to be the game-winning drive, Karns City, trailing 17-14 at the time, converted a third-and-3 from its own 42-yard line on a 24-yard run by Chandler Turner. The Gremlins then picked up a third-and-1 from the Bedford on a 3-yard Kelsea dive.
As impressive as those two conversions where, the next two were the difference makers.
Facing fourth-and-1 from the Bedford 13, Turner got the first down by the length of the football – following a crowd-silencing measurement that saw fans from both sides on the edge of their seats.
Even after that conversion, the Gremlins once again found themselves staring down the barrel of a fourth-and-inches at the 3-yard line only to see Cullen Williams pick up two yards on a quarterback keeper.
"We got off underneath them," Conto said. "It was very simple. They didn't have a guy in the A gap there and we got underneath them."
The veteran head coach said he considered trying a game-tying field goal instead of going for it on the fourth-and-inches play but was talked out of it.
"We gave consideration to kicking the field goal," Conto said. "I did for a second. But everybody was like let's go for it. So that's what we did. The line was going well."
Karns City's defense, which gave up some big plays on the night but also came up with some big plays, then bent but didn't break on Bedford's final drive of the game.
The Bison drove the Karns City 17-yard line, thanks in part to a 14-yard run on fourth-and-5 by quarterback Austin Montgomery, where they faced a second-and-6 before an illegal shift dropped them into a second-and-11 from the Gremlins 22.
After an incomplete pass, Williams blew up a screen pass to August Cook, dropping the 6-foot-3, 220-pound back for a 2-yard loss setting up another fourth down.
"You get a kid out in the open there who is pretty athletic, Cullen made a heck of a tackle," Conto said. "I give my defense credit for hanging in there. We bent a little bit but didn't break."
This time the Gremlin defense rose to the challenge forcing an incomplete pass, and the Karns City offense didn't give the ball back running out the clock by picking up a pair of first downs on the ensuing drive, although the last first down was a bit hair raising when Collin Dunmyre fumble the ball around midfield only to get it back.  
"We just didn't make a play," Steele said. "We had some real close opportunities. So close, but close doesn't count in this sport. I'm super proud of our kids, though. What a great season. They played their hearts out. A lot of great seniors we will miss. They certainly left their mark on the Bedford football program."
Karns City, which hasn't faced much adversity this season, overcame some early adversity in this one.
The Gremlins trailed 10-0 3 ½ minutes into the second quarter, but fought back to make it 10-7 at halftime thanks to a 44-yard scoring run by Turner, who ran for 88 yards on just seven carries.
"You're on that precipice there (down 10-0)," Conto said. "If they would have had another drive and scored, we would have been in trouble."  
Instead of being in trouble, Karns City found itself up for the first time, 14-10, following a 32-yard run by Dunmyre, who had a game-high 111 yards rushing, with 7:15 left in the third quarter.
"We had momentum there for a while," Steele said. "But they were able to steal it back so to speak, and we weren't able to get things really rolling to get in back in our way the rest of the game."
Bedford did get the momentum back for a moment late in the third quarter when Cook, who had a team-best 59 yards on 10 carries, scored on a 33-yard run to put the Bisons ahead 17-14 with 2:39 left in the quarter. The drive included an 11-yard option run by quarterback Austin Montgomery on a fourth-and-2 play from the Karns City 44-yard line.
"We've got a lot of seniors who have worked really, really hard for three or four years for moments like this," Steele said. "They believed in themselves and had confidence we would come up here and win. They played well at times, but just not well enough."
But that's when Karns City responded with the defining 15-play touchdown drive.
"We knew we were going to wear them down," Conto said. "We play a lot of kids, and I thought we could wear them down. I think that's what happened."
Bedford got the early lead thanks in part to a couple of Karns City mistakes that allowed the Bisons to start both drives just 66 yard from the end zone.
The first mistake was a fumble on a pitch play that was recovered by Bedford and eventually led to a 20-yard Montgomery to Zach Shaffer touchdown pass.
"We talked about this all week," Conto said. "Our concern was they were a senior oriented team. I hadn't seen them make mistakes. We were doing well, and then we turned the ball over and set them up for their score."  
The second mistake was when Karns City couldn't pick up a fourth down, and that eventually led to a 29-yard field goal by Montgomery that made it 10-0.
Montgomery finished the night 9 of 21 passing for 129 yards and the score and added 30 yards rushing to go with the field goal.
Karns City got back into the game on the ensuing drive using seven plays capped by Turner's 44-yard run that saw the junior seemingly lose his balance around the 25-yard line only to regain it and outrace Bedford defenders to the end zone.
"It's not by design," Conto said of Turner getting the ball in key situations throughout the night. Which ever back is in there gets it. He responded. That's what we expect out of any of our backs. He did a tremendous job tonight."
Karns City will take on the winner of Saturday's WPIAL championship game between South Fayette and Aliquippa in the PIAA quarterfinals next week.  
KARNS CITY 21, BEDFORD 17
Score by Quarters
Bedford7 3 7 0 – 17
Karns City 0 7 7 7 – 21
Scoring Summary
B – Zach Shaffer 20 pass from Austin Montgomery (Montgomery kick)
B – Montgomery 29 field goal
K – Chandler Turner 44 run (Kaiden Powers kick)
K – Collin Dunmyre 32 run (Powers kick)
B – August Cook 33 run (Montgomery kick)
K – Maverick Kelsa 1 run (Powers kick)
TEAM STATS
Bedford Stat Karns City
12 First Downs 20
30-128 Rushes-Yards 55-305
129 Passing Yards 25
9-21-0 Comp-Att-Int 3-5-0
257 Total Yards 330
2-10 Penalties-Yards 2-25
0-0 Fumbles-Lost 2-1
3-43.3 Punts-Avg. 2-38.5
INDIVIDUAL STATS
Rushing – Bedford: Austin Montgomery 12-34, August Cook 12-55, Conner Lazorka 4-31, Zach Shaffer 2-8. Karns City: Collin Dunmyre 16-111 (1 touchdown) , Chandler Turner 7-88 (1 touchdown) , Maverick Kelsea 11-32 (1 touchdown), Cullen Williams 7-21, Seth Silverio 2-10, Team 3-negative 13, Kaiden Powers 5-36, Eric Dodd 1-7, Hemi Curry 3-13.
Passing – Bedford: Austin Montgomery 9-for-21, 129 yards, 1 touchdown. Karns City: Cullen Williams 1-for-2, 11 yards. Jacob King 2-for-3, 14 yards.
Receiving – Bedford:  Dylan Downs 3-39, Zach Shaffer 2-52 (1 touchdown), Conner Lazorka 1-26, August Cook 2-0, Lucas Waugerman 1-12. Karns City:  Seth Silverio 2-14, Eric Dodd 1-11.