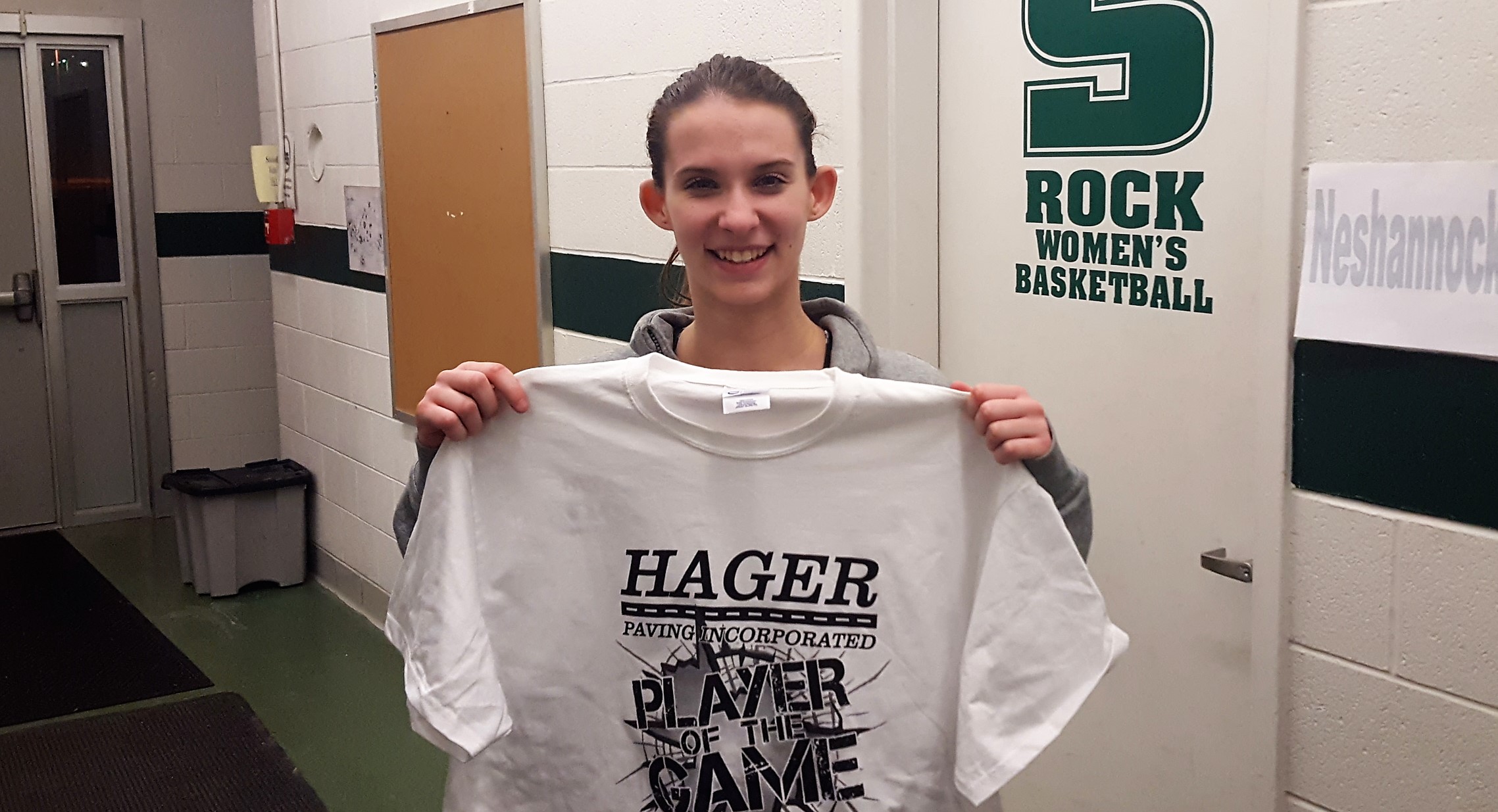 By Chris Rossetti and Shane Lux
SLIPPERY ROCK, Pa. – If only the Karns City girls' basketball team could get back a two-and-half minute stretch late in the third quarter.
(Cover Photo: Neshannock's Ally Zarilla)
Leading favored Neshannock, the WPIAL runner-up by two, 26-24, with four minutes to go in the third quarter, the Lady Gremlins had their toughest stretch of basketball in a long time over the next couple of minutes allowing the Lancers to go on a game-changing 10-0 run on their way to a 46-38 win in the second round of the PIAA Class 3A playoffs at Slippery Rock University's Morrow Field House.
"We had a little two- or three-minute stretch where things went a little bit haywire," Karns City head coach Dave Kerschbaumer said. "They just outworked us to the ball a couple of times."
Karns City (19-6), the District 9 champion, fought back in the fourth quarter closing with three a couple of times, the latest being 39-36 following an Emily Hegedus basket with 4:41 to go and still trailed by four, 42-38 with 2:26 to play but could never regain the lead.
"We kept believing until the bitter end," Kerschbaumer said. "Unfortunately, tonight didn't go our way."
Thanks to Craig and Hegedus, a junior, Karns City battled tooth-and-nail with Neshannock (25-2) most of the night and led 20-17 at halftime despite losing starting center Livia Andreassi to an ankle injury in the first quarter (Andreassi tried to return in the second half but eventually was taken out and was seen leaving the game on crutches).
Karns City was able to slow down Neshannock's best player, Bellia Burrelli in the first half limiting her to six points. But Burrelli got open at times in the second half netting six points during a third quarter that saw the Lancers outscore the Lady Gremlins 17-8, and she finished the game with 17 points.
But it was really sophomore Ally Zarilla who carries Neshannock tying Burrelli for game-high honors with 17 points off the bench including seven in the third quarter and 12 in the second half.
Zarilla was named the Hager Paving Player of the Game.
Hegedus paced Karns City with 16 points with Craig adding 13.
Neshannock will play District 6 champion West Shamokin in the quarterfinals Saturday at a site and time to be determined.
NESHANNOCK 46, KARNS CITY 38
Score by Quarters
Karns City 9 11 8 10 – 38
Neshannock 8 9 17 12 – 46
KARNS CITY – 38
Alyssa Gibson 1 3-4 5, Emily Hegedus 6 4-4 16, Haley Scherer 1 0-1 2, Mackenzie Craig 3 7-8 13, Livia Andreassi 1 0-0 2, Emily Clark 0 0-0 0. Totals 12 14-17 38.
NESHANNOCK – 46
Aidan Noga 2 2-3 6, Hannah Haswell 0 0-0 0, Bella Burrelli 8 1-4 17, Carmi Matarazzo 1 2-6 4, Regan Moorhouse 0 0-0 0, Ally Zarilla 6 3-3 17, Brie Dean 1 0-0 2. Totals 18 8-16 46.
Three-pointers: Neshannock 2 (Zarilla)
CARDINAL WUERL NORTH CATHOLIC 59, PUNXSUTAWNEY 29
KITTANNING, Pa. – WPIAL champion Cardinal Wuerl North Catholic, the PIAA Class 1A girls' state champion last year, outscored District 9 champion Punxsutawney by 21 points in the middle two quarters on its way to a 59-29 win in the second round of the PIAA Class 4A playoffs Thursday night at Armstrong High School.
The Lady Chucks (19-5) trailed by just six, 12-6, at the end of the first quarter but couldn't contain North Catholic's Sam Breen, who finished with 26 points and 11 rebounds including 15 points and seven board in the first half alone.
"We said hey we have to do everything we can to try and stop Breen," Punxsutawney head coach Mike Carlson said. "She's a great player. She wasn't the Gatorade Player of the Year for nothing. We threw everything we could at her, but it didn't slow her down much. She has such a great supporting cast. When we took her out down low, they had players on the outside who can knock down threes. We just knew it was going to be an uphill battle."
Thanks in part to Breen, the Trojanettes (25-2) led 27-13 at halftime and wasted little time putting the game away in the third quarter going on a 16-1 run in the first five minutes of the second half to open up a 39-14 lead.
Elyse White led Punxsutawney with eight points with Morgan VanLeer adding seven. But leading scorer Leah Miller was held to five points and nine rebounds. She finished the year averaging 16.3 points and 15.0 rebounds per game.
"It was a great season," Carlson said. "We were probably the District 9 favorites, so it was nice to go through the league undefeated again and get that district win. We did go a step farther this year with the state playoff win, and our seniors really stepped up when they needed to. Those younger kids over there really learned from the leadership the seniors showed."
Cardinal Wuerl North Clarion will take on Villa Maria in the quarterfinals Saturday at a site and time to be determined.
NORTH CATHOLIC 59, PUNXSUTAWNEY 29
Score by Quarters
Punxsutawney 6 7 9 7 – 29
North Catholic 12 15 23 9 – 59
PUNXSUTAWNEY – 29
Alli Lunger 2 0-0 4, Elyse White 3 0-0 8, Kate Horner 1 2-2 4, Morgan VanLeer 2 1-2 7, Leah Miller 1 3-6 5, Bailey Jones 0 1-2 1, Kaitlyn Ray 0 0-0 0, Toya Jones 0 0-0 0, Kaitlin Doverspike 0 0-0 0, Mia Lingenfelter 0 0-0 0, Jordyn Powell 0 0-0 0, Laney Monroe 0 0-0 0, Cassidy Reed 0 0-0 0. Totals 9 7-12 29.
NORTH CATHOLIC – 59
Ashley Robbins 2 0-0 4, Sam Breen 12 0-0 26, Dani Short 1 2-2 4, Kylie Huffman 2 0-0 4, Tess Myers 4 2-4 12, Cassie Foster 2 0-2 5, Amanda Bucklew 1 0-0 2, Belle O'Hara 1 0-0 2. Totals 25 4-8 59.
Three-pointers: Punxsutawney 4 (VanLeer 2, White 2). North Catholic 5 (Breen 2, Myers 2, Foster).