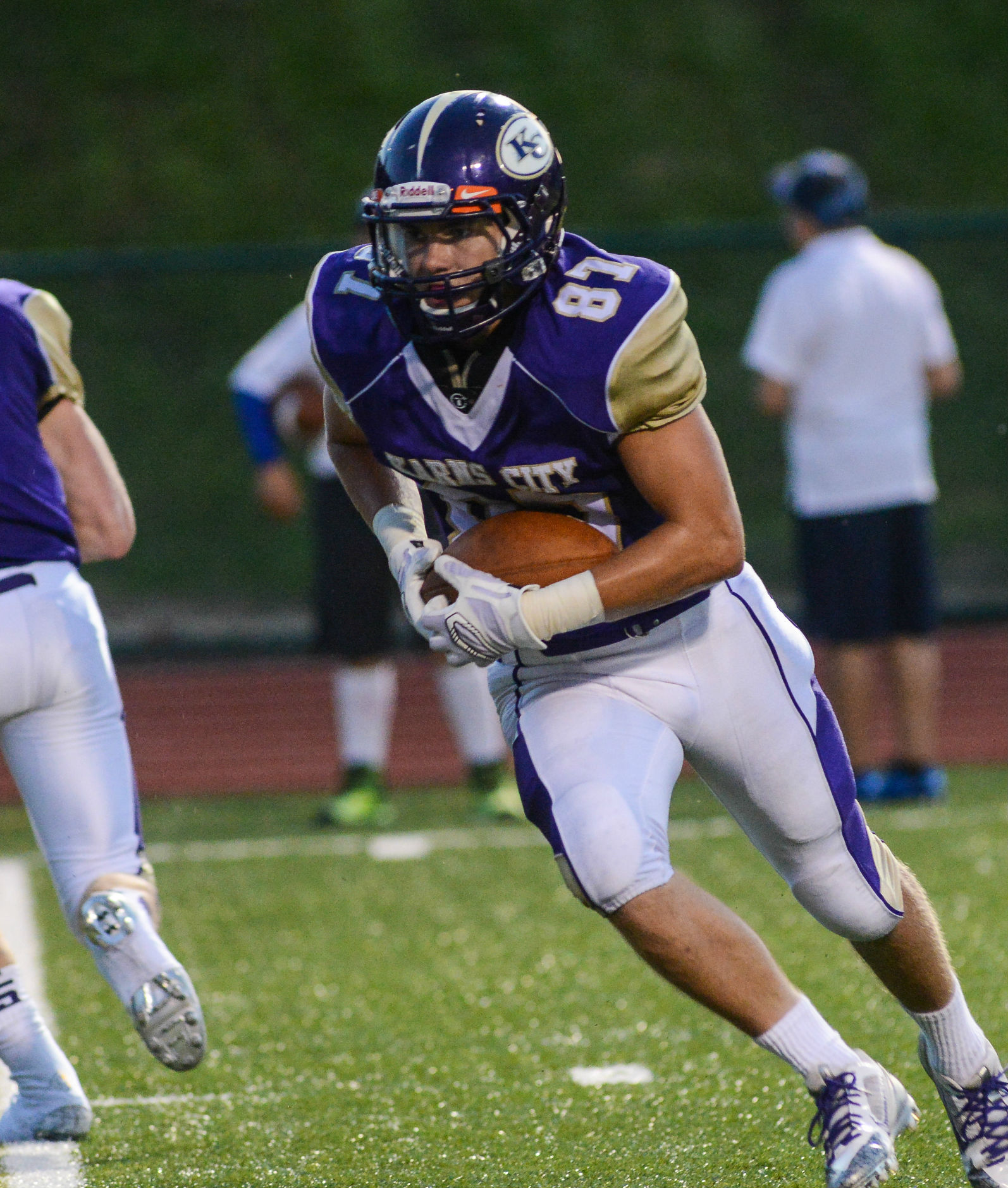 NEW PARIS, Pa. – On the road, down at halftime, the District 9 Champion Karns City football team rallied to beat District 5-8 Champion Chestnut Ridge 23-14 in a PIAA Interdistrict Sub-Regional football game Friday night at Chestnut Ridge.
The Gremlins (11-1) trailed 7-3 at halftime but outscored the Lions (10-3) 20-7 in the second half behind a strong running attack and an opportunistic defense.
A 10-yard Tyler Dunn touchdown run on the first drive of the second half gave Karns City the lead for good, and Tristan Rhoades, battling through a hamstring injury, gave the Gremlins some breathing room late in the third quarter with a 4-yard scoring run to put KC up 16-7 heading to the final eight minutes.
But Chestnut Ridge, which has seen its season ended by Karns City in this very game each of the last three years, didn't go away quietly answering the Rhoades touchdown with a 25-yard scramble for a score by quarterback Tyler Wiley with 7:58 left to play cutting the Gremlin lead to just two, 16-14.
The momentum appeared to completely shift to the Lions on the ensuing kickoff when Karns City was bottled up before reaching the 20-yard line and a holding penalty pushed the Gremlins back to their own 8.
But KC answered with a season-defining drive going 92 yards in 10 plays to put the game out of reach on an 11-yard Christian Turner touchdown run with 3:14 to play.
The Gremlins defense, which forced four turnovers in the game, then sealed the victory when Maverick Kelsea picked off a Tyler Wiley pass with about three minutes left.
Tyler Wiley got the scoring started on a 13-yard touchdown run when he kept the ball on an option on the Lions first drive of the game.
Karns City answered the score with a 21-yard Logan Moroney field goal 45 seconds into the first half, and both teams threw interceptions on their final drives of the half with Dunn, who had two picks in the game for the Gremlins, interception a Tyler Wiley pass with Chestnut Ridge in field-goal position late in the half.
The Gremlins, who will face South Fayette, the WPIAL Champion, for the second straight year in the PIAA Quarterfinals next week at a site and time to be determined, outgained Chestnut Ridge 336-158 including 316-70 on the ground.
Collin Dunmyre, coming off a 200-yard game in the District 9 title game victory over St. Marys last week, led Karns City with 82 yards on 16 carries. Turner added 73 yards on 14 totes, Dunn had 65 yards on eight carries and Kelsea 55 on seven carries. Dunn also caught one pass fro 13 yards.
Tyler Wiley was 4 of 8 passing for 88 yards and ran 12 times for 32 yards and two touchdowns but also threw the three interceptions. Matt Wiley led the Lions on the ground with 12 carries for 39 yards, while Bryan Feather had two catches for 50 yards.
NOTES – Last year, Karns City beat Chestnut Ridge 35-14 at Northern Bedford, and in 2012, the Gremlins topped the Lions 35-29 at Clarion University's Memorial Stadium … This year, a new two-year cycle started for the PIAA and District's 5, 8 and 9 agreed that they would play the game at the home field of the District 5-8 winner with the District 9 champion getting the home game next season thus the reason the game was played on Chestnut Ridge's home field, a grass field … Last season, Karns City lost 57-21 to South Fayette in the PIAA Class AA quarterfinals at Clarion University. According to the PIAA brackets, Karns City would be the designated home team again this year meaning potentially a rematch at Memorial Stadium … The Gremlins have never advanced past the Class AA quarterfinals.
Editor's note: Statistics provided by John Hartsock. Special thanks to D9Sports.com's Dustin Kifer and C-93's Bob "The Governor" Dunkle for additional information.
KARNS CITY 23, CHESTNUT RIDGE 13
SCORE BY QUARTERS
KC 0 3 13 7 – 23
CR 7 0 0 7 – 14
First quarter
CR – Tyler Wiley 13 run (Sean Van Meter kick), 8:18.
Second quarter
KC – Logan Moroney 21 field goal, 11:15.
Third quarter
KC – Tyler Dunn 10 run (Moroney kick), 9:25.
KC – Tristan Rhoades 4 run (kick failed), 3:34.
Fourth quarter
CR – T. Wiley 25 run (Van Meter kick), 7:58.
KC – Christian Turner 11 run (Moroney kick), 3:14.
TEAM STATISTICS        KC        CR
KC STAT CR
18 First Down 9
59-316 Rushes-Yards 25-70
2-10-1 Passing: Comp-Att-Int 5-8-3
20 Passing Yards 88
336 Total Yards 158
2-0 Fumbles-Lost 1-1
9-83 Penalties-Yards 3-21
3-28.3 Punts-Avg. 4-29.8
INDIVIDUAL STATISTICS
RUSHING: Karns City – Collin Dunmyre 16-82, Christian Turner 14-73, Tyler Dunn 8-65, Maverick Kelsea 7-55, Chandler Turner 2-18, Caleb King 4-10, Ethan Conto 2-2, Tristan Rhoades 4-8, Logan Moroney 1-4, Team 1-negative 1. Chesntut Ridge – Matt Wiley 12-39, Tyler Wiley 12-32, Team 1-negative 1.
PASSING: Karns City – Caleb King 2-for-10, 20 yards, 1 interception.. Chestnut Ridge -Tyler Wiley 5-for-8, 88 yards, 3 interception.
RECEIVING: Karns City – Tyler Dunn 1-13, Logan Moroney 1-7. Chestnut Ridge – Bryan Feather 2-50, Trent Crouse 1-22, Jay Grubb 1-9, Colby Hillegass 1-7.
INTERCEPTIONS: Karns City – Tyler Dunn 2, Maverick Kelsea. Chestnut Ridge – Colby Hillegass.