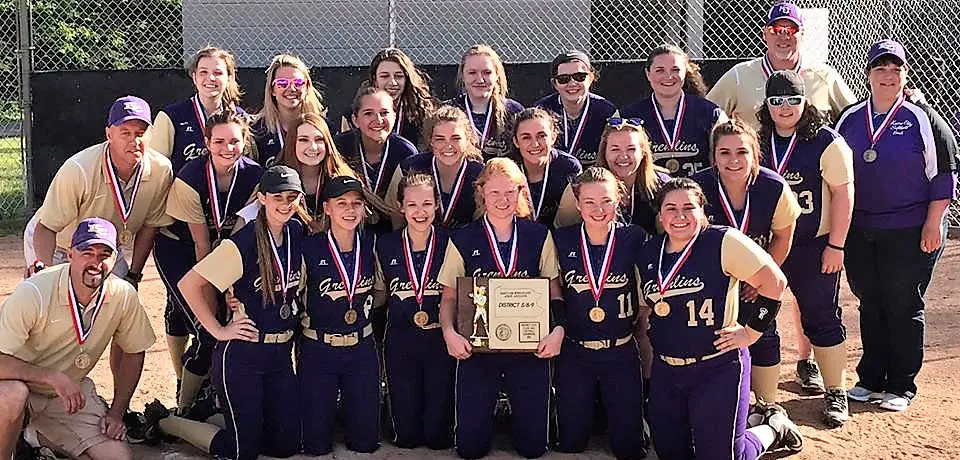 WINDBER, Pa. – Things looked bleak for the Karns City softball team heading to the top of the seventh in the District 5-9 Class 3A title game at Windber High School Thursday.
The Lady Gremlins trailed District 5 Chestnut Ridge, 3-1, and they had managed just two hits off Lady Lions starter Kayla Diehl.
But Karns City finally solved Diehl in the seventh scoring four times to take a 5-3 lead and then escaped a bases-loaded, one-out jam in the bottom of the seventh to secure its second district championship and its first since 2009 with the 5-3 victory.
"Going to the seventh, we pulled them in and challenged them," Karns City first-year head coach Mike Stitt said. "We told them to pull out their hearts. We asked where is your heart at? What is your goal? Our goal was to come out with a win. We challenged them to show the true meaning of Karns City softball, and the girls' pulled together with heart. It was awesome to watch."
Emily Clark, who the starting left fielder who hadn't batted in the game, started the rally by drawing a walk, just the second walk of the game issued by Diehl.
"That was huge," Stitt said.
After Mackenzie Dunn grounded into a fielder's choice with Makala Bailey, who was running for Clark, out at second, Kate Allen singled to put runners on first and second.
Dunn and Allen then executed a double steal to get the tying run into scoring position, and Stitt decided to play small ball and had Sami Graziolo lay down a bunt. Grazioli not only got the bunt down to third scoring Dunn, but she was also safe at first with a single and Allen moved to third.
"She put down a beautiful bunt," Stitt said. "They didn't react."
A walk to Emily Huff loaded the bases for pinch hitter Chandley Stuchell, and Allen tied the game with Stuchell at the plate when she scored on a passed ball that moved the other two runners up a base each.
After Stuchell struck out, Katie Neff came through with a two-run single to left to give Karns City the 5-3 lead.
"We moved her up in the box," Stitt said. "Their pitcher had thrown a lot of pitches and was starting to throw them high. We wanted our players to concentrate on knowing the zone, and Katie came through with a beautiful hit."
Holding the lead didn't prove to be an easy task for Karns City, as the hero of the top of the seventh, Clark, nearly turned into the goat when she dropped a fly ball hit by Samantha Baney leading off the bottom of the seventh giving Chestnut Ridge a base runner.
Kaitlyn Gibbner ran for Baney and went to second on a groundout by Niki Shank.
Makenzie Shay, who was in relief of Logan Byers, then walked Makayla Weyant, and Diehl singled to center to load the bases for cleanup hitter Attic Milliron with one out.
But Milliron hit a sinking line drive that Dunn, the third baseman, caught, Dunn's momentum then nearly carried her right into Gibbner, who had come off third on the pitch, and Dunn was able to tag Gibbner out for a game-ending double play.
"I thought about pulling Shay and replacing her with Dunn after the hit," Stitt said. "But I left her in, and the very next batter hit a tailing line drive that (Dunn) made a nice play on. She made a nice snag on it, and her momentum took her right into the player. It was a great bang-bang play."
Karns City grabbed a 1-0 lead in the fourth when Emily Wolfe singled and scored on an Alyssa Stitt double with no one out. But Stitt was stranded at second.
That looked to be trouble for Karns City when Chestnut Ridge responded with a three-spot in the bottom of the inning.
Payton Whysong had a two-run triple to give the Lady Lions a 2-1 lead, and Whysong scored on a Darcee Diehl sacrifice fly.
The championship was a pleasant surprise for Stitt, who knew when he took the job going into the season that there was talent there. But it was young talent with just one senior, Bailey, and one junior Grazioli, but 10 sophomores and nine freshmen.
"We said at the beginning of the year, look at the banners (in the gym)," Stitt said. "We talked about goals and what it would take to get to this point. We challenged them again to take it a step further. There are tough teams in the KSAC – Moniteau, Cranberry, Karns City, etc. – that only helped us out. Our sophomores and freshman started believing.
"As first-year coaches this feels great. I talked to Mr. Markle (athletic director Brian Markle) and Mr. Conto (principal and head football coach Ed Conto) when I got hired. I knew we had a special group of girls. I believed we could do something. But I wasn't expecting this this year. We had set goals for when they were juniors and senior. But they fought and didn't give up. That is just the mentality at Karns City. There is tradition down here. We are happy to put softball's name on a banner, For them, it feels great."
Karns City (10-5), which hadn't played since a 7-0 loss to Redbank Valley May 18 and hadn't won since a 14-3 victory over Keystone May 16, is back in action Monday when it takes on WPIAL runner-up Deer Lakes in the PIAA playoffs.
KARNS CITY 5, CHESTNUT RIDGE 3
Score by Innings
Karns CIty 000 100 4 – 5
Chestnut Ridge 000 300 0 – 3
KARNS CITY – 5
Emily Wolfe 4110, Alyssa Stitt 3011, Makala Bailey 2000, Emma Clark 0000, Mackenzie Dunn 3100, Kate Allen 3110, Sami Grazioli 1000, Brittney Friters 0100, Taylor Ekis 2000, Chandley Stuchell 1000, Katie Neff 3012, Makenzie Shay 0000, Logan Byers 0000. Totals 25-5-5-4.
CHESTNUT RIDGE – 3
Niki Shank 4000, Makayla Weyant 3020, Kayla Diehl 3110, Attic Milliron 4100, Payton Whysong 3112, Darcee Diehl 3001, Lydia Mock 3000, Alex Dunlap 3000, Samantha Baney 3010, Kaitlyn Gibbner 000, Hailey Oldaman 0000, Rache; Neatrour 0000, erin Blackburn 0000. Totals 29-3-5-3.
LOB: Karns City 2. Chestnut Ridge 7. Errors: Karns City 4. Chestnut Ridge 2. 2B: Stitt. 3B: Whysong. SB: Allen (2), Grazioli (2), Dunn. CS: Neff. DP Turned: Karns City 1 (Dunn unassisted).
PITCHING
Karns City
Logan Byers – 4 ⅓ IP, 4 H, 3 R, 2 ER, 1 BB, 2 K
Makenzie Shay – 2 ⅔ IP, 1 H, 0 R, 0 ER, 1 BB, 0 K
TOTALS – 7 IP, 5 H, 3 R, 2 ER, 2 BB, 2 K
Chestnut Ridge
Kayla Diehl – 7 IP, 5 H, 5 R, 4 ER, 3 BB, 2 K
Winning pitcher – Shay
Losing pitcher – Diehl