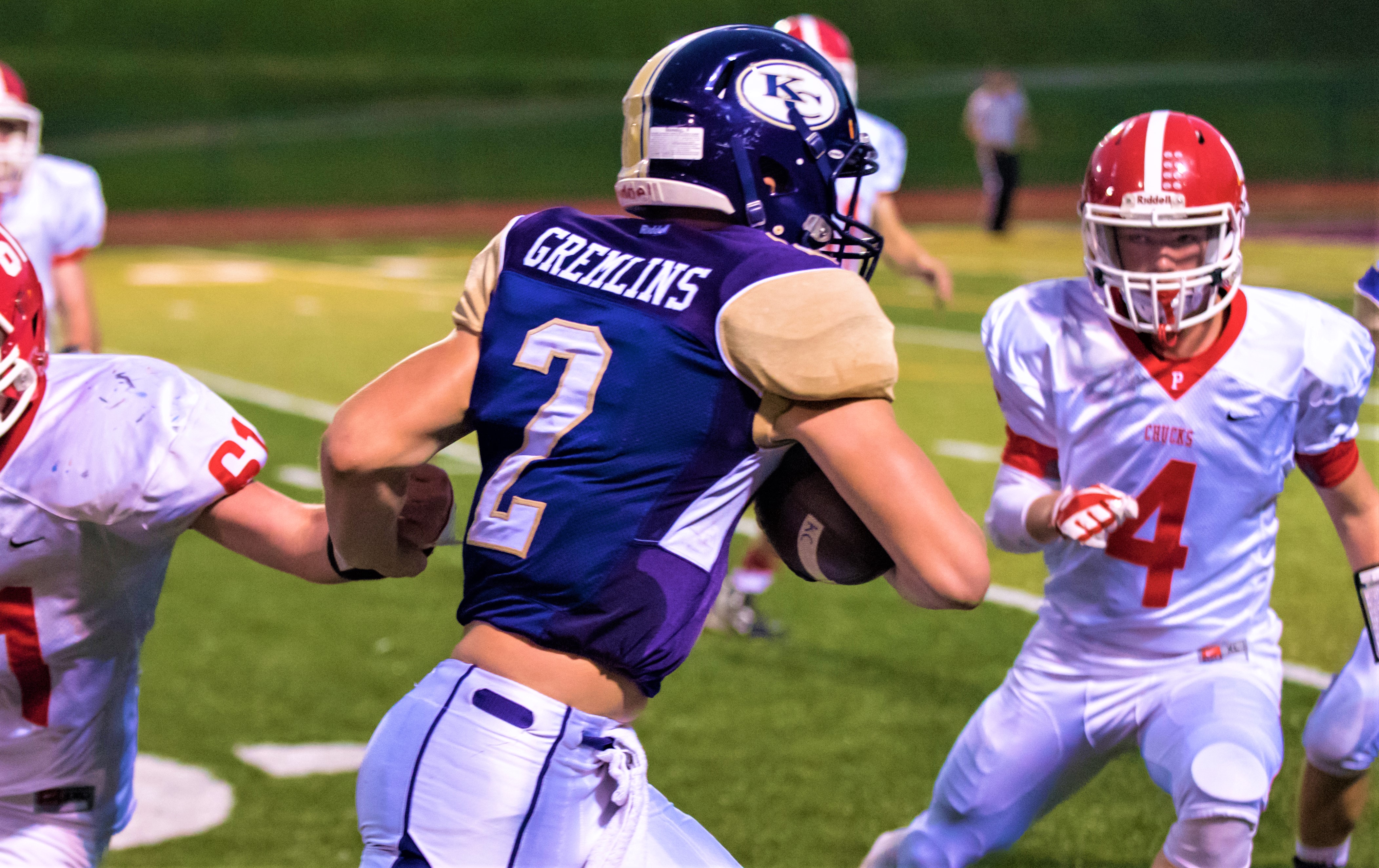 CLARION, Pa. — It's been awhile since Karns City and Sharon tangled in the state playoffs.
(Cover photo: Karns City quarterback Anthony Kamenski helps lead his team into Friday's first-round state playoff matchup against Sharon at Clarion University's Memorial Stadium. Photo by Howie Dittman. Check out more of Dittman's work here)
From 1999 through 2001, the District 10 Tigers sent the Gremlins home with first-round losses. The last two matchups in 2000 and 2001 were Karns City veteran head coach Ed Conto's first two seasons at the helm of the Gremlins.
While the Gremlins are coming off their sixth straight district title with last week's win over Punxsutawney — and it's the 11th overall under Conto — it's Sharon's first trip to the PIAA playoffs since 2010, the last District 10 championship won by the Tigers.
It's also a reunion of two longtime successful coaches when the game kicks off Friday night at Clarion University's Memorial Stadium at 7 p.m.
Conto's 203 wins and Sharon head coach Jim Wildman's 247 wins total an impressive matchup featuring 450 wins. Both Conto and Wildman are in their 30th year, but it's Wildman's second stint. He wasn't the coach for the 2010 D10 champs but was around back in the early 2000s.
Sharon knocked off previously unbeaten Mercyhurst Prep, 21-14, last week. The Tigers preserved the win with a late defensive stand, stopping the Lakers on downs inside the Sharon 10-yard line.
The Tigers (8-3) started the year 1-2 with losses to powerful Wilmington (21-7) and Greenville (21-14). They lost later to South Range, Ohio (21-14) and have won four straight games going into Friday's game.
Sharon throws the ball, featuring standout receiver Ziyon Strickland, a 5-foot-10, 170-pound senior who's amassed some impressive statistics in his career. He's caught 66 passes for 933 yards with seven touchdowns and for his career, he's at 224 receptions for 3,835 yards and 44 receiving TDs.
With Strickland as the centerpiece, the Tigers average 293 yards per game offensively — 184 passing, 109 rushing. Quarterback Lane Voytick has thrown for 1,889 yards and 22 touchdowns, completing 139 of 228 passes with 11 interceptions.
James McKinney (21-332, 5 TDs) and Frank Shaffer (25-296, 6 TDs) are Votick's other options.
On the ground, Jordan Wilson (136-832, 10 TDs) is the leading Tigers rusher. Strickland (37-142, 5 TDs) is the second-leading rusher.
Karns City (7-4), which started the season 0-2, averages 388 yards per game offensively — 318 rushing and 79 passing — so the Gremlins will likely try to move the ball on the ground against a Sharon defense that's giving up just under 200 rushing yards per game.
Senior Dalton Beham (124 carries, 1,152 yards, 25 TDs) and Clay Garing (100-686, 9 TDs) both went over 100 yards in last week's win over Punxsutawney. Sebastian Troutman (72-589, 2 TDs) is close to also going over 600 yards for the season.
Sophomore Anthony Kamenski (56-for-124, 767 yards, 4 TDs, 4 Ints) hasn't been called on much to throw at just over 12 passes per game. His top receiving target is Brandon Hesidence (12-132, 2 TDs).
•Friday's winner advances to the PIAA quarterfinals against the District 6 champion, either Huntingdon or Forest Hills. Those two square off also on Friday at Altoona's Mansion Park. After that, it's the WPIAL champion in two weeks. Aliquippa plays Quaker Valley Saturday at Heinz Field and the winner of that one has a bye week before playing in the state semifinals Dec. 1 or 2.
•The Gremlins beat Hickory (35-17) in last year's PIAA opener before losing to District 6's Central-Martinsburg (36-21) in the quarterfinals.
•Karns City's all-time state playoff/sub-regional record is 6-14, which includes wins in the previous five years, including sub-regional wins over Bedford in 2015 and Chestnut Ridge in 2012-14 and North Star in 2008. In the four-year run off first-round state matchups with Sharon from 1999-2001, the Gremlins lost 33-9 in Erie in 1999, 14-7 in Brookville in 2000 and 20-13 at Hickory High School in 2001.
•In the PIAA state playoff era since 1988, Sharon won D10 titles in 1994, 1995, 1998 through 2001 and 2010. The Tigers reached the Class 3A state finals in 1994 and 1995, falling to Berwick in both times.