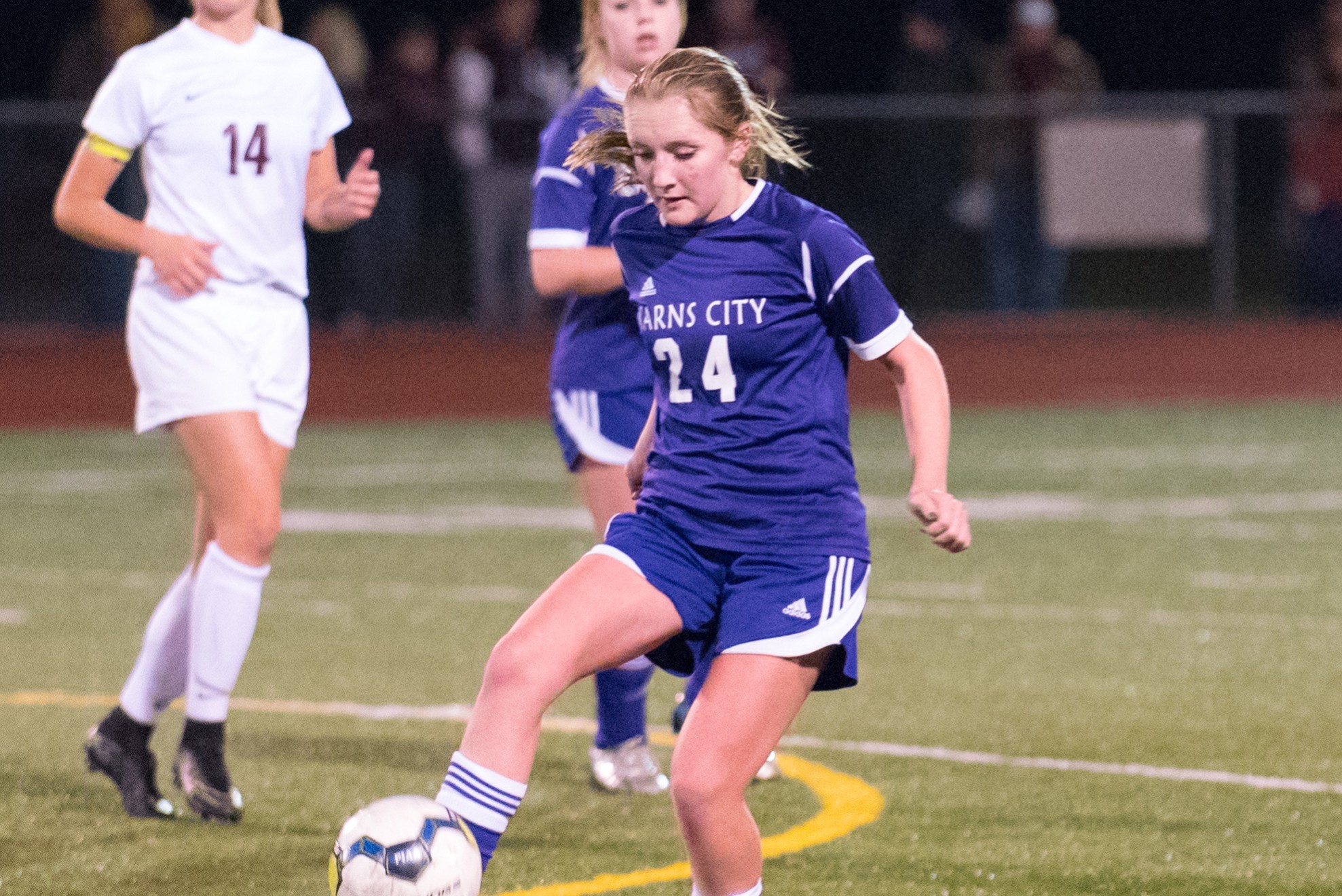 By Chris Rossetti
DUBOIS, Pa. – Karns City's dream season came to an end one step short of Chocolate Town U.S.A. when the Lady Gremlins dropped a 2-1 decision to District 4's Loyalsock Township Tuesday night on the turf field at DuBois High School.
"We had opportunities, we did," Karns City head coach Tracy Dailey said. "I told the ladies before the game that they would have one or two opportunities and they were going to have to finish them. These girls have worked extremely hard, and we came out to play tonight. Someone had to lose. Unfortunately, it was us."
All three goals came in the first half with Loyalsock Township, the third-place team out of District 4, netting the game winner early in the 29th minute off a free kick from Adriana Barone.   
"She is like our free-kick specialist," Loyalsock Township head coach Ben Comfort said. "She takes our free kicks and corner. When the second one left her foot, I knew it was in. You could tell."
Barone's goal came just a tad over three minutes after Karns City had knotted the game at 1-1 on a goal by freshman Hunter Dittman in the early portion of the 26th minute.
The goal was created when the Lady Gremlins lofted a long ball toward Loyalsock keeper Grace Schreckengost, who came out for the ball but was challenged by Karns City's Haley Scherer. While neither player won the ball, the play left Schreckengost out of position, and Dittman was able to shoot it past her for a one-all tie.
"Haley was able to come out and challenge the keeper," Dailey said. "It was a very smart play by Hunter being able to put in back on the net which was a great goal for us."
Karns City controlled the early play, but it was the Lancer who struck first when Rhiallie Jessell scored off a free kick by Barone midway through the 11th minute.  
"An early goal would have been big for us," Dailey said about her team's ability to control the play in the first few minutes but not score. "You get a goal, it gets your more fire. But we have to finish our opportunities. You don't get many in these games. The ones you do get, you have to finish. Unfortunately, we didn't do that tonight."  
Maybe the biggest opportunity not finished for Karns City came in the 37th minute when Aubrie Ball saw her shot headed to the top portion of the goal get deflected away by Schreckengost.  
"That was probably the best save of the night," Comfort said. "That's what you expect from your keeper. She needs to make two or three big saves a night, especially in a game like this. I couldn't have asked more from her."
With the one-goal lead, Loyalsock Township took a defensive approach in the second half and stymied the Karns City attack limiting the Lady Gremlins to very few good looks.
"That's been our bread-and-butter all year," Comfort. said of his defense. "The competition we play all year round prepares us for this game. They were an excellent team. They gave us a run for our money. Kudos to them for a great season for for us being able to get through."
Karns City's best chance to tie the game late came in the 36th minute when Megan McCartney got a good look that was stopped by Schreckengost.  
"We were able to compete," Dailey said. "The team that made the least amount of mistakes was going to win the game. That was them. Kudos to them. I wish them well at Hershey. But I don't think we played our best game tonight. I think we were a little nervois coming in, and we didn't play our type of soccer. It's kind of hard because you get kicking the ball and not possessing it, and you get the 50-50 balls as soon as the ball hits the air. I think we did that too much."
LOYALSOCK TOWNSHIP 2, KARNS CITY 1
Box Score
Karns City 1 0 – 1
Loyalsock 2 0 – 2
Scoring Summary
First Half
L – Rhiallie Jessell (assist Adriana Barone), 11th minute
KC – Hunter Dittman, 26th minute
L – Barone, 29th minute