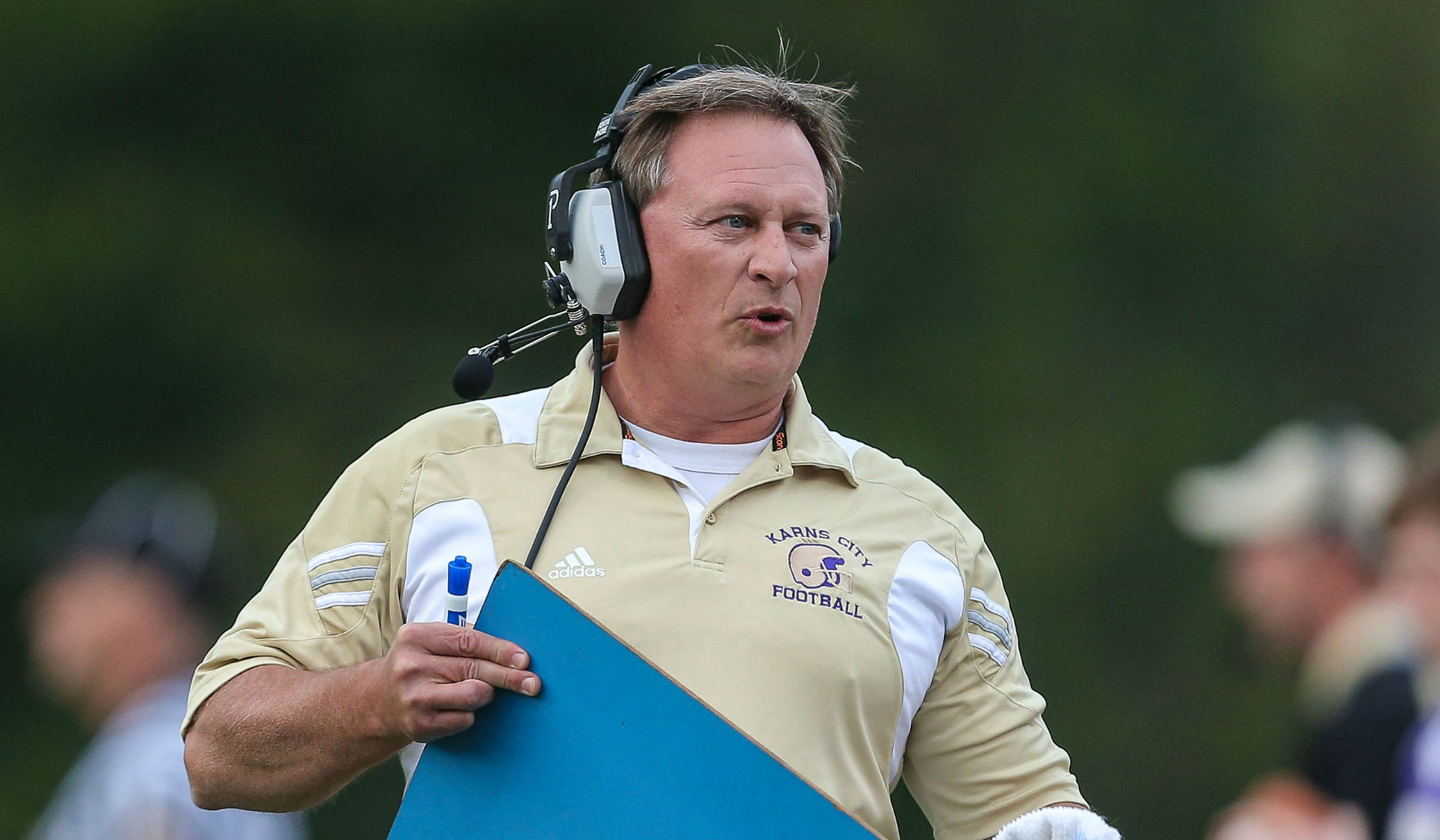 Photo Information: Karns City head coach Ed Conto, who leads his 11-1 Gremlins into a second straight matchup against South Fayette in the PIAA quarterfinals. (Photo by Mike Schnelle, Apex Imaging)
Karns City Schedule; Karns City Statistics
South Fayette Schedule; PIAA Class AA state bracket
By Rich Rhoades
CLARION — Another year, another shot at South Fayette.
After winning what turned out to be a true road game, the Karns City Gremlins get another crack at WPIAL champion South Fayette this Friday at Clarion University's Memorial Stadium at 7 p.m.
They earned a rematch with a hard-fought 23-14 win at Chestnut Ridge last Friday night.
Last year at the same site at CUP — the PIAA changed the cycle of home sites this year, so it's back to a D5-8-9 site for this quarterfinal round — Karns City fell to South Fayette, 57-21.
Karns City will try to knock off South Fayette and get past the state quarterfinal round for the first time in team history. The winner meets either District 10 champion Hickory or Tyrone in the state semifinals. Those two meet Saturday at DuBois' E.J. Mansell Stadium at 1 p.m.
In last year's matchup, the Gremlins led 21-15 following Tristan Rhoades' third touchdown on a 3-yard run with 7:37 left in the second quarter, but the Lions scored the final 42 points — 28 points by the end of the first half — on six unanswered touchdowns and set the PIAA Mercy Rule's running clock into motion with 5:38 left in the game.
South Fayette outgained the Gremlins, 499-161.
South Fayette's standout quarterback Brett Brumbaugh is back again. He completed 18 of 33 passes for 340 yards and five TDs last year against the Gremlins and he boasts big numbers once again going into this rematch.
In a battle of the top two teams in the state according to the Pennsylvania Football News, Brumbaugh led the No. 1 Lions as he threw for 352 yards, completing 24 of 35 passes with three touchdowns, in last Friday's 31-22 win over No. 2 Aliquippa. The 6-foot-4, 195-pound Duquesne University recruit is nearing a state record owned by a District 9 quarterback. Port Allegany's Matt Bodamer's career yardage mark of 10,948 yards is now just 303 ahead of Brumbaugh's career total of 10,645.
In the win over Aliquippa, the Lions had their way against an Aliquippa team that came in averaging 50.4 points per game while giving up just 11.5 points per contest.
Not that South Fayette (13-0) isn't much different. The Lions rank 14th in the state in scoring (45.3 ppg.) while giving up a solid 13.3 points per game.
Karns City's balanced offense, especially the running game, is led by Colin Dunmyre (876 yards, 14 TDs). Rhoades, who is trying to work his way back from a hamstring injury he suffered in their Week 10 loss to DuBois, did get back on the field and ran for eight years on four carries. He has rushed for 722 yards and 12 TDs. Christian Turner has 530 yards after running for 73 yards and 14 carries last week.
Tyler Dunn, who had two interceptions on defense, ran for 65 yards on eight carries.
The Gremlins' passing game will likely need to step it up against South Fayette. Quarterback Caleb King has thrown for 953 yards and eight TDs. Last week, he completed just 2 of 10 passes for 20 yards.
KARNS CITY STATE PLAYOFF HISTORY — Scores of state playoff games in Gremlins history:
2014 (last week): Karns City 23, Chestnut Ridge 14
2013: South Fayette 57, Karns City 21 (Class AA Quarterfinals)
2013: Karns City 35, Chestnut Ridge 14 (Class AA First Round)
2012: Karns City 35, Chestnut Ridge 29 (Class AA First Round)
2012: Aliquippa 51, Karns City 15 (Class AA Quarterfinals)
2009: Bedford 28, Karns City 26, 3 overtimes (Class AA Second Round)
2008: Karns City 32, North Star 14 (Class AA Second Round)
2008: Aliquippa 42, Karns City 14 (Class AA Quarterfinals)
2007: Jeannette 35, Karns City 6 (Class AA Quarterfinals)
2001: Sharon 20, Karns City 13 (Class AA First Round)
2000: Sharon 14, Karns City 6 (Class AA First Round)
1999: Sharon 33, Karns City 9 (Class AA First Round)
1997: Wilmington 22, Karns City 17 (Class AA First Round)
1993: Northwestern 22, Karns City 0 (Class AA First Round)