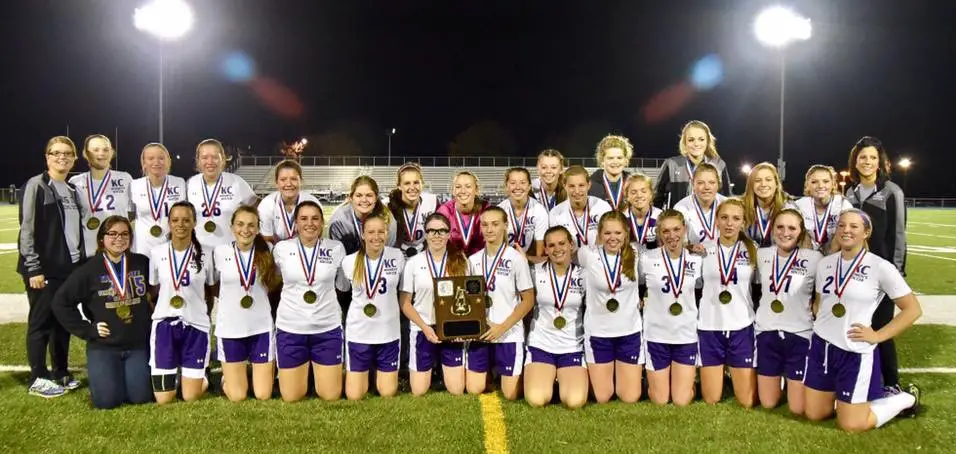 By Shane Lux
CLARION, Pa. – New classification. No problem.
(Cover photo by Scott Dittman)
The Karns City girls' soccer team won their 19th District 9 title in the last 22 years and its first in Class 2A with a 3-0 blanking of Clearfield at Clarion University's Memorial Stadium Tuesday night.
"We didn't come out and start real great tonight," Karns City head coach Tracy Dailey said. "It took us a little time."
Clearfield (10-9) got the jump on Karns City (18-1) throughout the first 10 minutes and tested the Lady Gremlins fourth goalkeeper of the season, Hannah Knoll. Knoll prior to Tuesday said she had never played goal before.
"She needed to get this under her belt tonight," said Dailey of Knoll. "We all believed in her. She just needed to believe in herself."
Watch Dailey postgame interview.
Knoll was up to the early challenge keeping the Lady Bison off the board giving the Lady Gremlins offense time to gather itself.
"I'm glad I was able to help the team out the best that I could," Knoll said. "I'm happy we came out with the win. There were a lot of butterflies, but once I got going I was fine."
With Knoll shutting the door, the Lady Gremlins offense came to life as Megan McCartney scored twice in the first half staking Karns City to a 2-0 lead.
"I hate to start flat like that," Dailey said. "We're going to start seeing some teams that are going to punish us for that.
"We came into this game not knowing Clearfield. We hadn't played them, but when I have played Clearfield they're solid and they're a good team. I'm very pleased with the girls, they've worked hard. They were just as anxious and nervous for a D9 game."
Chelsey Dodds added an insurance goal late in the second half as Karns City wrapped up its fifth straight District 9 title.
Karns City advances to play the WPIAL runner-up, either Freedom or Freeport.
"We go into next week coming in and working hard for whoever we see," Dailey said. "It'll be a great game for both teams. I'm very proud of this team, they've done a great job and overcame a lot of adversity.
"I think it means a ton to these girls especially the seniors they were a little nervous, but in the end they came out victorious."
Clearfield head coach Adrianne Sipes said her team had opportunities but couldn't capitalize.
"Karns City is a very talented team," Sipes said. "They were the best team we played all year," "We came out strong early, we had our opportunities but couldn't capitalize."