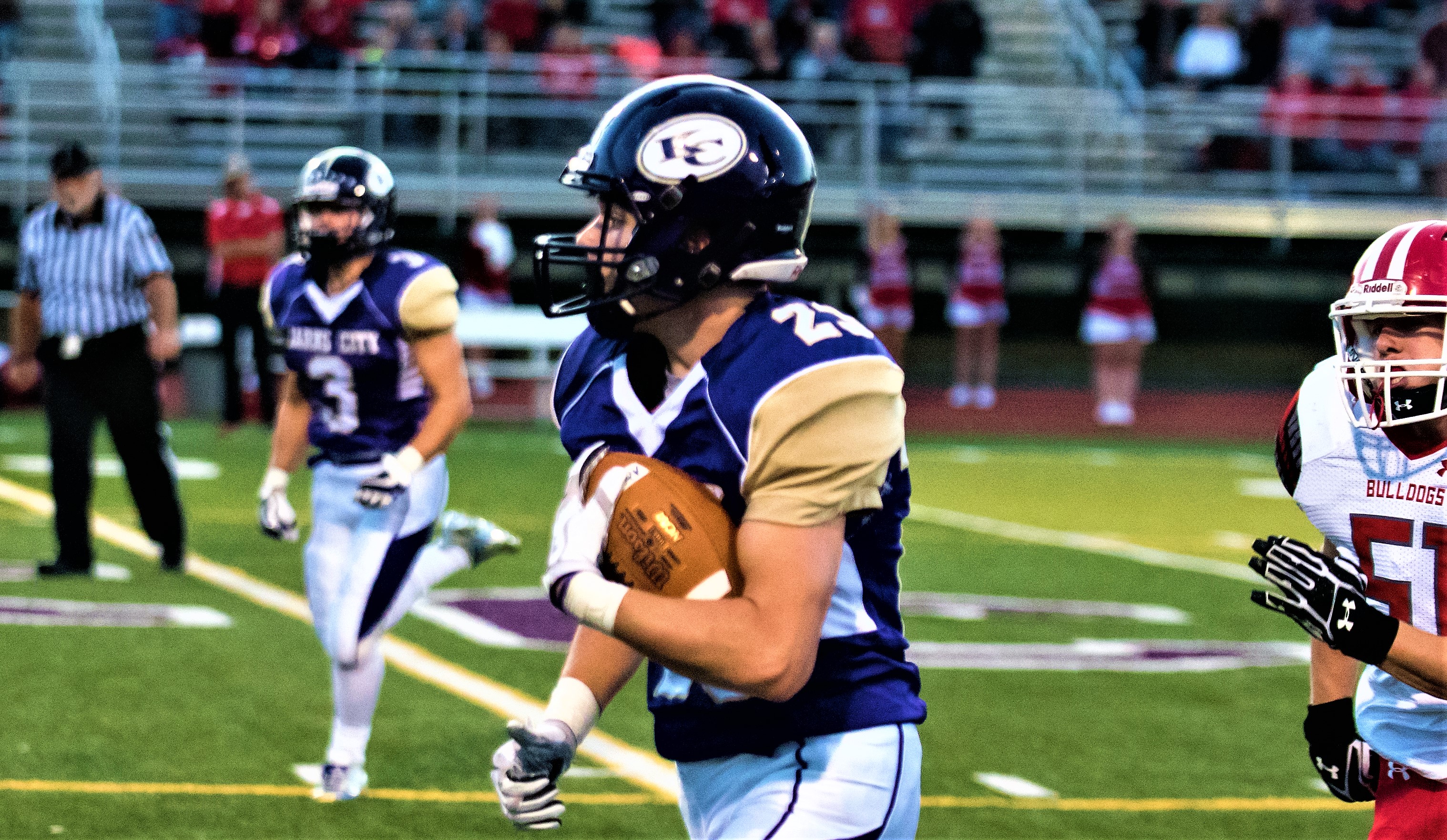 SHIPPENVILLE, Pa. – Nearly single-handedly carrying his team to victory in a shootout with Punxsutawney, Karns City's Dalton Beham is the Week Four 2017 D9Sports.com District 9 Football Player of the Week.
(Cover photo by Howie Dittman)
Beham scored on a quarter of his carries in a 42-32 Gremlins win finishing with five touchdowns on 19 totes while gaining 279 yards.
Joining Beham in being honored are 15 players on the District 9 Honor Roll including Ridgway's JJ Epley, who scored the first touchdown of his career Friday night.  
The Player of the Week and Honor Roll honors will continue through the conclusion of the regular season.  
D9SPORTS.COM PLAYER OF THE WEEK
Dalton Beham – Karns City: 19 carries, 279 yards, 5 touchdowns – Karns City 42, Punxsutawney 32
D9SPORTS.COM HONOR ROLL
Peter Downer – Brockway: 19-for-33 passing, 337 yards, 2 interceptions; 5 carries, 12 yards, 1 touchdown – Brockway 24, Ridgway 21
Bryan Dworek – Brookville: 9 catches, 80 yards, 2 touchdowns; Returned an interception 100 yards for a touchdown – Brookville 53, Redbank Valley 22
Jack Krug – Brookville: 16-for-24 passing, 241 yards, 5 touchdowns – Brookville 53, Redbank Valley 22
Jared Whiting – Cameron County: 15 carries, 78 yards, 2 touchdowns; 2 catches, 17 yards, 1 touchdown; Made 10 ½ tackles on defense – Smethport 50, Cameron County 34
Isaac Rumery – Clearfield: 12-for-17, 269 yards, 4 touchdowns; 8 carries, 23 yards, 1 touchdown – Clearfield 49, Central Mountain 10
Dalton Kruzelak – DuBois: 20 carries, 159 yards, 3 touchdowns – DuBois 34, Warren 17
Erik DeLong – Kane: 19 carries, 224 yards, 4 touchdowns – Kane 57, Curwensville 0
Dalton Beham – Karns City: 19 carries, 279 yards, 5 touchdowns – Karns City 42, Punxsutawney 32
Corey Rapp – Keystone: 21 carries, 82 yards, 2 touchdowns; 4 catches, 27 yards, 1 touchdown; Returned a kickoff 99 yards for a touchdown with 7 ½ minutes left and Keystone up three – Keystone 26, Moniteau 17
Sawyer Drummond – Otto-Eldred: 16-for-22 passing for 299 yards, 4 touchdowns – Otto-Eldred 45, Port Allegany 6
Dylan Ishman – Punxsutawney: 16-for-25 passing, 303 yards, 4 touchdowns; Ran for a 12-yard touchdowns – Karns City 42, Punxsutawney 32
Neil MacDonald – Ridgway: 11 carries, 46 yards, 1 touchdown; Had an electrifying 66-yard punt return with six minutes to play that gave the Elkers the lead; 6 catches 53 yards, 1 touchdown – Brockway 24, Ridgway 21
Nate Hollowell – Smethport: 19 carries, 105 yards, 4 touchdowns; 3 catches, 21 yards – Smethport 50, Cameron County 34
Blake Kinner – Smethport: 24 carries, 263 yards, 2 touchdowns – Smethport 50, Cameron County 34
Greg Duncan – Union/A-C Valley: 3 catches, 108 yards, 3 touchdowns; 19 carries, 75 yards – Union/A-C Valley 23, St. Marys 20
Jeff Ginn – Union/A-C Valley: Hit game-winning 34-yard field goal with 1:35 to play. It was the first field goal Ginn has ever attempted; 8 carries, 18 yards; 4 catches, 26 yards; 1-for-1 passing, 65 yards, 1 touchdown; Made six tackles on defense with a sack – Union/A-C Valley 23, St. Marys 20
2017 PLAYERS OF THE WEEK
Week Zero: Jack Krug, Brookville
Week One: Clint Thurston, Redbank Valley
Week Two: Sawyer Drummond, Otto-Eldred
Week Three: Nick Stewart, Curwensville
Week Four: Dalton Beham, Karns City
Week Five:
Week Six:
Week Seven:
Week Eight:
Week Nine: