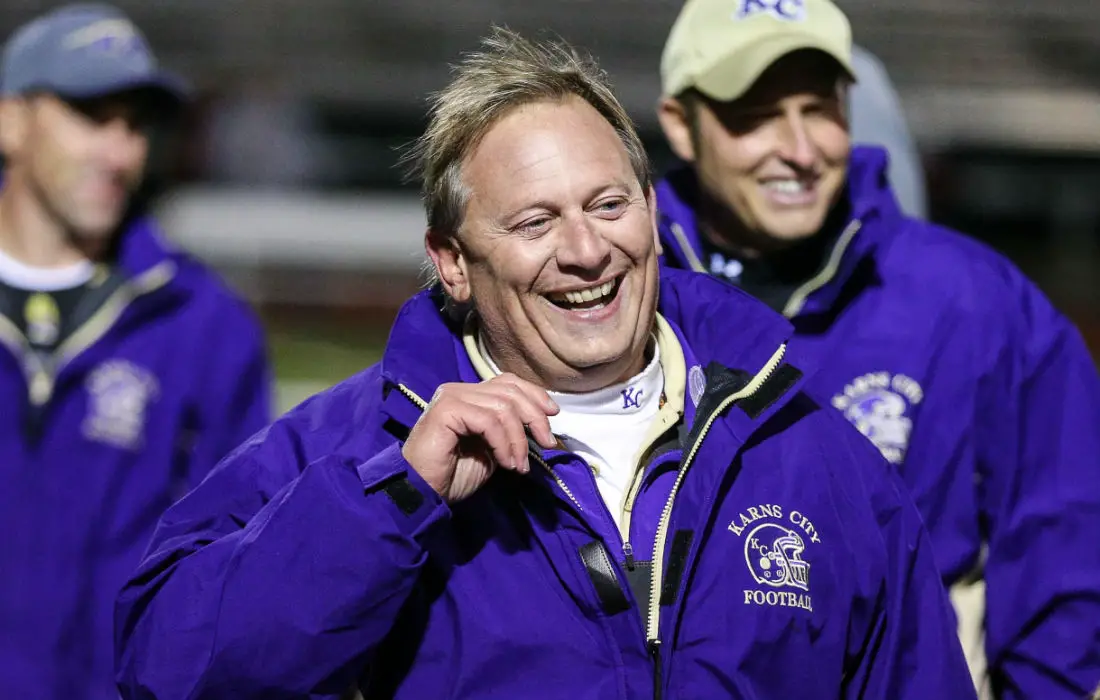 KNOX, Pa. – Dalton Beham ran for 131 yards and four touchdowns, as Karns City beat Keystone, 58-14, in Knox to give Gremlins head coach Ed Conto his 200th career win.
(Cover Photo by Mike Schnelle. Check out more of Schnelle's work here)
"I would say consistency in the coaching staff has had a lot to do with the success," Conto, who is 200-123-3 in his 30th year of coaching football including 164-49 in his 18th at Karns City after winning 36 games in 12 years at A-C Valley, said. "I have a lot of guys who have stayed with me the whole time. I've been lucky enough to have good guys who I can say 'you be a coordinator' and let them run with it. It's really about developing kids into good young men."
The fourth coach in District 9 history to 200 wins, Conto joins Clearfield's Tim Janocko (260), Clarion's Larry Wiser (210) and retired Coudersport head coach Paul Simcoe (204) in the 200-victory club.
One hundred wins let alone 200 wins almost didn't happen for Conto.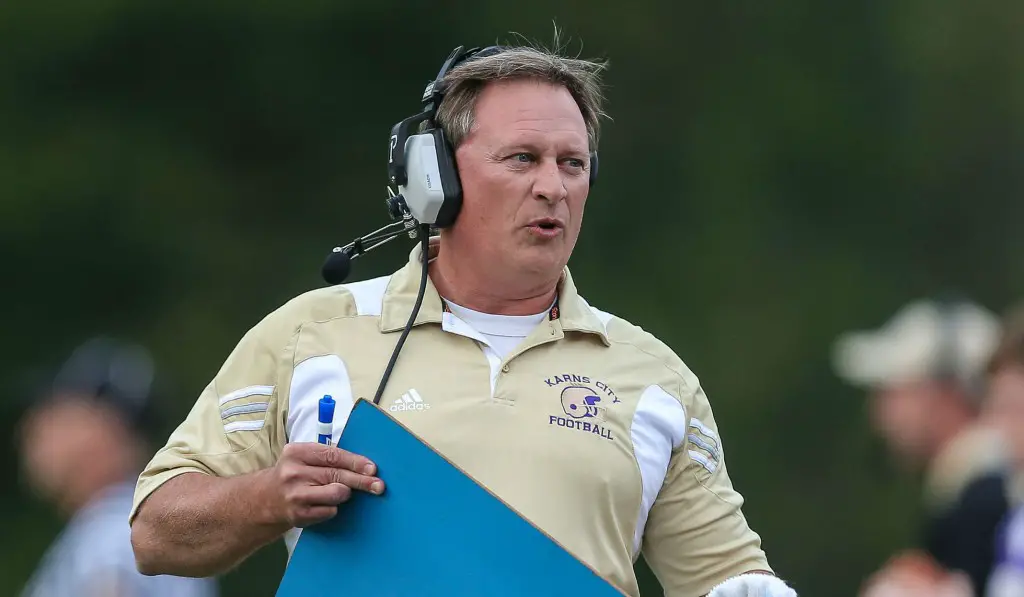 After 12 years at the helm of A-C Valley where he helped turn a program that had won a total of seven games in the three years prior to him taking over into a program that won six games in each of his final three seasons (1996-98), Conto accepted a job at Karns City with the intention of giving up coaching football.
But during his first year working at Karns City, then head Gremlins coach Lon Hazlet needed some help during camp and asked Conto if he would help out. The veteran coach said he would, and he never left.
"It was all by luck and chance," Conto said. "I went down there (to Karns City) the first year, and the coach that was there said somebody had quit or he didn't have somebody for camp so they asked me to come on for two weeks and they would have someone come in at the start of the school year. That didn't happen, and I stayed on for the year."
After the 1999 season, Hazlet left Karns City to take over the DuBois program, and Conto had no intentions of becoming the next head coach.
"I didn't even apply at first," Conto said.
But the school board seemed to be having trouble making up its mind on who the next coach should be, and they asked Conto if he would take it.
"I was kind of a little bit shocked," Conto said. "But I did, and it turned into a great thing."
It sure did turn into a great thing.
In his first 17 years at Karns City, the Gremlins have had two non-winning seasons and one losing season while taking home 10 District titles (nine in Class 2A and last year's in the new Class 3A as a sub-region title) while playing in 14 title games. Karns City has won a title in each of the last five seasons while playing for one in each of the last six.
Conto also took A-C Valley to the 1998 District 9 Class 3A title game where the Falcons, who were in a co-op with Cranberry at the time thus playing 3A, lost to Clearfield.
"(Coaching at A-C Valley) was fun," Conto said. "I learned a lot of football. I started out young. Working up through, we had six years that were tough (the Falcons were 13-57-3 in Conto's first eight years at the school before going 23-17 in his final four). We always tried to get two wins. I thought that was something special. The kids always had fun, and I enjoyed my time there. Eventually, we had four or five playoff years."
Conto still remembers his first win, a 14-7 victory over Moniteau in the final game of the 1987 season.
"The people and the kids went nuts," Conto said. "At the time, we were just trying to survive and keep the program alive. So anything was a bonus. When you had that win, it saves the whole season for those kids. Just one win is amazing."
Win 200 was pretty much in the books by halftime, as Karns City, on the strength of three Beham touchdown runs, led 34-8 at halftime.
The D9Sports.com Player of the Week last week, Beham, who needed just 10 carries for 131 yards, added a third-quarter score. He added five catches for 68 yards and intercepted a pass on defense.
Clay Garing also ran for a touchdown and kicked a 33-yard field goal for the Gremlins (4-2) finishing the night with 74 yards rushing on four carries, while Devin Ryan scored late and rushed three times for 49 yards.
Quarterback Anthony Kamenski added a rushing touchdown while carrying the ball seven times for 30 yards. He was also 9 of 17 passing for 151 yards, and Sebastian Troutman chipped in a rushing score as well while rushing five times for 17 yards and catching two passes for 55 yards and adding a sack on defense.
Corey Rapp scored twice for Keystone (2-3) on catches of six and 23 yards from Nate Wingard. Rapp had four catches for 70 yards and ran five times for 10 yards, but the Panthers were limited to 25 yards rushing on the night while they gave up 344 to Karns City.
Wingard was 7 of 15 passing for 78 yards and the two touchdowns while throwing an interception.
CONTO YEAR-BY-YEAR
The A-C Valley Years
1987: 1-8
1988: 2-6-1
1989: 3-5-1
1990: 1-8
1991: 2-8
1992: 0-8-1
1993: 1-8
1994: 3-6
1995: 5-5
1996: 6-4
1997: 6-4
1998: 6-4 (Lost in D9 3A title game)
A-C VALLEY TOTAL36-74-3
The Karns City Years
2000: 9-3 (District 9 2A Champions)
2001: 11-1 (District 9 2A Champions)
2002: 9-2 (Lost in D9 2A title game)
2003: 8-3 (Lost in D9 2A title game)
2004: 5-5
2005: 7-3
2006: 10-2 (Lost in D9 2A title game)
2007: 12-1 (District 9 2A Champions)
2008: 12-2 (District 9 2A Champions)
2009: 10-3 (District 9 2A Champions)
2010: 4-6
2011: 8-4 (Lost in D9 2A title game)
2012: 10-4 (District 9 2A Champions)
2013: 12-2 (District 9 2A Champions)
2014: 11-2 (District 9 2A Champions)
2015: 12-1 (District 9 2A Champions)
2016: 10-3 (District 5-8-9 3A Champions)
2017: 4-2 (Through Sept. 29)
KARNS CITY TOTAL164-49-0
OVERALL TOTAL: 200-123-3