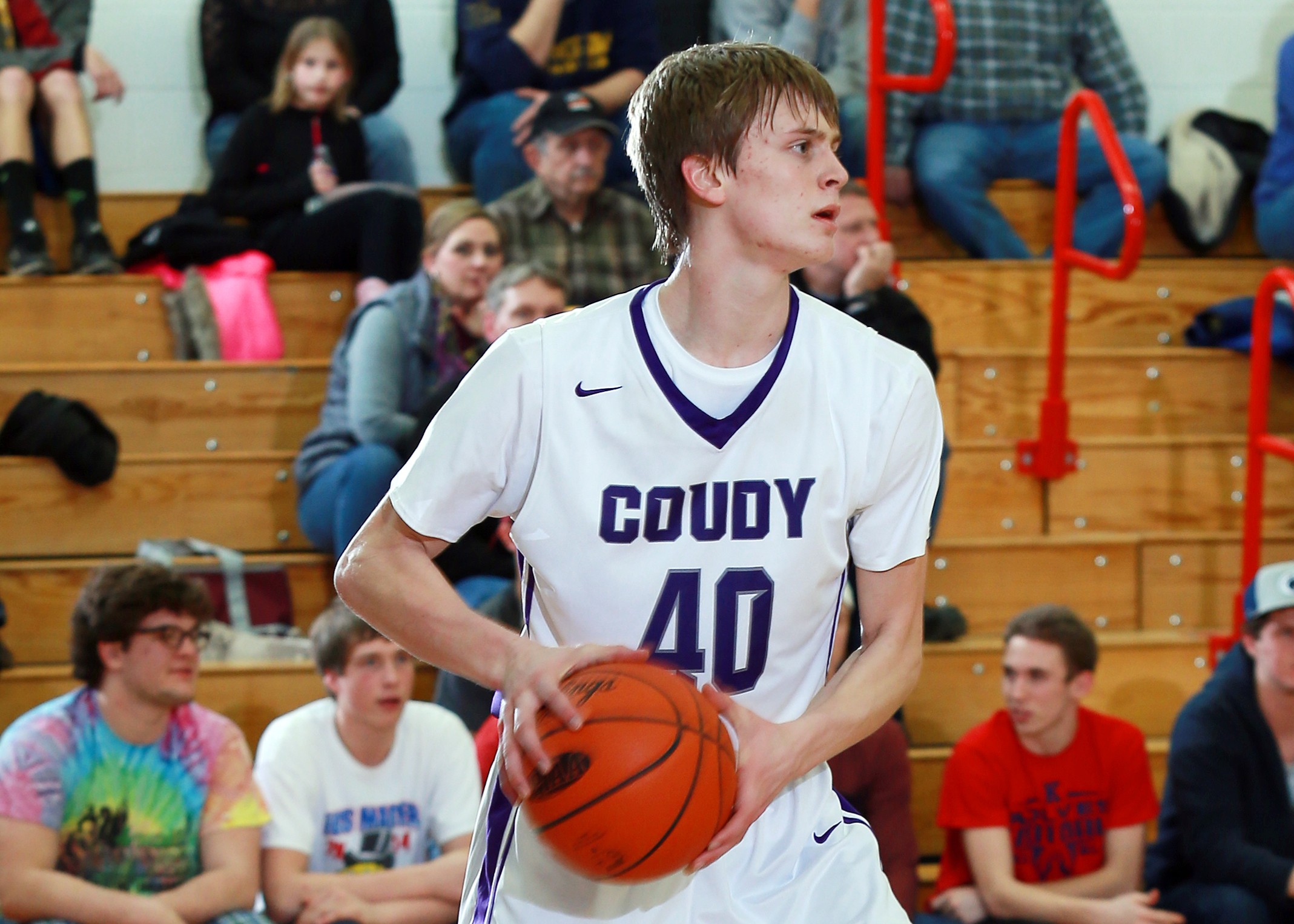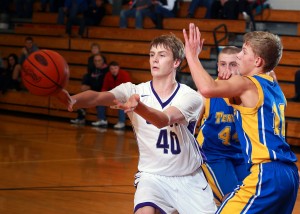 By Scott Shindledecker
CLARION, Pa. — A 13-0 run midway through the first quarter was enough to propel Kennedy Catholic to a 65-26 win over Coudersport in the second round of the PIAA Class A boys basketball playoffs Tuesday evening at Clarion University's Tippin Gymnasium.
Golden Eagle senior forward Sagaba Donate, a West Virginia recruit, scored his teams' first six points and keyed the run with his rebounding, defense and long outlet passes. Konate's first basket was a dunk 13 seconds into the game and his next was a layup 43 seconds in.
Coudy's Owen Chambers hit a three-pointer to make it a one-point game at 4-3 with 7:05 left. But the Falcons didn't score again until 3:44 remained in the second quarter and by then Kennedy led 23-6.
After it was 4-3, a Konate dunk made it 6-3 with 4:41 and the Golden Eagles started to pull away with their 13-0 run.
Jason Austin had a steal and layup, then Maceo Austin had a layup, followed by a three-pointer by Jason Austin to make it 13-3 with 3:35 left in the first. Maceo Austin hit another layup and Carmen Schuville scored a layup to make it 17-3.
Coudy's Jared Green stopped the 13-0 run with a free throw with 2:05 to make it 17-4 and that was the score at the end of one.
Kennedy scored 11 of the first 15 points of the second quarter to make it 28-8 with 1:38 left.
The Golden Eagles spread the points around with five different players scoring.
Darren Keglovits and Chase Whitman each hit baskets, but it still didn't prevent Kennedy from taking a 20-point lead.
But the Falcons used a 7-2 run in the final 1:23 to cut the deficit to 15 points. Aaron Wolfinger hit a basket, then Chambers hit a three-pointer to make it 28-13. Green hit two free throws to make it 28-15, but Kennedy got the last basket of the half when Channing Phillips hit a layup.
Kennedy came out running, gunning and connecting in the third quarter to remove all doubt from the outcome. It used a 17-2 run in a span of less than five minutes to make it a 30-point lead, 47-17.
Jason Austin scored Kennedy's first 11 points in 3:30 to make it 41-17. The fast breaks kept coming for the Golden Eagles as Konate hit, then Maceo Austin hit back-to-back baskets for a 47-17 lead.
It was 52-21 after three.
Coudersport ended its season at 22-4. The Falcons were led in scoring by Green and Chambers, who scored six points each. Senior Darren Keglovits scored five, as did Aaron Wolfinger.
Kennedy (25-2) will take on Cardinal Wuerl North Catholic in the state quarterfinals Friday. North Catholic beat Bishop Carroll 66-55.
The Golden Eagles were led by Jason Austin's 20 points. Austin hit a game-high four three-pointers. Konate added 15 points while Maceo Austin had eight and Drew Maestro scored seven.
KENNEDY CATHOLIC 65, COUDERSPORT 26
Score by Quarters
Coudersport 4 11 6 5
Kennedy Catholic 17 13 22 13 – 65
Coudersport – 26
Darren Keglovits 2 1-2 5, Jared Green 1 4-6 6, Owen Chambers 2 0-0 6, Aaron Wolfinger 2 0-2 5, Derek Keglovits 1 0-0 2, Chase Whitman 1 0-0 2, David Rigas 0 0-0 0, Kullen Crosby 0 0-0 0. Totals: 9 5-12 26.
Kennedy Catholic – 65
Drew Magestro 2 2-4 7, Channing Phillips 1 2-3 4, Sagaba Konate 6 3-4 15, Maceo Austin 4 0-0 8, Mohamed Konate 2 0-0 4, Carmen Schuville 1 0-0 2, Nickolo Lima 0 0-0 0, Jacob Wilson 0 0-0 0, Jason Austin 8 0-0 20. Tom Gilmore 1 0-2 2, Tyler Kish 1 0-0 3. Totals: 26 7-13 65.
Three-pointers: Coudersport 3 (Chambers 2, Wolfinger); Kennedy Catholic 6 (J. Austin 4, Kish, Magestro).