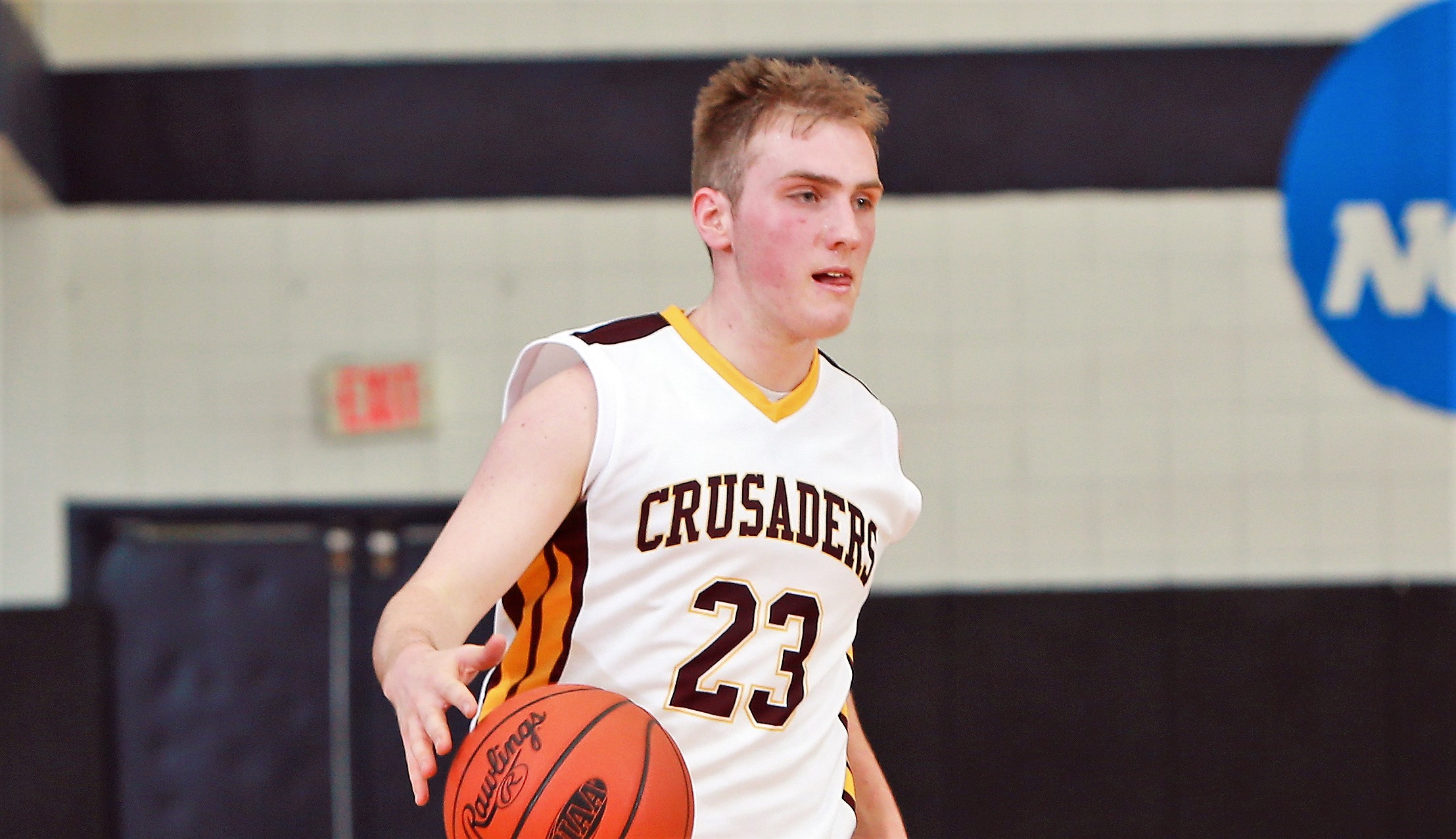 CLARION, Pa. – Kennedy Catholic used a 9-0 second quarter run to erase an early deficit and never looked back on its way to a 61-40 win over previously unbeaten Elk County Catholic in the PIAA Class 1A quarterfinals Saturday night at Clarion University's Tippin Gym.
(Cover photo of ECC's Gabe Kraus. Photo by Paul Burdick. Check out more of Burdick's work here)
"It was a tough way to lose," Elk County Catholic head coach Aaron Straub said. "I thought the game came down to their length. They got their hands on a lot of balls. After the first quarter, I thought they really stepped up their intensity."
Watch the entire Straub interview.
ECC (28-1), which led 14-10 at the end of the first quarter, still held a 16-13 lead early in the second quarter before Mohamed Konate and Drew Magestro connected on three consecutive 3-pointers giving the Golden Eagles a 22-16 lead.
ECC was able to keep itself in the game as Gabe Kraus hit his third trey of the first half pulling the Crusaders back to within, 22-19, before Kennedy Catholic responded with baskets by Maceo Austin, Marcin Wiszomirsky and three straight free throws by Konate to take a 30-21 lead into the locker room.
Konate scored 11 of his 13 points in the second quarter.
Kraus's 3-pointer was the lone ECC field goal in the second quarter as they shot just 1 of 8 from the field with four turnovers. Meanwhile, Kennedy Catholic shot 6-for-9 from the field including 3 of 3 from 3-point land.
The Crusaders were able to pull as close as 37-31 with 3:01 left in the third quarter on 3-pointers from Nate DaCanal and Dan Stauffer along with a bucket from Ryan Newton.
However, Kennedy Catholic scored the quarter's final six points, four by Channing Phillips and two from Wiszomirsky, to take a 43-31 lead into the fourth quarter.
The Golden Eagles then wasted little time putting the game away as they went on an 8-1 run to take a 49-32 lead before DaCanal scored Elk's first field goal of the fourth quarter bringing to score 49-34 with 4:44 remaining in the game. That's all the closer ECC could get as Kennedy Catholic got fourth quarter scoring from five different players including Konate, Magestro, Wiszomirsky, Austin, and Phillips.
"We didn't play our best game," Kennedy Catholic head coach Rick Mancino. "But credit to Elk County Catholic. They're very well coached and came in with a great gameplan the way the held the ball made us adjust. But we were able to fight through it for the win."
ECC started the game off great as Kraus hit a trey on the opening possession of the game. The Crusaders got six points each from Kraus and DaCanal in the first quarter as they built a 14-10 after one.
"I thought we were well prepared," Straub said. "I thought we battled hard the entire game. I'm extremely proud of the effort we got from that group."
Kraus led the Crusaders with 12 points with DaCanal adding 10.
Wiszomirsky, Austin and Magestro each scored 14 points for Kennedy while Konate netted 13.
Elk County Catholic's seniors went 56-2 in the last two years.
"Most importantly I'm proud of our seniors," Straub said. "We have young men that are classy and are winners. They represented the program very well. Our program is a lot more than basketball."
Kennedy Catholic 61 Elk County Catholic 40
Score by Quarters
KC – 10 20 13 18 – 61
ECC 14 7 10 9 – 40
Kennedy Catholic – 61
Marcin Wiszomirsky 6 2-4 14, Drew Magestro 4 2-3 14, Channing Phillips 2 2-2 6, Mohamed Konate 4 3-5 13, Maceo Austin 5 4-5 14, Clay O'Dell 0 0-0, Manis Norman 0 0-0 0. Totals: 21 13-19.
Elk County Catholic – 40
Nate DaCanal 6 2-4 15, Gabe Kraus 3 3-4 12, Brad Dippold 0 2-2 2, Dan Stauffer 1 3-5 6, Ryan Newton 1 1-2 3, Alex Breindel 1 0-0 2, Erick Mader 0 0-0, Logan Hoffman 0 0-0, Frank Singer 0 0-0. Jared Braun 0 0-0 0, Joe Aiello 0 0-0 0. Totals: 12 11-17.
Three-pointers: KC – 4 (Magestro 2, Konate 2). ECC – 5 (Kraus 3, DaCanal, Stauffer).