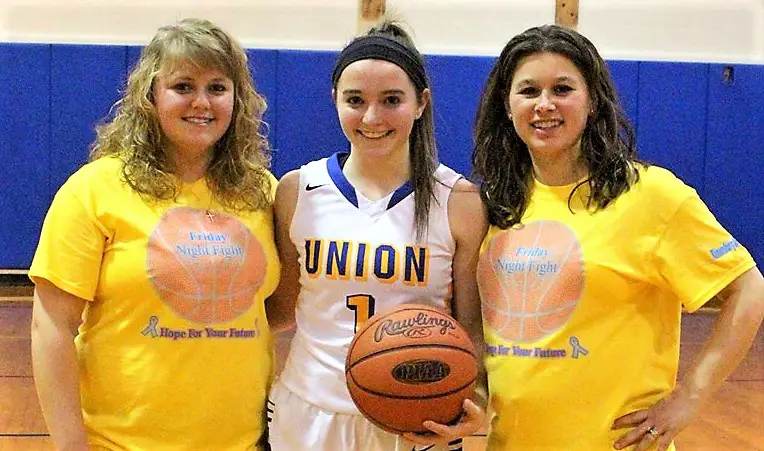 RIMERSBURG, Pa. – Allyson Kepple is used to winning.
(Photo: New Union head coach Allyson Kepple (left) with former head coach Lacey Magagnotti (right) and now graduated 1,000-point scorer Lexey Shick. Photo by Shelly Atzeni)
At Karns City, where she started for the better part of four years at point guard and is the school's sixth all-time leading scorer with 1,189 points, Kepple, who graduated in 2008, won three District 9 Class 2A titles.
Now she hopes to add to that championship collection as the new girls' basketball coach at Union High School.
Kepple, who was the junior varsity for the Golden Damsels the last three years, takes over for Lacey Magagnotti, who stepped down at the end of last season.
"(Coaching) here the last three years definitely makes the transition easier," Kepple said. "The girls know me and I know them."
Kepple has actually followed this year's senior class throughout their junior high and high school careers as she started out as a junior high coach in 2013. In addition, this year's sophomore class – there is only one sophomore currently playing basketball – was the first class she had as a sixth-grade teacher in the district.
"They all know me, which should help," Kepple said. "They know that I asked them to give 110 percent out there, and they do."
Kepple describes herself as an analytical coach who likes to see how things play out.
Because of that, she wasn't 100 percent certain at first if she wanted to step into Magagnotti's shoes. But after some thought, she realized it was what she wanted to do.
"I think there are many different coaching styles that can work," Kepple said. "I don't like to yell. I would rather bring the players in and talk about what we can do to fix the problem or mistake. As the head coach, I can run things like I want them to be."
Kepple believes that players respond better when they feel they are a part of the decision-making process and aren't being yelled out all the time.
"I've had coaches who yelled at me, and it never bothered me," Kepple said. "But I know that a lot of players can't handle that. I think, in the end, it doesn't work. I want to ask my players what they see, and I want them to know I value their opinion."
Kepple's philosophy of valuing her players' opinions comes directly from her time at Karns City where she played her freshman year for Chris Bellis, who is now the boys' coach at Karns City, and her final three years for Dave Kerschbaumer.
"Bellis originally started it by bringing me up as a freshman and letting me play," Kepple said. "Kesrch carried that over. He wanted me to know what I was seeing on the court, and he taught me how to read defenses. By the time I was a senior, I felt like I was a coach on the floor.
"Kersch's influence on me is big. He made sure I understood all the positions even though I only played point guard. That is something I am trying to teach my players."
It was while playing at Karns City that Kepple got her first taste of coaching.
"At Karns City, they would have us coach the elementary kids," Kepple said. "We would start out with basic drills on Saturday mornings and then teams were picked and we coached the different teams."
Kepple would love to play an up-tempo style of basketball reminiscent of Union teams of the past.
"I am a big fan of up-tempo basketball," Kepple said. "When I played AAU, we played up-tempo. I remember playing Union when I was in high school, and I can remember them having one play. Everything else they scored off the fast break."
Kepple said defense is the key to any team's success.
"As they say, offense sells tickets but defense wins championships," Kepple said. "That is something I want to stress."
Kepple believes she can bring the program back to the glory days of Union High School basketball.
The Golden Damsels have won seven District 9 Class 1A titles since 1982 but haven't won a title game since winning the third of three in a row under Josh Meeker in 2007. The 2007 season marked the fourth time in five years Union was in the championship game, but the Golden Damsels haven't had a winning season since going 22-5 in 2011 losing in the D9 title game to Coudersport that season.
"We have a lot of younger girls who are playing a lot of basketball," Kepple said. "Hopefully, that continues. And I think some of the older girls like to win, but they have kind of gotten into this mindset that they can't at times. I need to make sure they understand that it is ok to make a mistake. We will go back and fix it."
Kepple said when she was growing up and even while playing at Karns City she always admired the coaching work of long-time Union coaches Karen Davis and Meeker.
"I remember watching Karen Davis coach," Kepple said. "And even now, when she is officiating, she always makes sure to come over and see how we are doing. I've always been a big fan of hers."
As for Meeker, he is still very much involved in the Union program and will coach the junior high girls this year.
"With Josh, I can always go and bounce things off of him, ask him what he thinks of something or how I should handle something," Kepple said.
Kepple has also had the idea of getting video from Meeker of some of his top Union teams and showing it to her players.
"I want to get video of Bethany Koch and Andrea Mortimer and show our players what it was like here at Union," Kepple said.
According to Kepple, one of the positives the program has going for it is a supportive administration from Superintendent Jean McCleary, who herself was a 1,000-point scorer at West Forest under the legendary Bob Wachob (1,019 points), to high school principal Mark Schlosser and athletic director Scott Kindel.
"That is so important," Kepple said. "Mrs. McCleary is always interacting with our program and is at a lot of our games. Mr. Kindel has been running the junior high summer league all summer and is very supportive. You know that they have your back."
Kepple also said having a good group of parents is helpful.
"We have been very lucky," Kepple said. "In the three years I was the junior varsity coach, we never had an issue with parents. They have been very supportive."