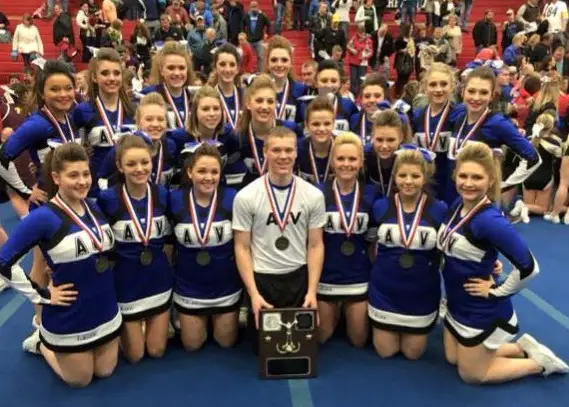 DUBOIS, Pa. – Keystone, A-C Valley, Cranberry and Elk County Catholic took home District 9 Competitive Spirit championships Saturday at DuBois High School.
In addition, Karns City, St. Marys and Redbank Valley also earned berths in the PIAA State Championships to be held Jan. 22-23 in Hershey.
Keystone captured the Large Varsity division with a score of 87.3 beating out Karns City (78.2)
A-C Valley took home the Co-Ed Varsity title with a score of 87.2 topping Brockway, which scored 71.3.
Cranberry was the champion in the Medium Varsity division scoring 72.8, which just was enough to get past second-place DuBois, who scored 71.3.
In the Small Varsity division, ECC took home the title with 87.8 points, a 10.3 points edge on St. Marys, which finished second with 77.5. Redbank Valley was third with 74.2 points.  
According to Chris Niklaus, the Kane Cheerleading coach, District 9 is allotted seven qualifiers for the PIAA State Championships and the format for the District 9 championships was that a winner in each division, so long as that division had at least two teams, qualified for the PIAAs and the next three highest scorers regardless of division would qualify for an at large bid.
"The state championship is limited to 120 teams and is not based on school size," Niklaus said. "It's based on the number of athletes on the floor. So, a large Class AAAA school can enter the Small Squad division if they choose and a Class A school can enter the Large Squad Division if they choose but must have the proper number of athletes on the floor competing per the division they enter."  
LARGE VARSITY  
Keystone – 87.3 (state qualifier)

Karns City – 78.2 (state qualifier)
CO-ED VARSITY
A-C Valley – 87.2 (state qualifier)

Brockway – 71.3
MEDIUM VARSITY
Cranberry – 72.8 (state qualifier)

DuBois – 71.3
SMALL VARSITY
Elk County Catholic – 87.8 (state qualifier)

St. Marys – 77.5 (state qualifier)

Redbank Valley – 74.2 (state qualifier)

Kane – 69.0

Punxsutawney – 58.0

Bradford – 56.3