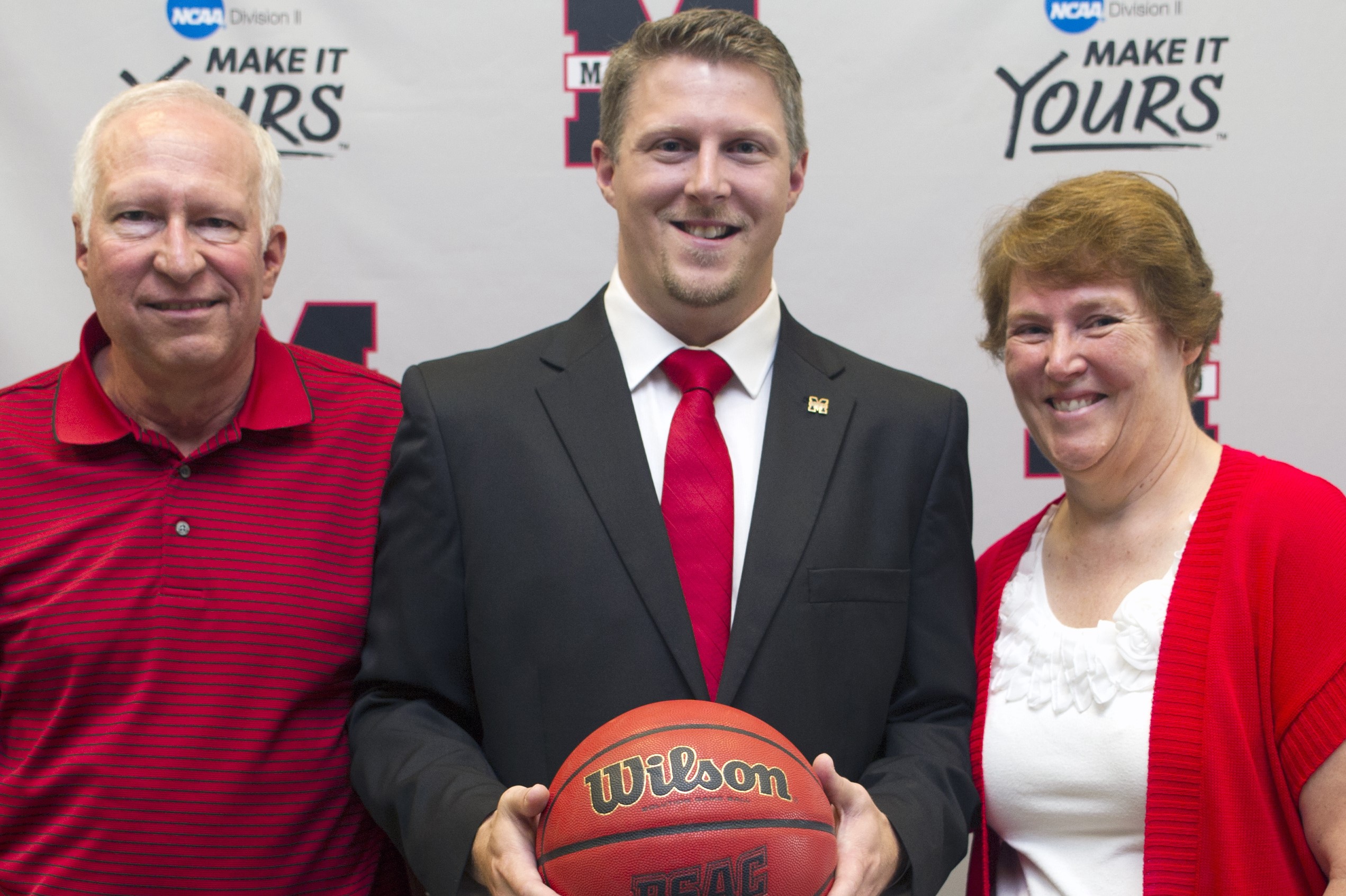 MANSFIELD, Pa. – Growing up in Knox, Mike Whitling didn't always dream of becoming a head basketball coach.
( Cover Photo of Whitling (center) with his parents, Gary and Sue, at his introductory media conference. Photo courtesy of Mansfield Athletics)
In fact, Whitling wanted to be a Meteorologist and spent a year-and-half at the University of Utah after graduating from Keystone in 1999 to do just that.
But during his time in Utah, Whitling realized that Meteorology wasn't where he wanted to be, and he transferred back home to Clarion University and in the process unknowingly set off a chain of events that ended last week with him being named the head women's basketball coach at Mansfield University, a NCAA Division II school that plays in the PSAC East.
"I guess, in college, I thought Meteorology wasn't going to pay the greatest," Whitling recalled Wednesday. "Because I was getting out of (the field), there was no reason to stay in Utah, so I came back to Clarion. My dad (Gary Whitling) coached the Keystone girls' basketball team for pretty much my whole life. (Clarion University women's basketball assistant coach) Scott (Creighton) came over to one of his practices and I got to know Scott, and we became really good friends. We stayed in touch, and I was able to get the graduate assistant spot at Clarion in 2006, and my career was born from there."
If the journey had only been that simple, though.
When Whitling returned to the area in the Spring of 2001, he joined the Clarion University baseball team coached by Brookville native Scott Feldman.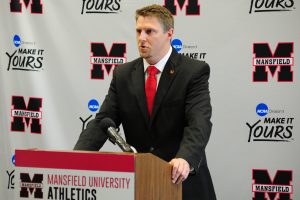 "At the time, I thought I was pretty good at baseball," Whitling said. "I wasn't really good enough at basketball to play in college, but I felt being a college athlete was important to me. I realize it's not the most traditional path to being a basketball coach, but when my dad was coaching, I gravitated towards it and understood it."
After graduating from Clarion in 2004 with a degree in Business Finance, Whitling still didn't go straight into coaching basketball. Instead, he went to work for Thrivent Financial in Emsworth, Pa., near Pittsburgh.
But, again, he didn't like what he was doing and his relationship with Creighton was about to pay off.
After going to the NCAA Division II Tournament in 2005, the Golden Eagles were in need of a graduate assistant coach, and Whitling's coaching career had its start.
He spent three years at the Golden Eagles graduate assistant under head coach Margaret "Gie" Parsons, the winningest coach in school history. Creighton, who won a PIAA title as both an assistant and head coach at Cranberry High School, was the assistant coach for the first two years Whitling was at Clarion before taking a job as an assistant coach at Oregon State.
Creighton only lasted one year at Oregon State and returned to Western Pennsylvania in 2008 when he was hired to teach and coach boys' basketball at DuBois High School, and he brought Whitling, who was student teaching at the time, with him to be his assistant coach.
"I spent two years as the head junior varsity coach and assistant varsity coach at DuBois," Whitling said. "I learned how to take over a program and learned on focusing on things that needed to be done right away vs. things that could be done when the team became more advanced. I also learned not to throw too much at them and to always be positive. They needed positive reinforcement."
After spending a couple of seasons helping to guide the Beavers, Whitling hooked up with another former Clarion University graduate assistant, Jim Brunelli, who had just gotten the head coaching job at Anderson, a NCAA Division II school on the western side of South Carolina.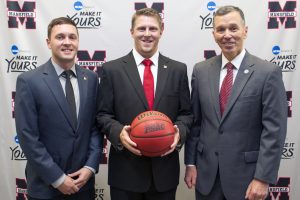 "In 2007, I met Jimmy at a NCAA Division I Final Four in Boston," Whitling said. "Coach Parsons had introduced us. Every since she introduced us, we had a connection and stayed in touch. I would go out and see his practices at Akron (where Brunelli was an assistant coach). We always stayed in touch. When he got the job at Anderson, he had an opening and knew I was looking. He called and said I have a job for you if you are interested. One thing led to another, and I was in Anderson, S.C."
Whitling joined Brunelli in South Carolina for the 2011, 2012 and 2013 seasons, and the duo helped the school to the NCAA Division II Tournament in 2013.
"I learned how to manage a ballclub down there," Whitling recalled. "(Jimmy) ran a really good program down there. It gave me a different perspective on how to run a program. I began to form my thoughts of how I would do things."
Following the 2013 season, Brunelli was named the head coach at perennial NCAA Division II power Gannon, in Erie, and offered to take Whitling with him.
At the same time, Whitling wanted to run his own program and applied for the Anderson job.
"I applied for the Anderson position and was given an opportunity to interview," Whitling said. "Jimmy and I had good communication at the same time. He said if I wanted to come with him to Gannon, I was more than welcome. I told him I would love to be his assistant, but I also wanted to try for the Anderson job. HE was very gracious and gave me the opportunity to be at Gannon but still apply at Anderson. When I didn't get the job at Anderson, I moved to Gannon."
At Gannon, Whitling was closer to home meaning his parents, Gary and Sue, and his grandfather, John Whitling, could see many more of his games.
"That was huge," Whitling said. "To have my parents at pretty much every game was a big deal. At Anderson, the could make two or three games a year. It was a big deal to me to have them in town a lot."
Gannon won at least 20 games in each of Whitling's first two years at the school and then went 17-11 last season. The 2014 squad went to the second round of the NCAA Tournament.
"The experience at Gannon was learning how to deal with pressure," Whitling said. "Up in Erie, they are very basketball oriented. They love their basketball. We were under a lot of pressure to win a lot of ballgames. As a coach, you have to learn how to deal with it and channel it and take pressure off the team as much as we could."
Following the 2014 season, Whitling applied for the Clarion University job when it became open following Parsons' retirement. But despite his ties to the school and the area, he wasn't even given an interview.
"I think it's every coach's dream to coach at their alma mater," Whitling said. "Would I have liked to have had the opportunity? Sure. They chose to go a different way. I can't fault them for that. I'm thrilled to be where I am at right now."
Where Whitling is at is Mansfield, a program that he sees similarities with Clarion.
The Mountaineers are coming off a 7-19 season in 2016 and have won just 15 games in the last four seasons since their last double-digit win season (10) in 2012. The women's basketball program hasn't had a winning record since 1983.
None of that matters to Whitling.
"It's pretty exciting," Whitling said. "I think I can maybe bring a higher level of expectation, maybe a fresh look at things. New enthusiasm will be good for the program.
"I think it's very comparable to Clarion, and I will also pull from my experience at DuBois High School where we were in a rebuilding situation when Scott took over. I think those experiences are what I am going to pull from in terms of rebuilding. In terms of the level of expectations and where they need to be and where the kids need to be to be successful, I will definitely look at my experienced from Gannon."
Whitling believes he has gleaned important lessons from every coach he has been around, but two Keystone coaches have had the most influence on him as a person and as a basketball coach.
"I would say my dad is my biggest influence," Whitling remarked. "Outside of family Mr. (Greg) Heath (Keystone's legendary boys' basketball coach) has been a huge influence. The way they deal with people and players is something I have always watched and tried to be like."
Whitling also believes the values he got from growing up in Clarion County will help him as a head coach.
"I think the values I have are the small-town atmosphere, that hard-working mentality," Whitling said. "We weren't given everything growing up. When you got something, you cherished it. I just got back to that small-town mentality. It's what makes it such a great fit for me at Mansfield, too. It's very similar to Knox. It's very family oriented with that small-town atmosphere."