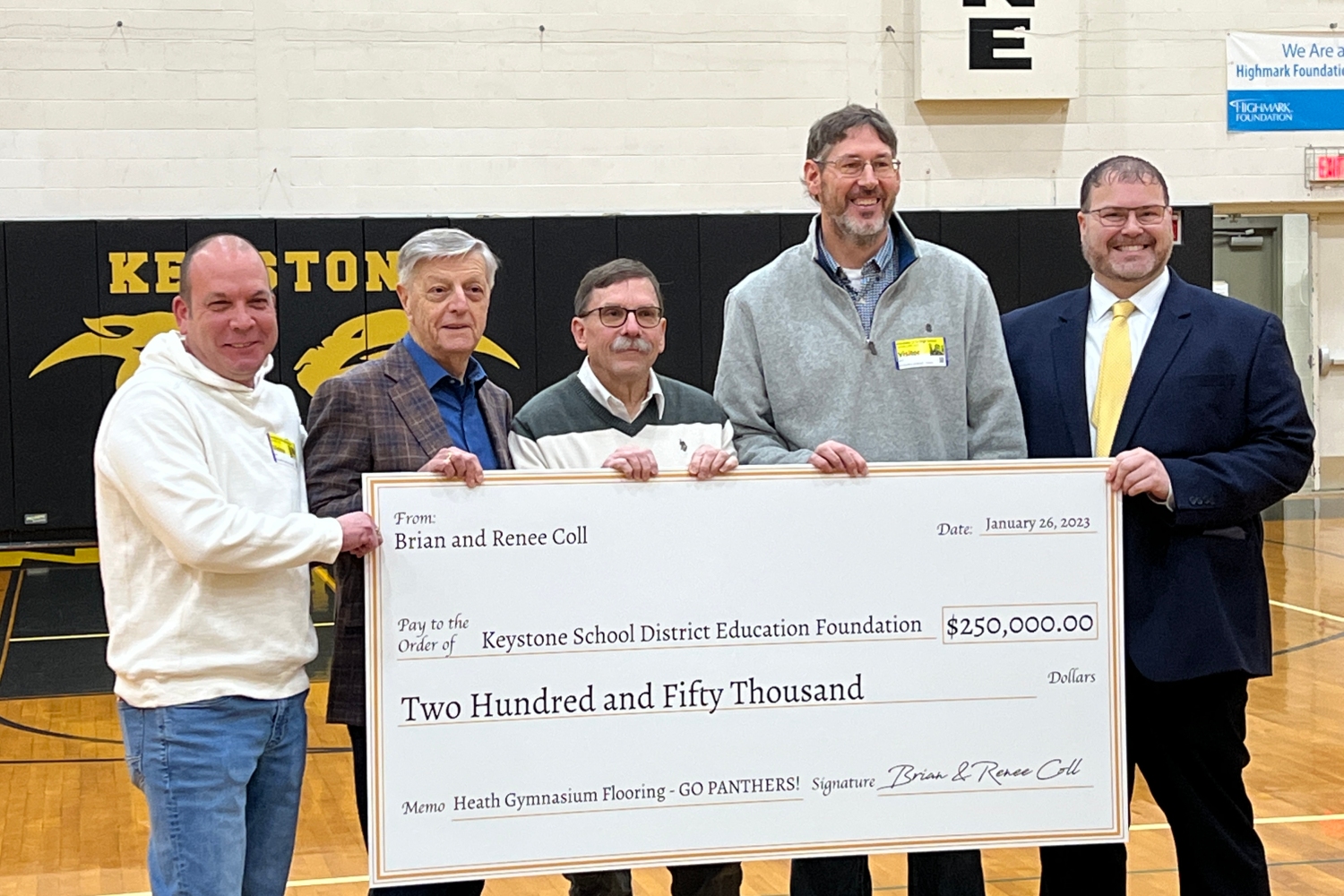 KNOX, Pa. (EYT) – A Keystone High School alumnus on Thursday presented a check in the amount of $250,000.00 to the Keystone School District Education Foundation for a new hardwood floor in the high school gymnasium.
(Pictured above, from left: Keystone High School alumnus Brian Coll; Keystone School District Education Foundation President John Mason; Keystone School Board President John Slagle; Keystone School District Board Member Jason Say; and Acting Superintendent Michael McCormick. Photos and video by Jacob Deemer/EYT.)
The donors, whose names had been kept anonymous until Thursday morning, are Brian and Renee Coll. Brian is a 1991 graduate of Keystone High School.
Coll, who currently serves as CEO of Duramax Holdings, said he just wanted to help out his alma mater.
"Jason (Say) asked for help, so I gave it to him," Coll told exploreClarion.com. "I think the summary of (how this came about) doesn't matter, right? If you can help someone, you do."
The donation was arranged through the foundation by Coll and Jason Say, who graduated together in 1991.
Say explained that replacing the gym floor has been on his to-do list since he was elected to the Keystone School Board.
"It's a little surreal," Say stated. "I guess the big thing for me is that when I ran for school board, it was a contentious election. I think a lot of people had questions about me and my intentions, and what I wanted to do. Anybody who knows me well, when I take on a task, it's full tilt. And, that's not any different with the school board.
"I knew from the time I ran for school board that I wanted to do more. I wanted to be a great school board member, but my background is in marketing and development. I had my eye on the foundation for a long time, and I wanted to get that running."
Joining Say and Coll for the presentation were foundation president John Mason, acting superintendent Michael McCormick, Keystone students, and Coach Greg Heath, who the court will be named after.
Coll's first request when he offered a $250,000.00 donation to the foundation was the stipulation that the gymnasium would be named after Coach Heath, one of the all-time winningest high school basketball coaches, not just the in the area, but the entire state.
During the presentation of the check, Coach Heath said, "I'm very humbled and honored. I appreciate it.
"I'm not sure I'm all that deserving of that, or if anybody is, but it's a great honor."
Heath, who has spent nearly 40 years as head coach of Keystone's boys' basketball team, is one of just three coaches in District 9 history to win over 600 games in his career. He joins Elk County Catholic's Aaron Straub and Union School District's Don Stemmerich as the only three D9 coaches to reach the milestone.
"I'm very thankful for all the players and coaches that have been with me through the years," Heath continued. "It's really just as much their names that should be on this floor as mine."
The estimated cost to replace the gym floor is $189,000.00. The remaining money will go toward purchasing new uniforms and sneakers for all kids participating in indoor sports, grades 7 through 12.
Coll explained that Keystone High School is where he got his start.
"I have a lot of friends here. A lot of coaches and teachers helped me get out of a bad situation and into the Navy," Coll remarked. "If it wasn't for them, I probably wouldn't be where I'm at today."
The new gym floor, which was seen by many as a need for the school, was not at the top of the district's to-do list. In June, the board approved a one mill tax increase the 2022-23 school year to go toward multiple projects that need to be funded and completed over the next 10 to 15 years.
More recently, the board discussed an estimated $3.5 million renovation project that consists of new windows and a new ventilation system to be installed in the elementary school.
"This (donation) helps out immensely," Keystone School Board President John Slagle said on Thursday. "We have to spend a lot of money to keep up the facilities. (A new basketball court) is a luxury. Everybody realized it was a need, too. Given (the donation), it makes everything work a lot better."
Slagle also remarked on how difficult it would have been to raise funds to replace the gymnasium floor without Coll's donation.
"It would've taken us years," he said. "We could've sat aside $10,000.00 or $20,000.00 a year to do that, and you do the math. Even if we wanted to re-do this, it would've been 10 years at least."
According to Say, this is just a small step toward where the school district and the foundation want to be in the future.
"I want to offset some of these things we can do," Say explained. "We have the best teachers, we have the best administration, we have the best students, but we have some older facilities.
"How can we do things? I don't want to raise taxes. How can we move the needle and continue to improve our school from a facility standpoint? The easy answer for me was the foundation."
Both Say and Keystone School District Education Foundation President John Mason are determined to use this donation as a stepping stone to keep improving the facilities and other areas of the school.
"What we would like to do is a much better outreach program to all of our alumni," Mason said. "Brian set an example of a successful alumnus, but there are many successful alumni. They need to realize that there are needs that they can help us with in the Keystone School District.
"This is just the kickoff," Mason continued. "We're going to start a robust outreach program to alumni, and to also do a better job in grant writing and so forth."
Say echoed Mason's remarks, "This is just the first step. This is just the beginning for me. We have a lot of plans of things we want to do, and I'm super excited."
Many of the plans are still preliminary at this point, and will still need to go through a process with both the Athletic Council and the Building and Grounds Committee. The official presentation of the donation, however, will speed up that process.
Part of that process would be the design of the court, which remains undecided.
"At the end of the day, this is about the kids," Say concluded. "That's what it's all about. If we keep our eye on the prize and helping kids, that's what we want to do."
RELATED ARTICLES:
Keystone Approves $250K Donation, Gym to Be Named After Coach Greg Heath
Keystone School Board Discusses $3.5 Million Renovation Project
Keystone School Board Approves One Mill Tax Hike