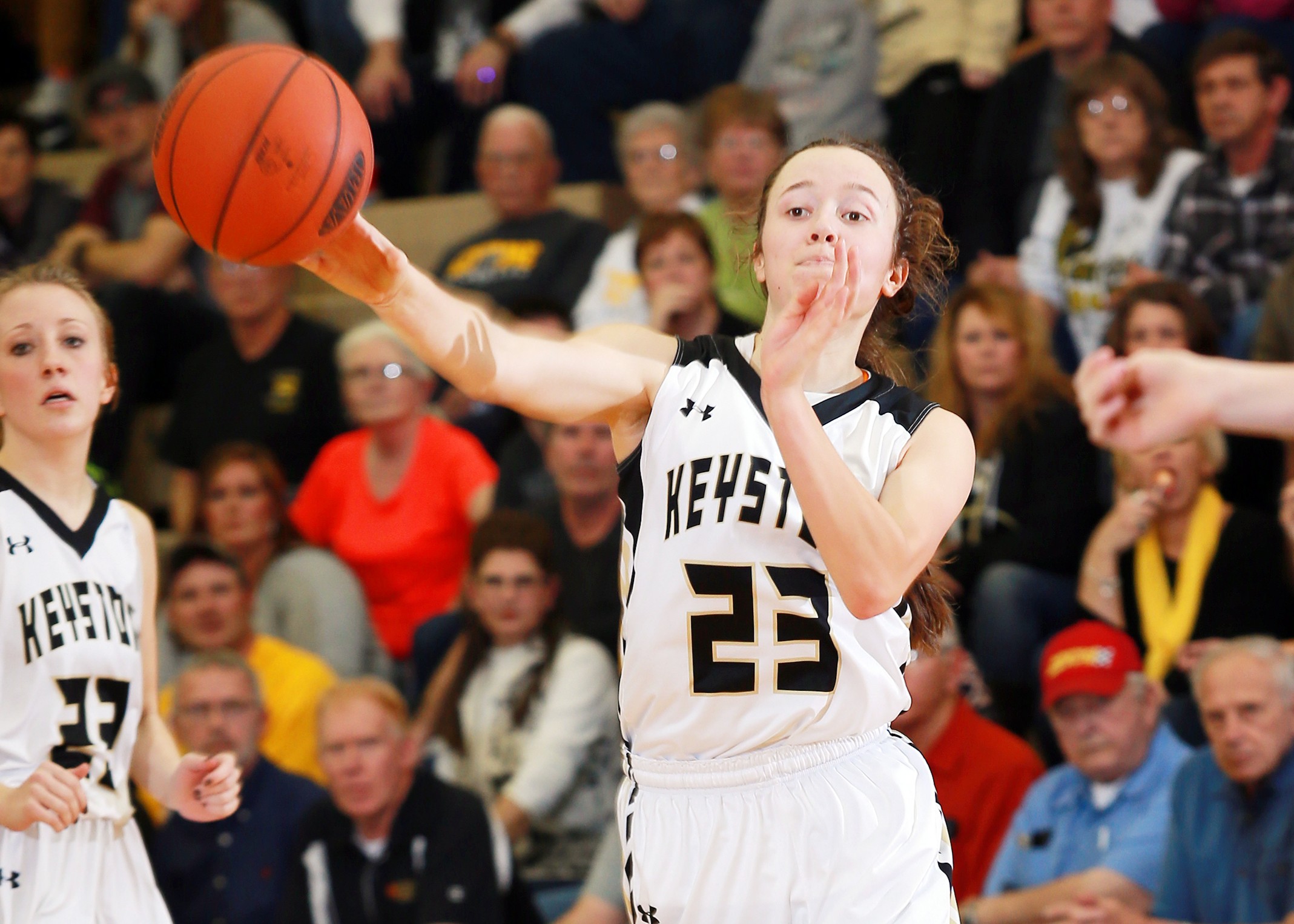 INDIANA, Pa. – One of the best seasons in Keystone girls' basketball history came to an end Wednesday night with a 61-36 loss to Cardinal Wuerl North Catholic in the second round of the PIAA Class A Playoffs at IUP's KCAC.
"I thought we looked a little tired playing on the big floor," Keystone head coach Barry Foust said. "That was the first time all year, I thought we looked tired."
The Trojanettes 6-foot-1 junior forward Sam Breen, one of three players six feet or taller on the Catholic's school's roster, scored 31 points and grabbed nine rebounds to lead the way. Kylie Huffman, a 6-foot-2 junior, added 16 points and Ashley Robbins 12.
"When you have three girls that are 6-foot or bigger, that's like playing a football team," Foust said. "It just wears you down. I still thought our girls gave a good effort."
Amber Hess concluded a great Keystone career with 11 points to lead the Lady Panthers, who won the District 9 title for the third time in school history and advanced to the second round of the PIAA playoffs for just second time.
"I would like to thank Amber," Foust said. "She is such a great leader. She is such a selfless kid. She is just a person who would do anything for your team. We are going to miss her."
Josselin Geer added 10 points and Taylor Geer eight points and eight rebounds for Keystone, which losses only Hess from this year's team.
Keystone led for a large chunk of the first quarter until the final 37.1 seconds of the quarter turned into a disaster for the Lady Panthers.
Up 10-6 following a 3-pointer from Taylor Geer with 1:01 left in the quarter, Keystone watched its lead disappear quicker than an NFL play takes to develop.
First, Breen hit a long-range 3-pointer to cut the North Catholic deficit to one, 10-9, with 37.1 seconds left in the quarter.
Then, following a Keystone turnover, Breen went to the old-school 3-point play to give North Catholic the lead, 12-10, with 8.7 seconds left in the quarter.
"She is as good as we have seen all year," Foust said. "She is really good."
Another Keystone turnover came quickly after the Breen 3-point play, and the Lady Panthers paid for it when Huffman hit a 3-pointer just before the horn to extend the Trojanette lead to 15-10 thanks to the lighting-quick 9-0 run.
That 9-0 quickly turned into a 21-2 spurt that gave North Catholic a 27-12 lead before Hess ended it with a basket with 3:34 left in the first half.
But North Catholic then ended the half by scoring the final six points to lead 30-14 at the break.
While the Trojanettes were scoring seemingly at will, Keystone was struggling from the floor in the first half hitting just 6 of 23 shots before the break.
"I honestly think fatigue had a little bit to do with that too," Foust said. "I'm not making excuses, but I thought we looked tired."
North Catholic quickly expanded the lead to 20, 37-17, early in the second half before Keystone flirted with a comeback attempt going on a 9-3 run thanks to a pair of offensive putbacks by McKenzie Byerley , and five points from Josselin Geer.
But given three chances to cut the lead farther after the second Byerley putback put the Lady Panthers within 14, 40-26, Keystone couldn't capitalize missing a pair of shots and also having a turnover.
Having survived the Keystone run, North Catholic then finished the third quarter with a 6-3 spurt of its own to get the lead back to 17, 46-29, going to the fourth quarter before outscoring the Lady Panthers 15-7 in the fourth with Hess scoring all seven of Keystone's points including her only 3-pointer of the game.
"For what they did this year from what people maybe thought (they would), I thought we did a great job," Foust said. "Coming from a small rural area and to be able to get to this stage, you couldn't ask for a better ending. This is great for the kids. I'm proud of them. It's great for the school, great for the community."
View all of Foust's comments here.
CARDINAL WUERL NORTH CATHOLIC 61, KEYSTONE 36
Score by Quarters
Keystone 10 4 15 7 – 36
CWNC 15 15 16 15 – 61
KEYSTONE – 36
McKenzie Byerley 2 0-0 4, Taylor Geer 3 0-0 8, Josselin Geer 4 0-1 10, McKenzie Hovis 0 0-1 0, Amber Hess 4 2-4 11, Claire Warner 0 0-0 0, Tessa Weaver 1 0-0 3, Jelly Seigworth 0 0-0 0, Kaci Weaver 0 0-0 0. Totals 14 2-6 36.
CW NORTH CATHOLIC – 61 
Ashley Robbins 4 3-4 12, Bella Scioscia 0 0-0 0, Amanda Bucklew 0 0-0 0, Abby Goetz 0 0-0 0, Kylie Huffman 6 1-2 16, Lauren Gaertner 0 0-0 0, Dani Short 0 2-3 2, Elyssa Paras 0 0-0 0, Sam Breen 12 6-7 31, Lizzy Goetz 0 0-0 0. Totals 22 10-13 61.
THREE-POINTERS – Keystone 6 (T. Geer 2, J. Geer 2, Hess, T. Weaver). CWNC 5 (Huffman 3, Breen, Robbins).