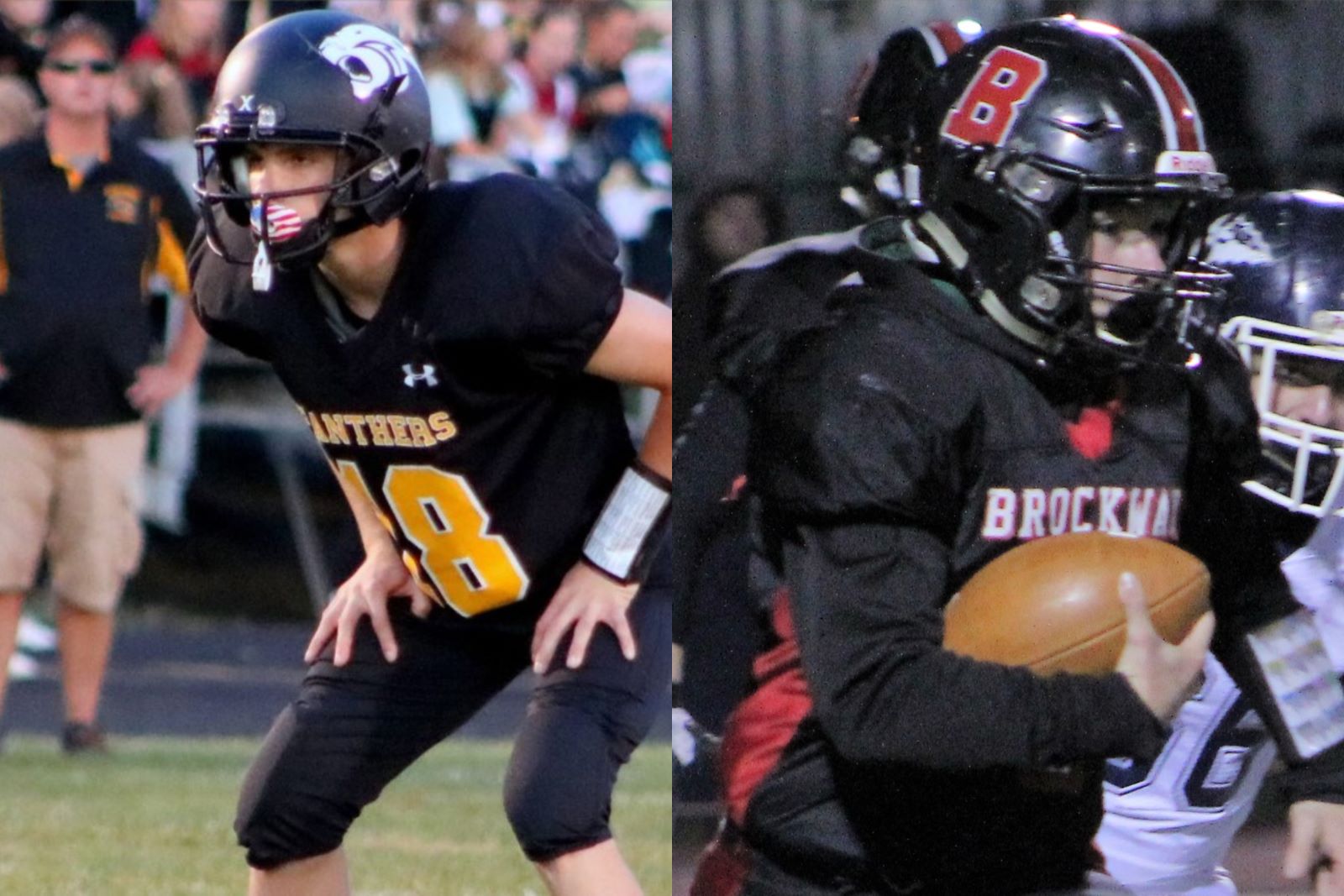 SHIPPENVILLE, Pa. – Two performances that the players will remember for the rest of their lives earn Brockway's Jon Wood and Keystone's Zander McHenry the D9Sports.com District 9 Co-Football Players of the Week Award for Week Five of the 2019 season.
(McHenry photo by Shelly Atzeni. Wood photo by Jared Bakaysa)
Wood helped Brockway claim its first win of the year by rushing for a career-high 332 yards and five touchdowns on 16 carries while also throwing a touchdown pass while going 4 of 5 passing for 26 yards in the Rovers 53-13 win over Bradford.
McHenry, on a night when Keystone was celebrating its PIAA runner-up team from 1989, did something no other player in Panther football history had done when he picked off four passes in Keystone's 57-0 win over Sheffield. He added a touchdown catch for good measure while helping Keystone earn a District 9 Class 2A playoff berth, the first playoff berth for the school in 10 years. McHenry's four interceptions were one of the District 9 record of five in a game set by Ridgway's Adam Handley in 2004.
Wood and McHenry are joined by 15 players on the District 9 Honor Roll for Week Five.
D9SPORTS.COM PLAYER OF THE WEEK
Jon Wood – Brockway: 16 carries, 332 yards, 5 touchdowns; 4-for-5 passing, 26 yards, 1 touchdown – Brockway 53, Bradford 13
Zander McHenry – Keystone: Intercepted 4 passes (one off the District 9 single-game record); 1 catch, 29 yards, 1 touchdown; Helped Keystone secure a playoff berth for the first time in 10 years – Keystone 57, Sheffield 0
D9SPORTS.COM HONOR ROLL
Robert Keth – Brookville: 21-for-32 passing, 192 yards, 1 touchdown, 1 interception; 3 catches, 40 yards, 1 touchdown; 2 carries 17 yards – Brookville 21, Moniteau 8
Ian Thrush – Brookville: 13 catches, 111 yards, 1 touchdown – Brookville 21, Moniteau 8
Ethan Burford – Clarion: 4 catches, 161 yards, 2 touchdowns – Clarion 47, Kane 28
Cal German – Clarion: 7-for-12 passing, 176 yards, 3 touchdowns – Clarion 47, Kane 28
Austin Newcomb – Clarion: 20 carries, 165 yards, 2 touchdowns despite seeing limited playing time with a swollen ankle that forced him onto crutches in the second quarter only to return in the third quarter – Clarion 47, Kane 28
Travis Gleason – Coudersport: 18 carries, 177 yards, 3 touchdowns – Coudersport 44, Curwensville 0
Sam Kaul – Elk County Catholic: 20 carries, 180 yards, 3 touchdowns – Elk County Catholic 41, Cameron County 0
Teddy Race – Kane: Made 15 tackles with a sack; 8 carries, 62 yards; 2 catches, 25 yards – Clarion 47, Kane 28
Anthony Kamenski – Karns City: 3-for-8 passing, 155 yards, 2 touchdowns; 15 carries, 138 yards, 2 touchdowns – Karns City 55, St. Marys 20
Isaak Jones – Keystone: 5-for-8 passing, 111 yards, 4 touchdowns, 1 interception; Helped Keystone secure a playoff berth for the first time in 10 years – Keystone 57, Sheffield 0
Ethan Hetrick – Redbank Valley: Recorded four sacks; 2 catches, 29 yards – Redban Valley 21, Smethport 0
Gunner Mangiantini – Redbank Valley: 10 carries, 122 yards, 2 touchdowns; 6-for-9 passing, 66 yards – Redbank Valley 21, Smethport 0
Matt Dush – Ridgway: 5 catches, 99 yards, 1 touchdown; 5 carries, 33 yards, 1 touchdown – Ridgway 61, Punxsutawney 6
Christian Coudriet – St. Marys: 17-for-28 passing, 343 yards, 3 touchdowns, 2 interceptions – Karns City 55, St. Marys 20
Tanner Merwin – Union/A-C Valley: Intercepted 3 passes returning two for touchdowns; Made six tackles; 4 catches, 55 yards, 1 touchdown – Union/A-C Valley 32, Port Allegany 7
2019 PLAYERS OF THE WEEK
Week Zero: Jake Lezzer, Clearfield
Week One: Oliver Billotte, Clearfield
Week Two: Jack Krug, Brookville
Week Three: Christian Coudriet, St. Marys
Week Four: Ian Thrush, Brookville
Week Five: Jon Wood, Brockway and Zander McHenry, Keystone
Week Six: TBA
Week Seven: TBA
Week Eight: TBA
Week Nine: TBA