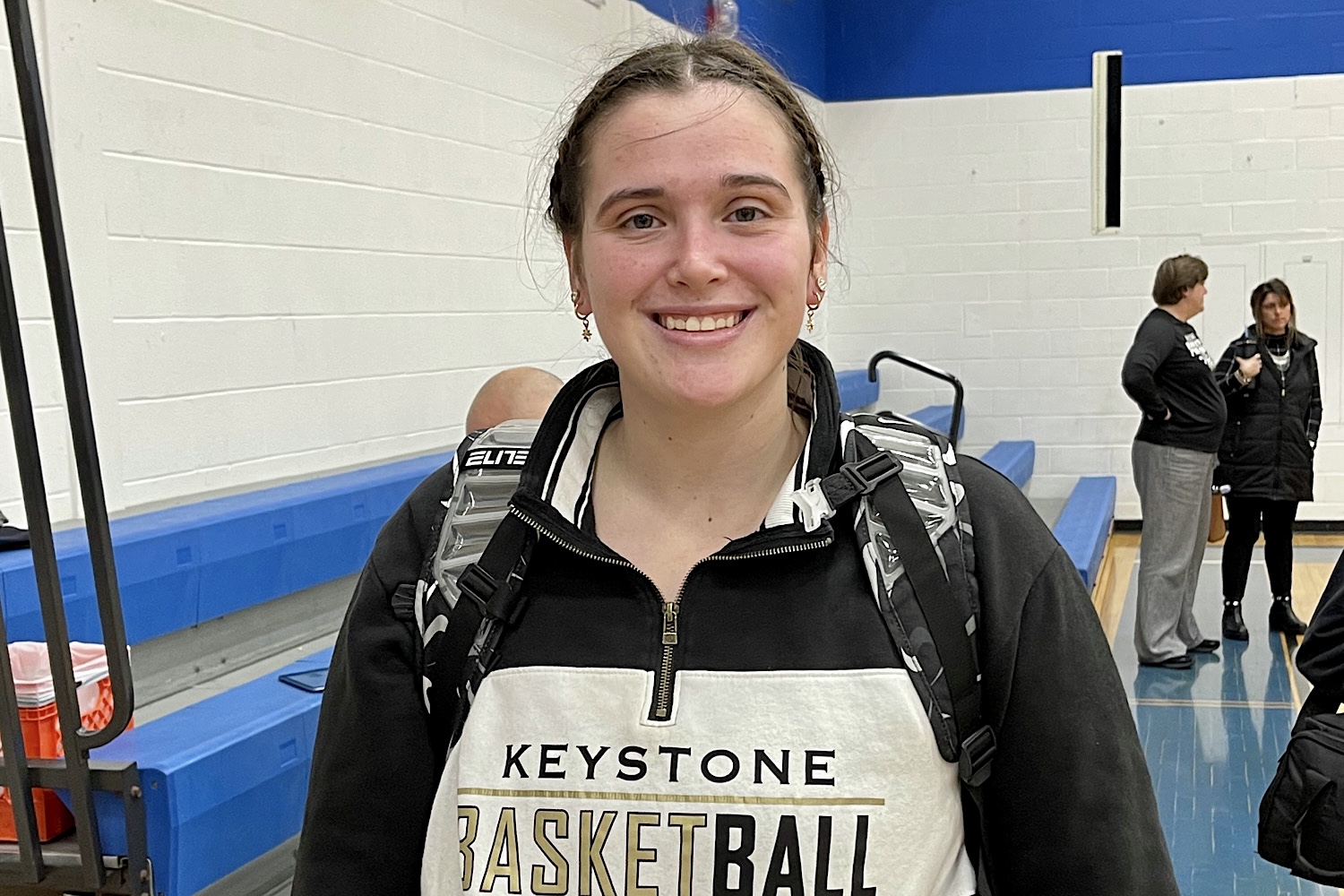 STRATTANVILLE, Pa. (EYT/D9) — Natalie Bowser was too much for Clarion-Limestone to handle inside, notching a double-double of 26 points and 12 rebounds in a 62-52 victory over the Lions on Thursday evening.
(Pictured above, Natalie Bowser)
"Honestly, I don't think I've had my best game yet," Bowser said. "I knew since playoffs are coming that I needed to step up my game a little. Coach Traister has been doing a lot of post moves recently in practice with all of our bigs, but he's been working with me to get bigger in the paint."
Bowser scored 12 of her points in the second quarter as the Panthers turned a 12-8 lead after eight minutes into a 35-18 halftime advantage.
Keystone continued to lead by 18 at 46-28 after the third quarter with an 11-10 scoring edge in the frame.
The lead would grow to as many as 22 points at 62-40 before a 12-0 C-L run to end the game set the final score.
"One thing about our girls is that they continue to hustle, and they don't give up," said C-L head coach Gus Simpson. "We kept chipping away and chipping away and we put a little scare into them that he put his starters back in near the end. We've just been such an up and down team lately though."
Jenna Dunn had a double-double of her own with 18 points and 11 rebounds for C-L. She made 6-of-7 free throws for the contest. Lexi Coull and KK Sebastian-Sims each notched 11 points for the Lady Lions.
"We know Jenna is capable of having a breakout game like tonight," said Simpson.
Ava Patrick scored 12 points while Jill Winters added eight points for Keystone.
Bowser, always a difficult matchup, has been particularly troublesome for opponents as of late.
Keystone, after a slow start this season, has played well during that recent stretch and is peaking at the right time.
"My team has been starting to play the way we knew we could," Bowser said. "We haven't had our best game yet, there are still little things that need fixed, but we are definitely getting there. I'm really excited to see what the rest of the season has to hold and maybe even see what happens in the playoffs."
(Mike Kilroy contributed to this report)
MONITEAU 69, CRANBERRY 37
Four Warriors cracked double figures, led by Catherine Kelly with 13 points, as Moniteau roared to this win.
Kendall Sankey added 12 points and Davina Pry and Abbey Jewart each contributed 11 in the victory.
Pry also had eight rebounds. Sankey added seven boards, six assists and three steals and Kelly and Jewart each had five assists for the Warriors.
Kendell Findlay led the Berries with 11 points. Mariah Wessell chipped in eight for Cranberry.
NORTH CLARION 52, A-C VALLEY 19
Ten Wolves scored at least a point as North Clarion cruised.
Maria Bauer led the way with 10 points for the Wolves. Brooke Steinman added eight and Lily Homan seven.
Mackenzie Parks scored 15 points to lead the Falcons.