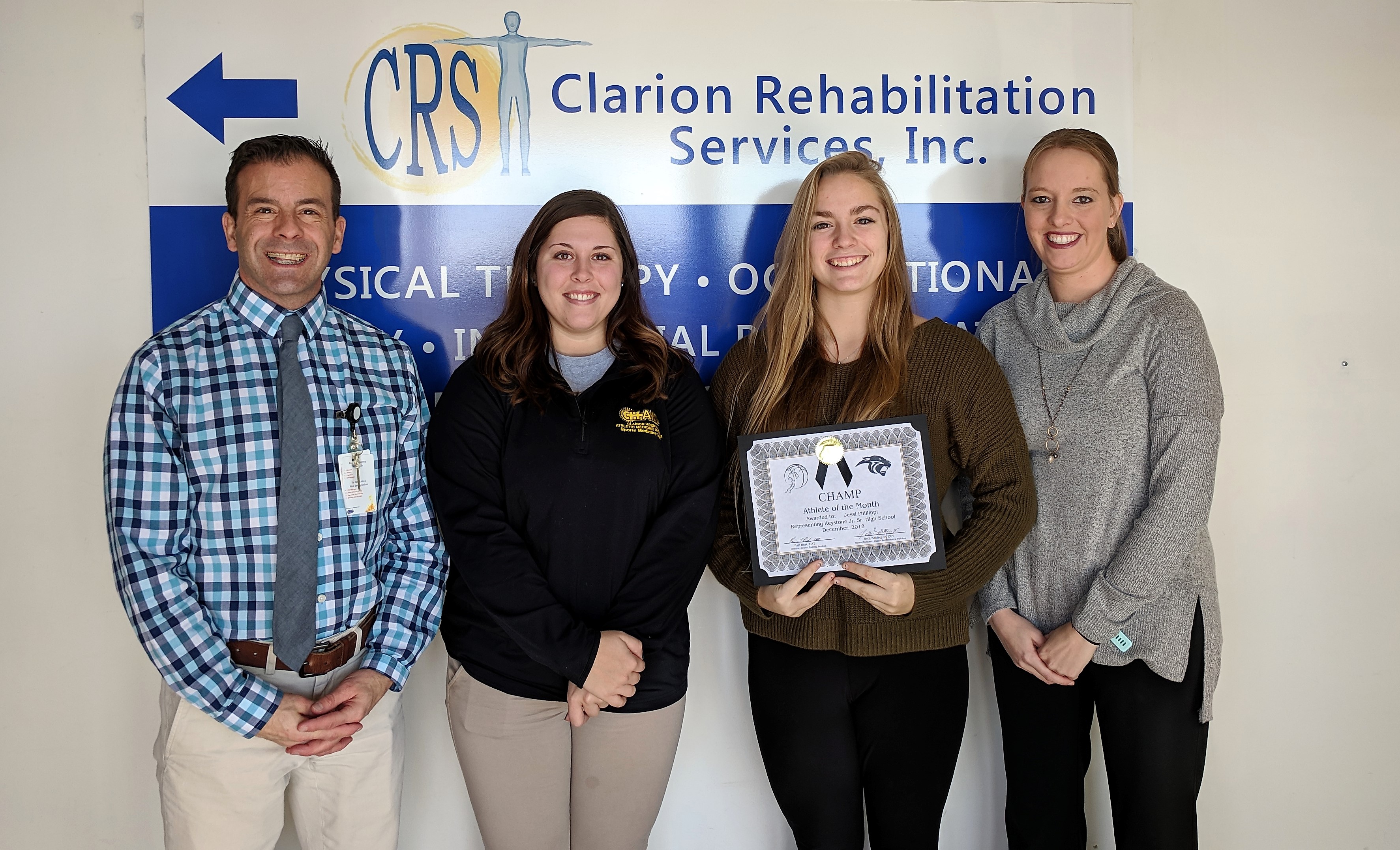 CLARION, Pa. – Keystone's Jessi Phillippi is the December 2018 Clarion Rehab Services and CHAMP (Clarion Hospital Athletic Medicine Program) Student-Athlete of the Month.
(Photo: From left to right is: Seth Babington, Owner of Clarion Rehab Services/CHAMP; Holly Bachman Keystone Athletic Trainer; Jessi Phillippi; and Kari Best, Director of Sports Medicine for CHAMP. Submitted photo)
Jessi is a senior at Keystone High School where she participates in soccer, basketball and softball. She is also a member of the marching band, is the choir treasurer and attends the Clarion County Career Center for Welding and Fabrication. Outside of school, she works at Hovis Farms training horses. Her hobbies include riding horses, jamming to music, playing sports, having fun with her friends and playing with her puppy.
Jessi's future plans are to either go to college to pursue a Veterinarian degree with hopes of someday opening her own shelter or to further her career in the welding field.
Her favorite sports memories are getting two home runs her junior year (including one the Forest coach claimed to be "the furthest ball he's ever seen hit on their field") and getting second team all-conference outfield for the second year in a row.
"My dad and my brother are the most inspiring people in my life," Phillippi said. They stepped up and raised me to be the person they could after my mom passed when I was little.
I want to be able to thank my family, friends, and coaches for pushing me to get better in everything I do and making me more successful. Also my athletic trainer, Holly, for dealing with my complaining and helping me to get better so I can get back to doing what I love."
Jessi received gift certificates from both the Pizza Pub and DE Sports, Inc.