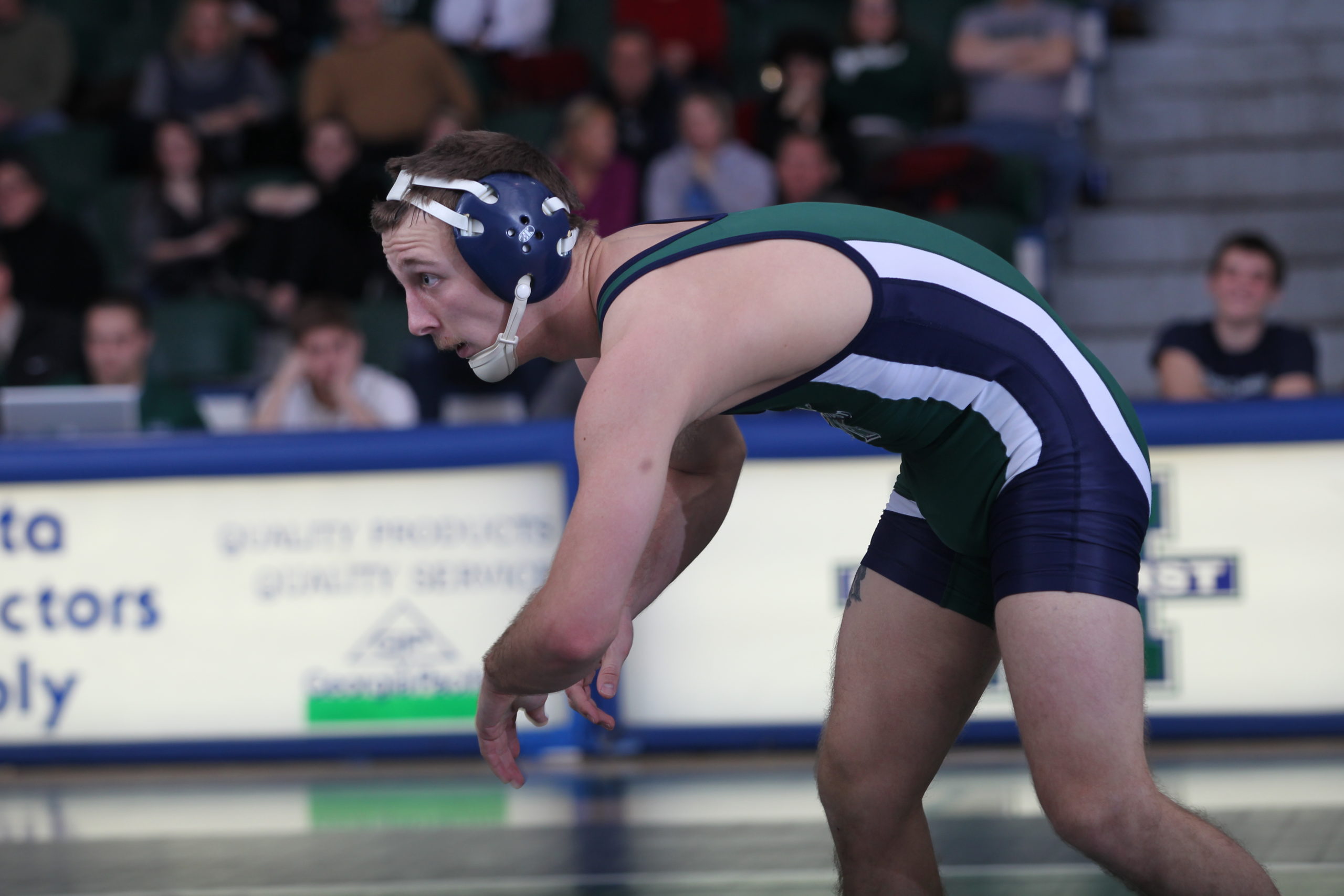 CINCINNATI, Ohio (D9/EYT) – Kody Young has given a lot of blood, sweat, and tears to the sport of wrestling over the years. Wrestling was a key way he made college much more affordable, with the sport also helping him to meet some of the closest people in his life today.
(Action shots courtesy of Mercyhurst University Sports Information Department)
For his entire life, he's been around the sport of wrestling as his uncles and his father, Buddy, took part in the sport during their youth. For Young, he grew up as a coach's son, which allowed him to get introduced to the sport of wrestling from a very young age. However, it was not the only sport he would make a difference in growing up in Jefferson County.
Young had a Brookville address, but went to the Punxsutawney School District because his home was very close to the district line. When Young was growing up, he played youth soccer in Brookville. Soccer was something he helped grow as a Chuck when it came for his turn to play varsity sports.
Prior to Young being in middle school, there was not a varsity soccer program in Punxsutawney, meaning he played on some of the first Punxsutawney Area High boys soccer teams. He was on the first Chucks' team to make the District 9 playoffs, to win a playoff game, and he even graduated as the top goal scorer in their program's history. However, wrestling was the sport that called to him because of his family ties to the sport, as well as his ability to control his destiny on the mat.
"I fell in love with wrestling because it was a controlled outcome by one person," said Young. "I know wrestling is a team sport, but individually, a match is in your hands. What you put into the sport is what you get out of it. As I got older, things came together in my wrestling career, and I think a big part of that was realizing how hard my parents worked and wanted my brother and I to work."
Young graduated from Punxsutawney as a four-time District 9 champion, a three-time Team Most Valuable Wrestler, a regional champion, and a state qualifier. He was being recruited by a collection of Division I and Division II schools, but he ultimately became a Mercyhurst University Laker and to wrestle for fellow District 9 product, Mike Wehler.
"My first interaction with Coach Wehler was actually when I was wrestling in a club wrestling tournament for Ragin' Raisins. It was a great opportunity to be able to represent their organizations. I ran into Coach Wehler at an Applebees in Erie, and it was incredibly unknown at the time that I would ever wrestle for him one day. I knew very little about the school or the program, but after a few trips to campus, I knew it was the right fit."
For the next 9 years, Young would be involved with Laker wrestling in some magnitude, whether it be as a competitor for five seasons or as a coach for four more of those years. The former Chuck standout quickly became one of the best lightweight wrestlers for Mercyhurst and in the Pennsylvania State Athletic Conference (PSAC) as just a freshman. He won 33 matches in his first college season, but the wins do not tell the full story of the type of season he had in the 2011-12 campaign.
Young qualified for the NCAA Division II National Tournament after placing third at the Super Region I Tournament, a tournament he went 4-1 at. His 33 wins were also a freshman record for the Lakers wrestling program and his 17 pins on the year helped him to earn the Most Falls Award at the NCAA Tournament, as well as the second most points in an individual season for any freshman wrestler to compete for the Lakers program.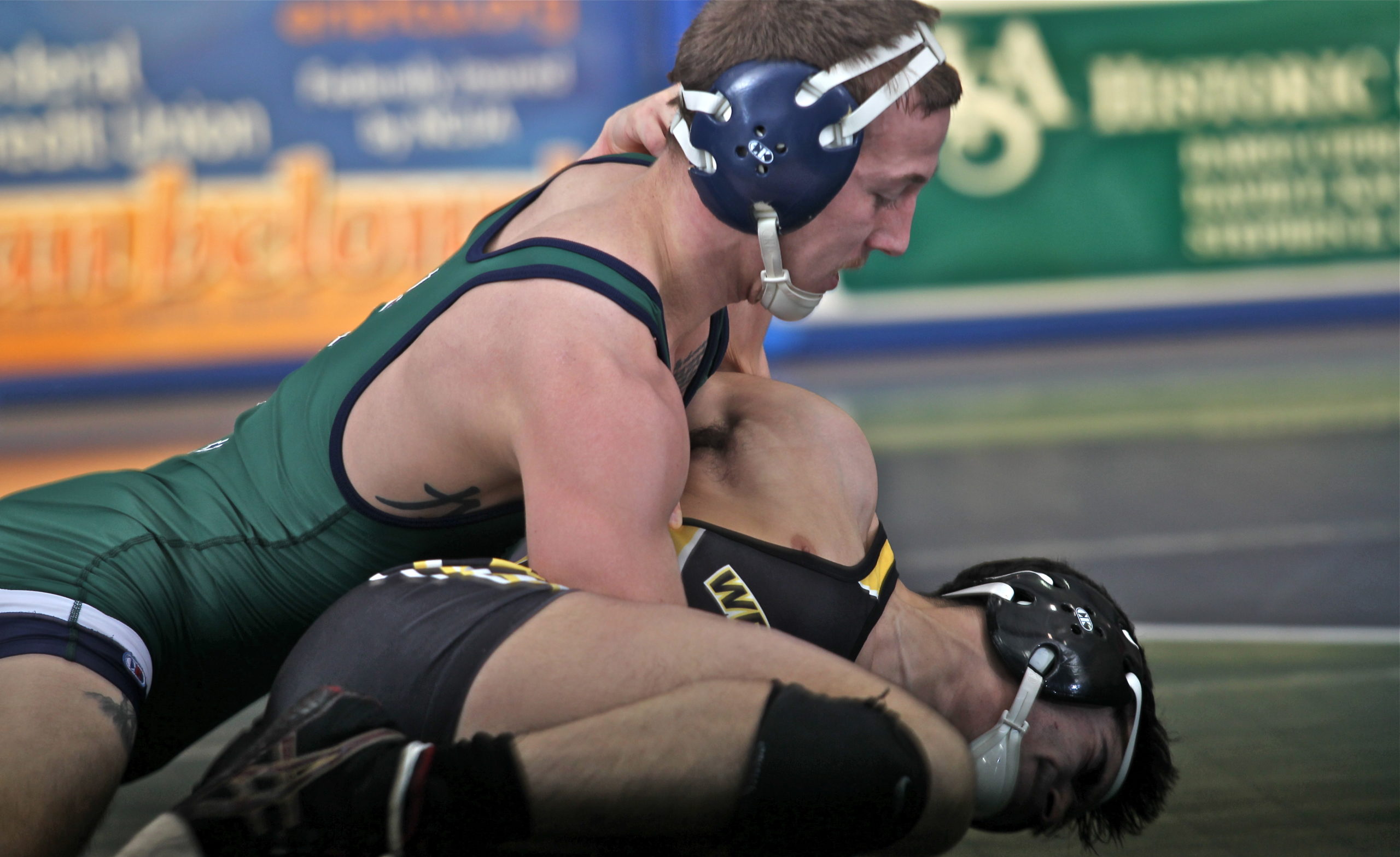 The 17 pins he recorded in the 2011-12 season were also the second most pins any Mercyhurst wrestler recorded in a single season, while his 33 wins that season put him at the fourth highest number of wins in a single season in Mercyhurst history. He also won a match in the NCAA Championships, a great way to end his first season of college wrestling. However, there was some devastation coming for the Jefferson County native.
A torn labrum forced him out of action for most of his sophomore season, which allowed him to accept a medical redshirt. This mishap didn't keep him down for long as he had a bounce-back redshirt-sophomore season in which he became an NCAA qualifier for the second time in three years. He collected 21 more victories and finished third for the second time at the Super Region I Tournament. It was a great rebound season, but he hoped there was still more in store.
Young won 16 more matches the next season, but he narrowly missed out on becoming a three-time NCAA qualifier as a redshirt-junior. He placed sixth at the Super Region I Tournament, but he hoped for a redemption season as a redshirt-senior.
Unfortunately, his fifth-year ended prematurely as a scary neck injury and concussion early in the season made him decide to walk away from his time as a college athlete and focus on his next role in the sport, which was to become a coach. His career concluded with 72 career victories, a testament to his resiliency over five grueling seasons.
"I was wrestling in a tournament in California, and I had a neck impingement as well as a concussion," Young said. "It stunk, but it was the right move for my long-term health. I believe everything happens for a reason, and this reason was it allowed me to open the door to coaching."
Young did not dwell on the injury for long as he became a student-assistant for the team for the rest of the 2015-16 season. He also finished up a degree in exercise science along the way, something he planned to once use to become a physical therapist. However, he decided along the way that coaching and becoming a businessman suited his interests and skills more.
Young spent the rest of 2016 and part of 2017 working in the food service industry while also working as an assistant coach for Seneca High School junior-high and varsity wrestling. He spent some time as a volunteer assistant coach for the Lakers, as he would prepare to become the graduate assistant coach for the 2017-18 season.
Young became the Graduate Assistant for the program for two seasons, as he also studied for a master's degree in organizational leadership. This pairing helped him to gain more experience and insight into the business world while earning a more in-depth coaching experience at the college level.
"I was fortunate to learn the ropes in coaching and to do so at an elite level," Young said. It was a great way to give back, earn a master's degree, and help Coach Wehler who had done so much for me."
After his time as a graduate assistant coach was over, he spent one more season with the Lakers as an assistant coach before making a move to Cincinnati to begin his business career. The opportunity was in logistics as a Logistics Account Executive at TQL Total Quality Logistics. After a year in the role, he knew his strengths in science and passion for business should both be used.
This led him to Medpace in June 2021, where he currently works as a Project Coordinator while also serving as an assistant wrestling coach for La Salle High School in Cincinnati. This new role also allows him to spend more quality time with his wife, Aleeyse, a physical therapist. The couple was able to tie the knot in September 2020 in a ceremony in front of their friends and family.
"We were so grateful for that day," Young said. "We have the most supportive friends and family who made it as great of a wedding as it could be for us."
Now, as a young professional, a newlywed, and a high school coach, his life has changed in a lot of great ways as of late. He credits his parents Amy and Buddy Young, his high school soccer coach Phil Shenkel, his high school wrestling coach Eric Eddy, his youth wrestling coach Bill Burke, his club wrestling coaches Jason and Jack Locke, and his college wrestling coach Mike Wehler for making his journey to where he is today possible.