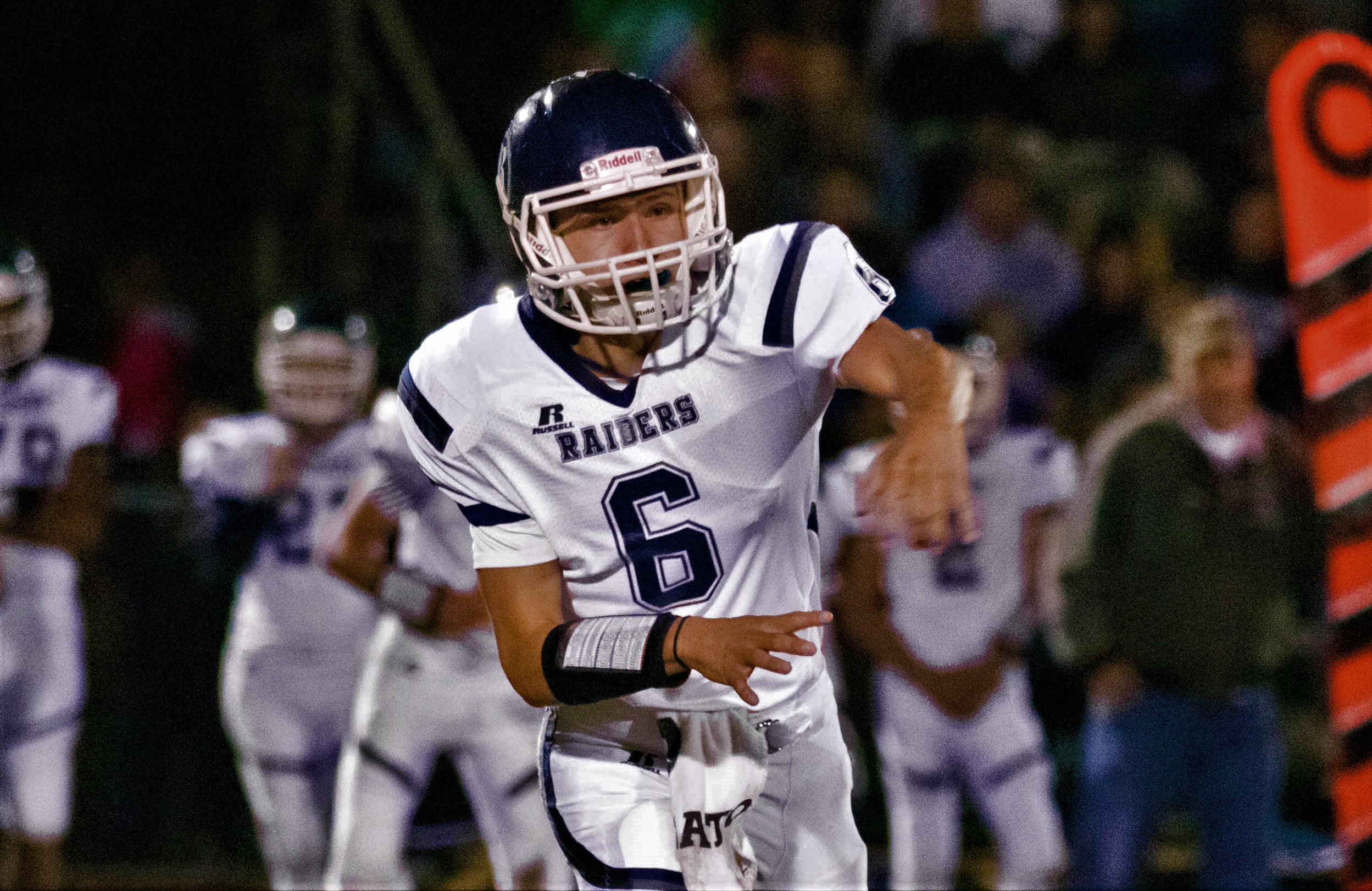 BROOKVILLE Pa. – To achieve playoff success, the best players need to show up in the biggest moments. Brookville's star quarterback Jack Krug lived up to his lofty expectations in the opening round of the D9 Class AA Playoffs, throwing for 396 yards and scoring seven total touchdowns to defeat Ridgway 49-15.
(Photo by Kyle Yates Photography.)
Krug's stellar night earns him D9Sports.com All American Awards & Engraving Player of the Week honors for week seven.
Krug went 16-of-23 for 396 passing yards in the win. He was extremely accurate with the deep ball throughout the night, throwing with incredible precision to a variety of targets. Robert Keth, reeled in five passes for 154 yards and a touchdown, which came courtesy of a beautifully measured fade pass. Brayden Kunselman also caught four passes for 117 yards and a touchdown, using his speed to make big gains off of short completions.
Krug's biggest play of the night was a fourth down 44-yard touchdown scramble on Brookville's first possession. After Krug was flushed out of the pocket, he weaved his way through the middle of the field, evading a tackler to get the first down before turning on the jets to find the endzone. The play set the tone for the Raiders, who scored touchdowns on each of their first seven possessions.
Krug also caught his first receiving touchdown of his career on a bizarre yet well-executed fake punt. Krug lined up as the long snapper, snapped the ball, and then snuck into the open field undetected by the defense. Keth, who was punting, found the wide open Krug with a pass, and Krug shimmied a tackler and sprinted in for the touchdown.
Krug will hope for similar results next week as Brookville faces Karns City in the D9 Class AA Championship Game. The game will be played at Brockway on Friday, October 30 at 7:00.
Read the full game recap here.

All American Awards and Engraving is located on Route 322 in Shippenville. The company specializes in Embroidery, Screen Printing, all kinds of awards, trophies, engraving, unique gifts and more. As the company motto says, We can put "Almost Anything on Almost Everything". 
They can be found online at www.allamericanhq.com, by calling toll free 1-877-402-9273 and ask for Jim Carroll, or visit them here www.facebook.com/AllAmericanAwardsandEngraving