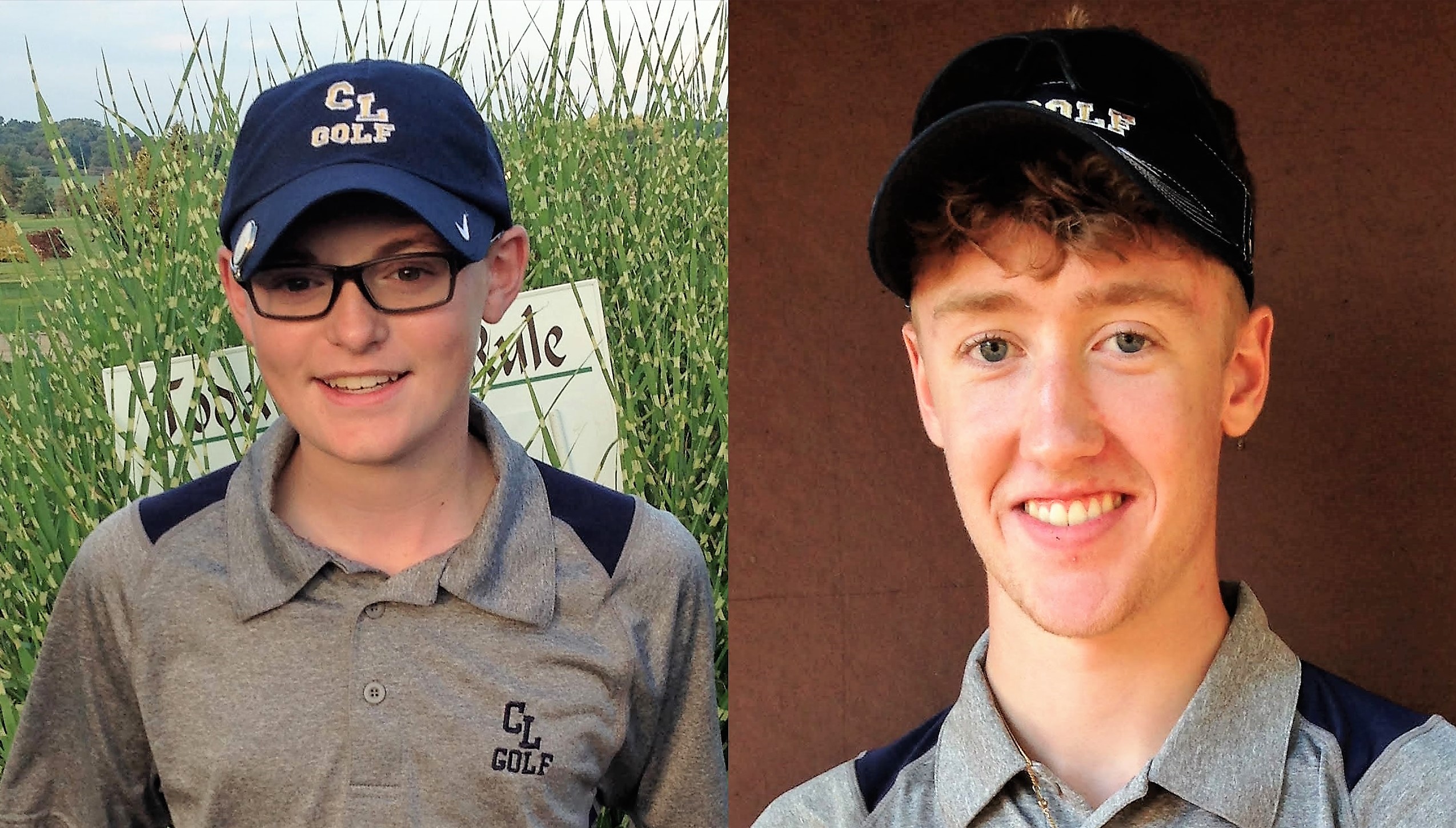 Recaps of the Aug. 27 KSAC Girls' Megamatch and the Aug. 28 and Aug. 30 KSAC Boys' Megamatches.
(Photo of C-L's Hayden Siegel (left) and Hayden Callen (right). Photos courtesy of Mindy Hess)
Boys: Tuesday, August 28, 2018: Cross Creek Resort
The KSAC boy's golf teams started the second week of the season in Titusville, taking on the 3,103 yards, par 35 front nine of the course at Cross Creek Resort. Clarion-Limestone (C-L) finished the day with a team score of 239 to claim first, with Lions' golfer Hayden Siegel posting a 40 to secure medalist honors.
C-L golfers claimed four of the five top spots in the team's six-stroke victory over second place Clarion. Hayden Callen (43) finished in third place, while Kaden Park and Ian Callen both carded 45s to tie two other golfers for fourth. Anna Burns's 66 also counted toward the Lions' team total.
Clarion (245) had two golfers in the top ten individually. Josh Craig (42) was second and Jackson Fox (47) tied for tenth. Also contributing to the Bobcats' team score were Lake Staub (48), Mitch Geiger (51), and Login Dehner (57).
Forest Area was a stroke behind Clarion in the team rankings. Trevor Amsler's 45, Preston Schmader's and Zyler Hargenrader's 48s, Landon Lauer's 52, and Colin Schmader's 53 resulted in a 251 tally. Amsler tied for fourth individually.
Nate Tack (45) paced Moniteau's (251) fourth place team effort. Ethan McDeavitt (46), Hunter Fitzingo (49), Tyler McFadden (54), and Slade Hutchinson (57) also scored for the team. Tack tied for fourth and McDeavitt tied for eighth.
Karns City (268) was fifth in the team competition. Scoring for the Gremlins were Justin Patton (47), Alex Olczak (51), Josh Whitmire (51), Seth Mennor (53), and Trevor Callihan (66). Patton tied for tenth.
Keystone (274) wound up in sixth led by Troy Johnson's (46) eighth place. Cranberry (285) was nine strokes behind in seventh, with tenth place Devon O'Brien (47) recording the Berries lowest score. Venango Catholic's Thomas Fink (49) posted the low score for the eighth-placed Vikings (325). Brock Wiegle carded a 48 for AC Valley-Union.
Boys: Thursday, August 30, 2018: Hunter's Station Golf Club
The KSAC links action might have shifted to Tionesta, but Clarion-Limestone once again won the day, posting a team score of 238 to take its second victory of the week and third in a row. C-L's Hayden Callen (40) took home medalist honors on the 2,834 yards, par 35 front nine at Hunter's Station Golf Club, with Lion golfers Ian Callen and Hayden Siegel each shooting 43s to tie for second. Kaden Park (49) and Anna Burns (63) also contributed to C-L's winning total.
Moniteau's (246) second place finish was facilitated by three golfers in the top ten, Ethan McDeavitt (45) and Tyler McFadden (45) tied for fourth and Nate Tack (46) tied for seventh. Gage Neal shot a 51 for the Warriors, while Hunter Fitzingo and Slade Hutchinson both put up 59s.
Clarion's (248) third was its lowest placing of the season. The Bobcats had three in the top ten, Jackson Fox (45) tied for fourth, while Josh Craig (46) and Lake Staub (46) tied for seventh. Mitch Geiger's 53 and Cam Lapinto's 58 counted towards the Bobcats' team tally.
Forest Area was fourth. Trevor Amsler (51), Chris Pederson (51), Preston Schmader (52), Zyler Hargenrader (52), and Landon Lauer (56) combined for a 262.
Karns City (280) was fifth for the second consecutive match. The Gremlins' Justin Patton was tenth with a 48. Also scoring were Seth Mennor (53), Josh Whitmire (55), Hunter Dunlap (60), and Alex Olczak (64).
Cranberry (296) ended in sixth, Keystone (312) seventh, and Venango Catholic (354) eighth. Devon O'Brien (52) carded the low round for the Berries, Ian Larson (50) for the Panthers, and Thomas Fink (57) for the Vikings. Brock Weigle shot a 53 for the AC Valley-Union entry.
Week 2 saw C-L take over the KSAC team lead from Clarion, with the Lions (33) two points in front of the Bobcats (31). Moniteau (29) dropped to third. Forest Area (27) remained in fourth, while Karns City (18.5) jumped ahead of Cranberry for fifth.
After four events, Clarion's Josh Craig and C-L's Hayden Callen were the KSAC's individual leaders with 42.25 averages. Lion golfer Hayden Siegel (42.50) is a quarter of a stroke behind in third, with teammate Ian Callen sitting in fourth with a 44.00 average. Moniteau's Nate Tack (45.00) is fifth. Rounding out the top ten are Clarion's Jackson Fox (45.25), Moniteau's Ethan McDeavitt (45.50), Bobcat golfer Lake Staub (46.50), C-L's Kaden Park (47.25) and Forest Area's Zyler Hargenrader (48.75).
Girls: Aug. 27 KSAC Megamatch
A-C Valley's Cami McNany (44) earned medalist honors and Jayden Rothman (48) finished second to lead the Falcons to victory at the KSAC Megamatch played Monday, Aug. 27, at Hi-Level Golf Course (Kossuth). It was the Falcons second win in as many tries in 2018.
In addition to McNany's and Rothman's scores, Alyssa Leith's 68 was used to calculate A-C Valley's team total of 160, fourteen strokes better than runner-up Moniteau.
Kendall Grossman's 55, Haley Pry's 59, and Brittany Ritts's 60 all counted toward the Warrior's score of 174. Grossman's round was good enough for third place in the individual competition.
Clarion (176) finished in third, two strokes behind Moniteau. Rachel Howard and Maya Patterson led the way for the Bobcats, both posting 56s which tied them for fifth individually. Amanda Matus's round of 64 also counted toward the team score.
Cranberry (183) ended the day in fourth. Andrea Ziegler (56), Darian Senn (59), and Elizabeth Sisco (68) scored for the Berries.
Keystone found itself five strokes behind Cranberry. Becca Lander (58), Ally Rogers (60), and Katie Sherman (70) combined for the Panthers' 188 team score.
Two golfers competed for Clarion-Limestone (not enough to earn a team score). Both Anna Burns and Sydney Simpson put up 59s.
The next girl's Megamatch is scheduled for Wednesday, Sept. 5 and will again be played at Hi-Level.