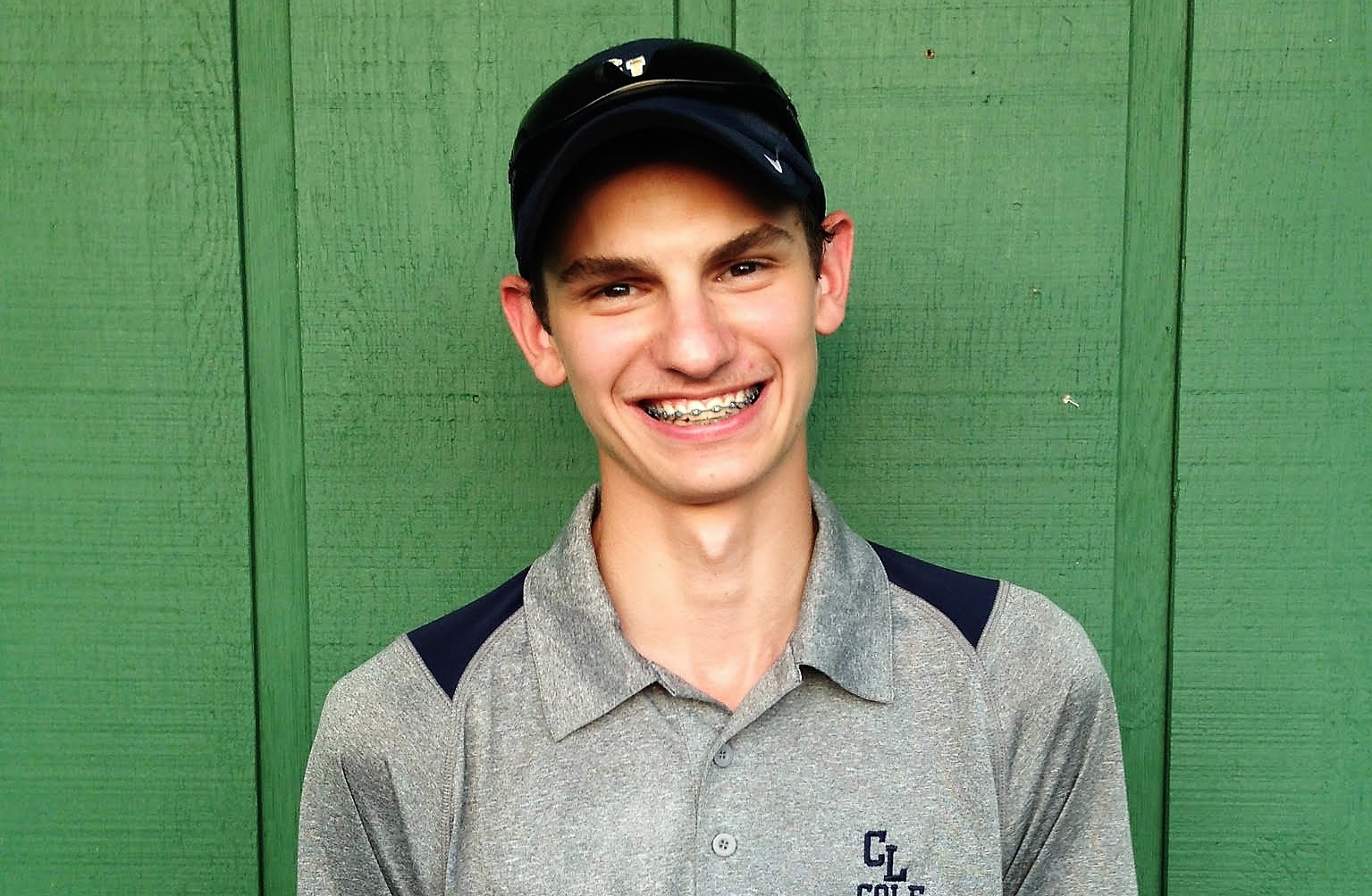 The KSAC boys opened their season at Clarion Oaks Golf Club in August and returned to that course on Tuesday, Sept. 4 to mark the halfway point.
(Photo of C-L's Kaden Park. Photo by Mindy Hess)
Moniteau and Forest Area posted 235s to tie for first in the team competition. Clarion-Limestone's Kaden Park carded a 40 to take medalist honors, followed by Ethan McDeavitt (42) of Moniteau in second and Landon Lauer (43) of Forest Area in third. Clarion's Lake Staub, C-L's Ian Callen, Forest Area's Zyler Hargenrader and Moniteau's Nate Tack all put up 44s to claim a share of fourth.
Moniteau's five-person team score included not only the top-five rounds of McDeavitt and Tack but also Hunter Fitzingo's 48, Gage Neal's 50 and Tyler McFadden's 51.
Forest Area benefitted from Lauer's and Hargenrader's top-five scores as well as Trevor Amsler's 47, which tied him for 10th. Jake Flick (50) and Preston Schmader (51) were the other contributors to the team score.
C-L (236) finished in third, a mere stroke behind the knot at first place. Joining Park and Ian Callen in the top 10 was Hayden Siegel (45) at eighth. Other Lions' scores counting toward the team tally were the 50 of Hayden Callen and 57 of Anna Burns.
Clarion's 243 was good for fourth. Staub was joined in the top ten by Josh Craig, who carded a 46 to take ninth. Mitch Geiger (49), Jackson Fox (51) and Login Dehner (53) added to the team total.
Karns City (259) was fifth, paced by Josh Whitmire's 47, which gave the Gremlin golfer a piece of 10th place. Other Gremlin scores factored into the team total were the 49 of Justin Patton, the 51 of Alex Olczak and the 56s of Trevor Callihan and Hunter Dunlap.
Keystone (269) ended in sixth, Cranberry (277) seventh and Venango Catholic (300) eighth. Nate Ion's 51 was the low score for the Panthers, Cam Walney's 48 led the Berries and Thomas Fink's 47 was the best for the Vikings and tied him for 10th in the individual competition.
C-L (40.0 points) continues to lead the KSAC season standings. With its first-place finish, Moniteau (37.5) jumped over Clarion (37.0) into second. Forest Area (35.5) remains in fourth and Karns City (23.5) rounds out the top five.
Individually, Clarion's Josh Craig and C-L's Hayden Siegel lead the conference with a 43.0 scoring average. C-L's Hayden Callen (43.8) is in third followed by his older brother Ian (44.0) in fourth. Moniteau's Nate Tack and Ethan McDeavitt share fifth with a 44.8 average. The remainder of the top ten, in descending order, are Kaden Park (45.8) of C-L, Lake Staub (46.0) and Jackson Fox (46.4) of Clarion and Zyler Hargenrader (47.8) of Forest Area.
The boy's Megamatch originally scheduled for Thursday, Sept. 6 at Lake Arthur was postponed two weeks. Conference play resumes on Tuesday, Sept. 11 at Wanango Country Club (Reno) followed by a match two days later at Hi-Level Golf Course in Kossuth (Thursday, Sept. 13).
MCNANY LEADS A-C VALLEY GIRLS TO WIN
For the second time in as many weeks, the KSAC girls took on the 2,209 yards, par 34 front nine at Hi-Level Golf Course (Kossuth). As happened a week ago, Cami McNany (46) took medalist honors as she led AC Valley to first place among the five squads eligible in the team competition. The Falcons have won all three Megamatches this season.
Cranberry's Andrea Ziegler was second with a 48, Clarion-Limestone's Anna Burns carded a 50 for third, Moniteau's Kendall Grossman put up a 51 to take fourth and Keystone's Ally Rogers rounded out the top five with a 53.
In addition to McNany's round in the 40s, AC Valley's low team tally of 155 benefitted from a 54 by Jayden Rottman and 55 from Mady Hetzler.
Moniteau took home second with a score of 163. Grossman led the way for the Warriors, followed by Hailey Campbell's 54. Both Haley Pry and Brittany Ritts shot 60s.
Clarion (167) claimed third, four strokes behind Moniteau. Bobcat golfers Rachel Howard (54), Amanda Matus (55) and Maya Patterson (58) contributed to the team score.
Cranberry (177) ended up in fourth. Darian Senn's 57 and Sara Uddin's 72 were combined with Ziegler's sub-50 round to calculate the team total.
Keystone posted a 197 team score. Rogers, Becca Lander (64), and Katie Sherman (80) contributed.
The girls will play the links-style course at Foxburg Country Club on Monday, Sept. 10.