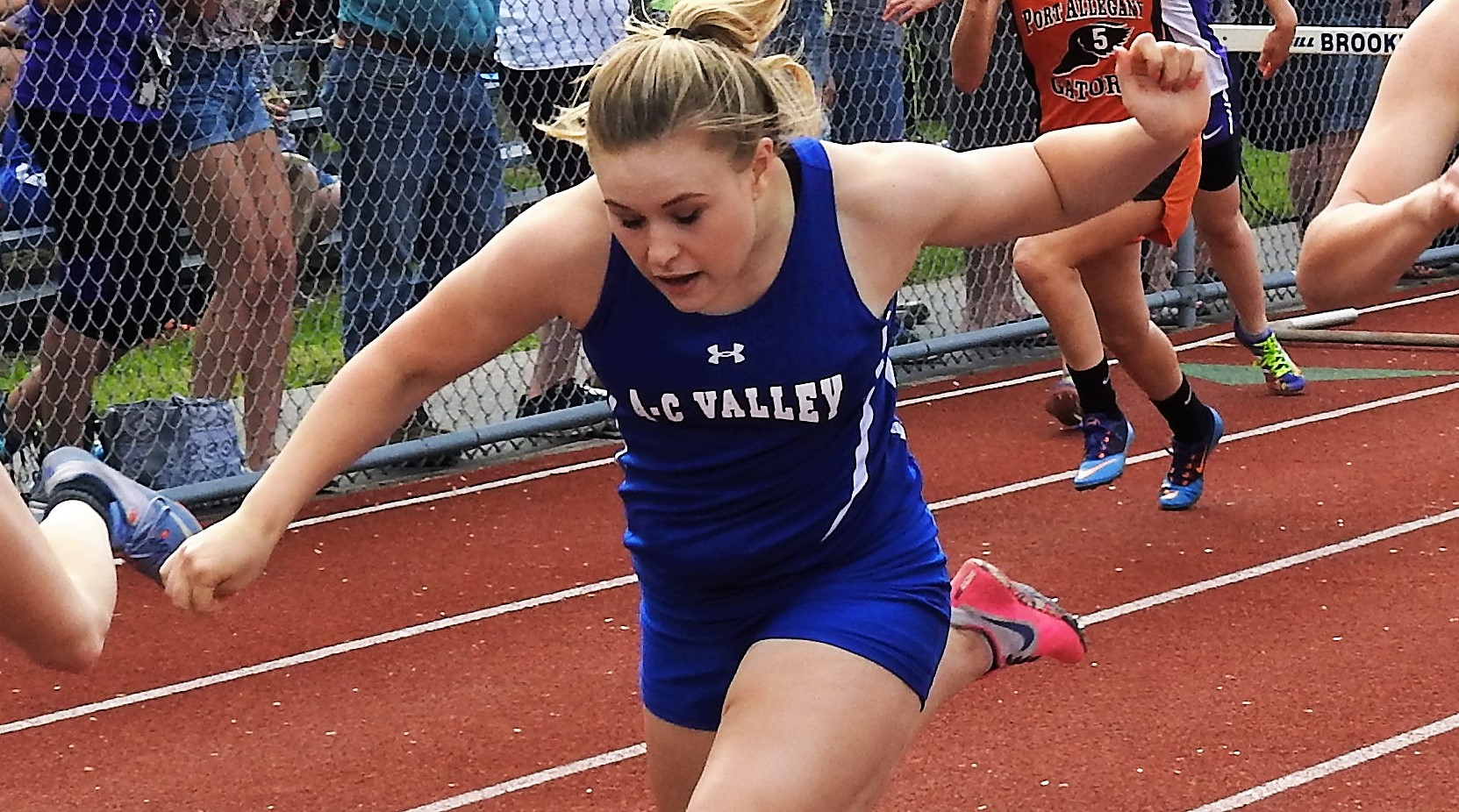 FRILLS CORNERS, Pa. – The KSAC announced its All-Conference boys' and girls' track teams this week.
(Cover photo: Emma Fox, A-C Valley. Photo by Cory Geer)
The girls' co-track MVP's are Emma Fox of A-C Valley and Rebecca Pennington of Karns City, while the girls' co-field MVP's are Tori Obenrader of North Clarion and Cambrie Campbell of Moniteau.
On the boys' side, the co-track MVP's are Brendan Zerfoss of Clarion and Jared Kespelher of Redbank Valley, while the field MVP is Dalton Anderson of Moniteau.
All-conference in each event were named as well.
GIRLS' ALL-CONFERENCE FIRST TEAM
100-meter dash: Katlynn Traister, Redbank Valley
200-meter dash: Katlynn Traister, Redbank Valley
400-meter dash: Brooke Irwin, A-C Valley
800-meter run: Forest Mills, Clarion
1,600-meter run: Lauren Varsek, Cranberry
3,200-meter run: Lauren Varsek, Cranberry and Rebecca Pennington, Karns City
100-meter hurdles: Emma Fox, A-C Valley
300-meter hurdles: Emma Fox, A-C Valley
400-meter relay: A-C Valley (Emma Fox, Ellie Thompson, Chloe Dittman, Olivia Boocks)
1,600-meter relay: A-C Valley (Emma Fox, Ellie Thompson, Brooke Irwin, Olivia Boocks)
3,200-meter run: Karns City (Rebecca Pennington, Hannah Knoll, MacKenzie Dunn, Sunday Marotto)
Long Jump: Ellie Thompson, A-C Valley
Triple Jump: Gabby Stewart, Moniteau
High Jump: Emily Gourley, Redbank Valley and Lexi Lauer, Clarion
Pole Vault: Kendall Grossman, Moniteau
Shot Put: Tori Obenrader, North Clarion
Discus: Tori Obenrader, North Clarion and Cambrie Campbell, Moniteau
Javelin: Cambrie Campbell, Moniteau
GIRLS' ALL-CONFERENCE SECOND TEAM100-meter dash: Gabby Stewart, Moniteau
200-meter dash: Ellie Thompson, A-C Valley
400-meter dash: Emma Bair, Moniteau
800-meter run: Rebecca Pennington, Karns City
1,600-meter run: Rebecca Pennington, Karns City
3,200-meter run: Kristin Reynolds, Cranberry
100-meter hurdles: Samantha Hall, Moniteau
300-meter hurdles: Samantha Hall, Moniteau and Gabby Weaver, Clarion
400-meter relay: Redbank Valley (Ali Shumaker, Paiton Rizzo, Elisabeth Hook, Katlynn Traister, Haley Minich
1,600-meter relay: Moniteau (Kendall Grossman, Collette Grossman, Emma Bair, Samantha Hall)
3,200-meter relay: Clarion (Phylicia Hockman, Chelsea Mason, Ailish Nagy, Forest Mills)
Long Jump: Laken Lewis, Clarion
Triple Jump: Wendy Beveridge, Clarion and Erica Hetrick, Clarion-Limestone
High Jump: Alazia Greaves, Moniteau
Pole Vault: Laken Lewis, Clarion and Collette Grossman, Moniteau
Shot Put: Cambrie Campbell, Moniteau
Discus: Shaney Cheesman, Karns City
Javelin: Tori Obenrader, North Clarion and MacKenzie Craig, Karns City
BOYS' ALL-CONFERENCE FIRST TEAM
100-meter dash: Brendan Zerfoss, Clarion
200-meter dash: Brendan Zerfoss, Clarion
400-meter dash: Trey Miles, Union
800-meter run: Steven Fawcett, Moniteau and Austin Hummell, Clarion
1,600-meter run: Sam Lander, Cranberry
3,200-meter run: Harrison Keenan, Cranberry
110-meter hurdles: Jared Kespelher, Redbank Valley
300-meter hurdles: Jared Kespelher, Redbank Valley
400-meter relay: Clarion (Marshall Powers, Archer Mills, Ty Burford, Brendan Zerfoss)
1,600-meter relay: Moniteau (Jake Patton, Steven Fawcett, Emmanuel McLean, Dalton Anderson)
3,200-meter relay: Moniteau (Steven Fawcett, Emmanuel McLean, Brandon Anderson, Ryley Grossman)
Long Jump: Chandler Turner, Karns City
Triple Jump: Jarrett Kahle, North Clarion (Forest Area) and Brody Coleman (Keystone)
High Jump: Dalton Anderson, Moniteau and Sam Hetrick, Redbank Valley
Pole Vault: John Tibbs, Redbank Valley
Shot Put: Roman Davidson, Moniteau and Ryan Heller, Moniteau
Discus: James Parenti, Moniteau and Clint Thurston, Redbank Valley
Javelin: Dalton Anderson, Moniteau
BOYS' ALL-CONFERENCE SECOND TEAM
100-meter dash: Keaton Kahle, Redbank Valley
200-meter dash: Chandler Turner, Karns CIty and Jared Kespelher, Redbank Valley
400-meter dash: Brendan Zerfoss, Clarion
800-meter run: No second team
1,600-meter run: Adam Bettwy, Clarion
3,200-meter run: Adam Bettwy, Clarion
110-meter hurdles: Jake Patton, Moniteau and Dalton Anderson, Moniteau
300-meter hurdles: Jake Patton, Moniteau
400-meter relay: Redbank Valley (Colten Mohney, Jared Kespelher, Chase Wiles, Keaton Kahle)
1,600-meter relay: Redbank Valley (Keaton Kahle, Austin Sattely, Jared Kespelher, John Tibbs)
3,200-meter relay: Keystone (Brennan LaVan, Brody Coleman, Max Thompson, Broc Schoeppner)
Long Jump: Jarrett Kahle, North Clarion (Forest Area)
Triple Jump: Chandler Turner, Karns City
High Jump: No second team
Pole Vault: Kyle Norling, Moniteau and Jovh Williams, Karns City
Shot Put: Dillin Anderson, Moniteau and Clint Thurston, Redbank Valley
Discus: No second team
Javelin: Ian Callen, Clarion-Limestone