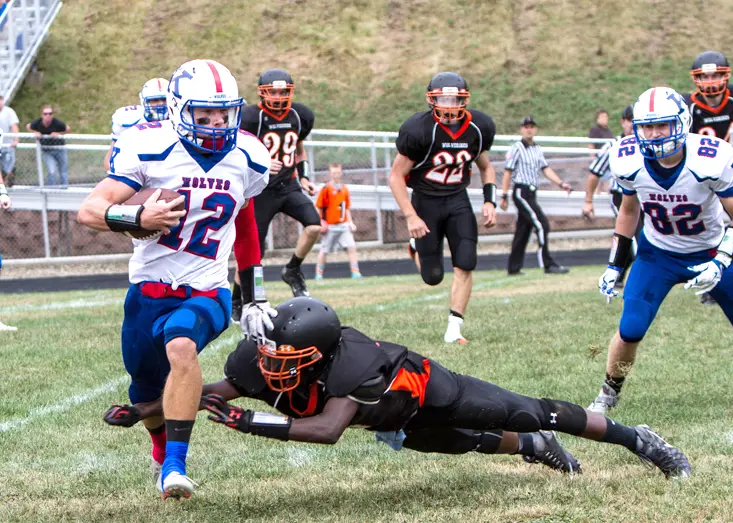 BROCKWAY, Pa. – For years, the debate has raged about which football conference is better, the Allegheny Mountain League (AML) or the Keystone Shortway Athletic Conference (KSAC). 
On Friday July 1 at Frank Varischetti Field in Brockway some of that debate will come to the forefront in the inaugural Frank Varischetti All-Star Game between the two conferences.
Players, all seniors, from 20 schools in 12 counties, including 12 who received All-State football honors, will take part in the contest which will feature Brockway Rovers head coach Frank Zocco leading the AML squad and Redbank Valley head coach Ed Wasilowski captaining the KSAC team.
The Frank Varischetti Foundation, with cooperation of the Brockway Gridiron Association and the Brockway Area School District, is hosting the event.
In addition to showcasing the best football talent in District 9, $1,000.00 scholarships will be awarded to eight players, four from each team.
The game coincides with the 50th anniversary of Brockway's Old Fashioned Fourth of July Celebration. Kickoff time is 7 p.m. Tickets are $5 for adults and $2 for children.
The teams were chosen by the coaches of the respective leagues.
The AML team includes six players from Brockway, nine from Curwensville, four each from Elk County Catholic and Kane, two each from Sheffield and Ridgway and one each from Cameron County, Otto-Eldred, Port Allegany and Smethport.
The KSAC team includes six players from Redbank Valley, five from Karns City, four each from St. Marys and Union, three each from Clarion-Limestone, Brookville, and Moniteau, two from AC Valley, and one each from Clarion and Punxsutawney.
The first-team All-State selections by the PA Football News who will participate include Reese Barger of Karns City who was the Rehab Centre D9Sports.com Offensive Lineman of the Year, Brady Himes of Clarion-Limestone, Jake Shrubb and Shane Rolick, the Rehab Centre D9Sports.com Jim Kelly Award Winner as District 9 MVP, of Kane and Dugan Gallagher of Union. Second-team all-staters include Nick Taylor of St. Marys, Quamone Newkirk of Curwensville and Joey Varischetti of Brockway. Honorable mention all-state selections included Collin Dunmyre of Karns City, Landon Forrest of Union, Wyatt Hetrick of Redbank Valley, the Rehab Centre D9Sports.com District 9 Special Teams Player of the Year and Zach Tyler of Brockway.
Four players – Himes, Shrubb, Shane Rolick and Varischetti were also Pennsylvania Sports Writers all-state picks.
AML All-Star roster
Brockway: Tony Isabella, Mike Martino, Anthony Zocco, Joe Varischetti, Zach Tyler and Troy O'Brien
Curewnsville: Hunter Johnson, Quamone Newkirk, Jake Terry, Seth Sloppy, Curtis Linsenbigler, Ian Barrett, Jared Bakaysa, Ben Junod and Korie Laird
Cameron County: Austin Doud
Elk County Catholic: Noah Werner, Kyle Schatz, Andy Geci and Kyle Huff
Kane: Shane Rolick, Tyler Rolick, Tyler Weidenhoff and Jake Shrubb
Otto-Eldred: Heath Stewart
Port Allegany: Bryan Stahlman
Ridgway: Dane Cappiello and Logan Brunner
Sheffield: Tanner Barr and Ryan Lemay
Smethport: Brayden Howard
KSAC All-Star roster
Karns City: Reese Barger, Collin Dunmyre, Neal Barnhart, Jarod Stewart and Austin Turner
Redbank Valley: Wyatt Hetrick, Devin Bowser, Nick Shoemaker, Connor Shoemaker, Aaron Wilson and Devin Schimp
St. Mary's: Brady Bauer, Nick Taylor, Nathan Straub and DJ Salinas
Moniteau: Shonn Kline, Derrick Kerr and Garrett Young
Clarion-Limestone: Brady Himes, Connor Keth and Anthony Louder
Punxsutawney: Larry Yeager
Union: Dugan Gallagher, Cole Morris, Landon Forrest and Daniel Roberts
AC Valley: Evan Redding and Brady Terwilliger
Brookville: Logan Thrush, John Davis and Joel Dinger
Clarion: Will Staub