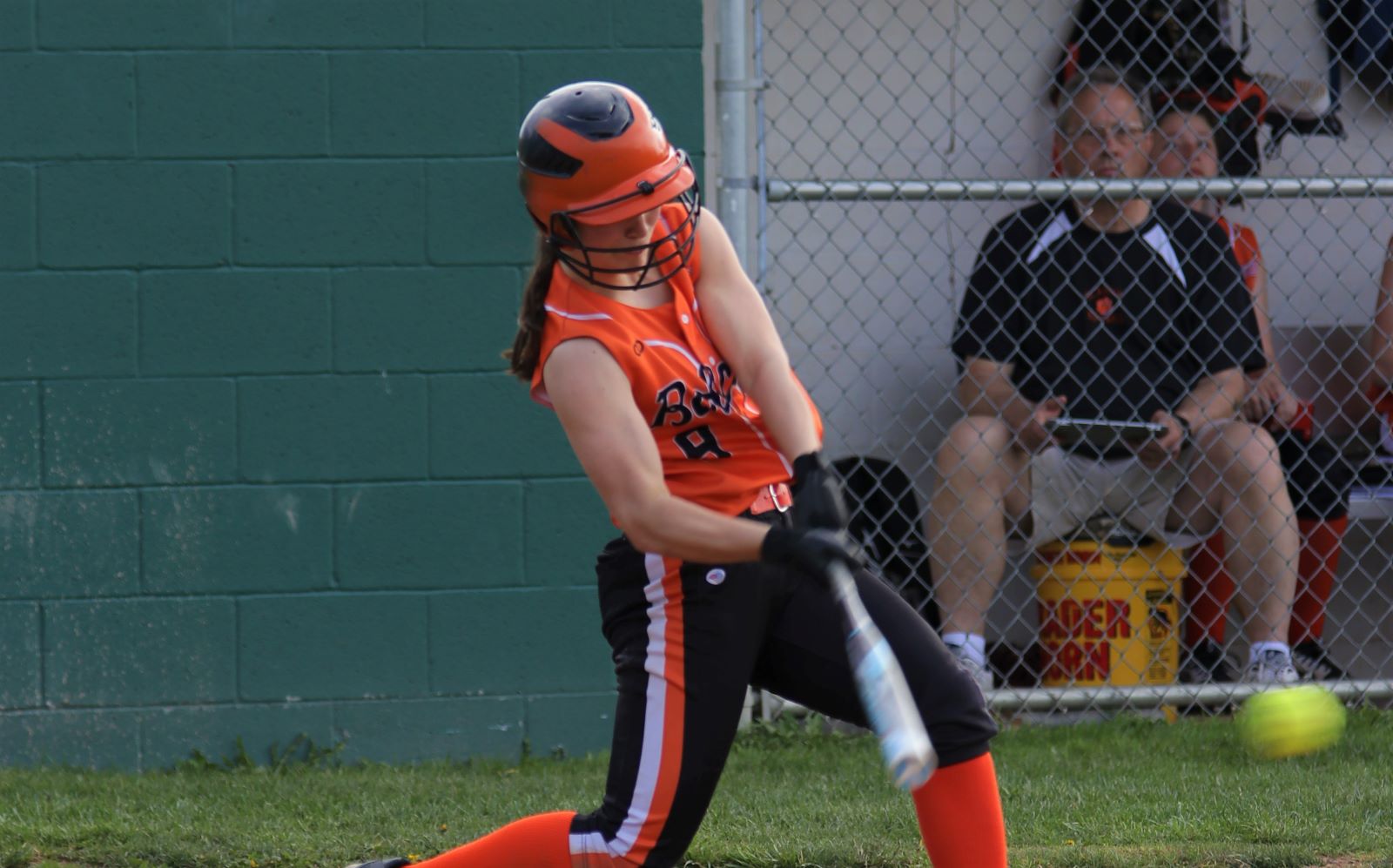 SLIPPERY ROCK, Pa. – Trailing 5-0 going to the bottom of the seventh inning to two-time defending state champion West Greene, Clarion tried its best to make a valiant comeback only to fall short, 5-4, in the PIAA Class 1A quarterfinals Friday afternoon at Slippery Rock University.
(Photo: Freshman Jordan Best. Photo by Jared Bakaysa of JB Graphics. See more of Bakaysa's work here)
Relisten to the game: Part 1 • Part 2 
"I can't say enough about this team," Clarion manager Dan Shofestall said. "The way they battled back that last inning. It's just the way we have been battling all year. We have been battling and battling and battling. They have a lot of heart. This team has heart. They don't quit. They don't panic. That is what I like about this team. They don't get flustered. They don't get panicky. When things get chaotic, there is always a voice of calm in there. That is our two leaders, our two seniors, Lindsey (Kemmer) and Carly (Best) that showed that voice of calm every game. That really helped us."
West Greene grabbed the big lead with a five-run fifth inning that was aided by two walks issued by Clarion pitcher Kait Constantino and a couple of Lady Cats errors.
"Give West Greene credit," Shofestall said. "We knew we had to come in here and play a pretty good defensive game. We did, pretty much, but they are a team that takes advantage of other team's mistakes. That is what they did today. They are a team that understands the strike zone very well. They understand what the umpire is doing behind them. That is what makes them really successful. They put a lot of balls in play. I give them credit for that."
The key play in the fifth inning came with the bases loaded and one out after a pair of walks and an infield single. Kaitlyn Rizor hit a ground ball to third that had all the makings of Clarion being able to erase lead runner Kiley Meek at home plate. But third baseman Tori Vega had the ball get stuck in her feet, and everyone was safe giving the Pioneers a 1-0 lead.
Winning pitcher Jade Renner then followed with a base hit to left that ended up scoring three runs when the ball got past left fielder Ava Kiser and went all the way to the wall. Renner's courtesy runner, Katie Lampe, then made it 5-0 when she sprinted home on a wild pitch. The home plate umpire looked like he was ready to ring Katie Lampe up but then saw something that caused him to wave her safe.
"I thought at first she was out," Shofestall said. "But I was kind of blocked out there. Jordy (Clarion catcher Jordan Best) didn't seem to argue much."
That was the second call at home plate that went West Greene's way, as an inning earlier a strong throw from right fielder Mackenzie Carpenter caught Brenna Campbell trying to score from second on a one-out single by Vega on a bang-bang play.
"Give them credit," Shofestall said. "It was a beautiful throw."
Campbell being thrown out at the plate was one of two Lady Cats runners erased on the base paths.
The other was Payton Simko, who was thrown out trying to stretch a double into a triple leading off the bottom of the fifth with Clarion down five. Simko was waived to third by third base coach Matt Best but initially slowed down at second before heading to third where she was thrown out.
"We want to be aggressive, no doubt about it," Shofestall said. "We have to remember, we are making split-second decisions out there. Sometimes it works, sometimes it doesn't. I never fault anybody when we do make base-running errors. It happens. There are a lot of plays in the game. Certainly, one play does not make a difference."
Simko, who was 2-for-3 in the game, was right in the middle of Clarion's seventh-inning comeback leading off the seventh with her second double of the game. Kiser followed with a single to left and went to second on the throw to third, and Noel Anthony reached on an error by Rizor the shortstop, to load the bases.
Kait Constantino, who pitched well in defeat, then got Clarion's first run home with a single to center that kept the bases loaded before groundouts by Carly Best and Campbell made it 5-3 but left the Lady Cats down to their final out.
Jordan Best kept the rally going with a single to left that scored Constantino making it 5-4, but Renner got Vega to ground back to the circle to preserve the win.
"It's a game of inches sometimes," Shofestall said. "That's why teams move on. Give West Greene credit, they made some plays today. We did too."
The fact the game ended on a ground out was probably appropriate considering Renner, the junior lefty induced 13 ground outs in a game in which she didn't record a strikeout.
"She pitches to contact," Shofestall said. "She has a lot of movement on her pitches. That is what makes her good."
While Clarion's season ends with a record of 18-6, there are a lot of positives for the Lady Cats to build on, especially considering they lose just the two seniors and return Constantino, who struck out six to give her 245 strikeouts in 144 innings this season.
"We can build on this," Shofestall said. "We see what kind of heart we have in this team. But we have to understand it starts all over next year. We just don't think we can come in a walk on the field. Look at Cranberry today, another D9 team (that beat Laurel 7-6 to advance to the 2A semifinals). There are a lot of good teams in the KSAC. We have to work hard and think we can come in next year and build on this. If we do that with the right attitude we had this year, I think good things can happen for us next year."
West Greene will try to make it to a fourth straight PIAA title game when it takes on DuBois Central Catholic in the semifinals. That game is slated for 2 p.m. Monday at Slippery Rock University. West Greene beat DCC in the semifinals in 2016 and 2017.
WEST GREEN 5, CLARION 4
Score by Innings
West Greene 000 050 0 – 5
Clarion 000 000 4 – 4
WEST GREENE – 5
McKenna Lampe cf 1110, Madison Lampe 3b 4110, Kaitlyn Rizor ss 4100, Jade Renner p 4032, Katie Lampe cr 0100, Brianna Amos 2b 4000, Jersey Wise lf 4000, Mackenzie Carpenter rf 3000, Kiley Meek dp 2100, Kylie Simms c 3010, Anna Durbin cr 0000. Totals 28-5-6-2.
CLARION – 4
Kait Constantino p 4131, Carly Best 2b 4011, Brenna Campbell ss 4011, Jordan Best c 3111, Tori Vega 3b 4020, Lindsey Kemmer 1b 3000, Payton Simko cf 3120, Ava Kiser lf 2110, Noel Anthony rf 3100. Totals 30-4-11-4.
LOB: West Greene 7. Clarion 7. Errors: West Greene 1. Clarion 3. 2B: Simko (2). SB: McKenna Lampe, Kaite Lampe CS: SAC: Jordan Best. HBP: Kiser by Renner.
PITCHING
West Greene
Jade Renner 7 IP, 11 H, 4 R, 2 ER, 0 BB, 0 K, 1 HBP
Clarion
Kait Constantino 7 IP, 6 H, 5 R, 3 ER, 4 BB, 6 K
Winning pitcher: Jade Renner
Losing pitcher: Kait Constantino