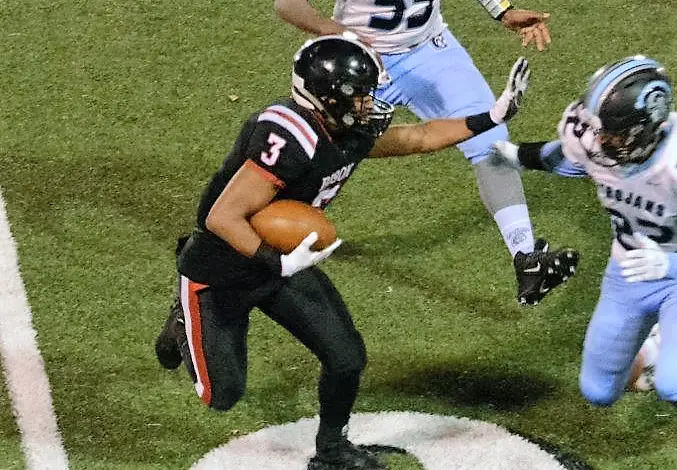 By Scott Shindledecker
HOLLIDAYSBURG, Pa. – The Johnstown Trojans beat the Clearfield Bison, 26-21, Friday night in Hollidaysburg to win the District 5-6-9 Class 4A Championship.
(Cover photo of Seth Caldwell. Photo by Logan Cramer III)
The Bison (10-2) saw their 10-game winning streak come to an end while the Trojans (11-1) move on to play District 4 champion Jersey Shore next week in the state playoffs. Jersey Shore beat Selinsgrove 31-15.
Friday night, the Trojans made a few more key plays to get the win as the teams met for the sixth time in the last seven seasons.
Johnstown picked off Bison quarterback Isaac Rumery twice in their last three possessions and Trojans running back Bryce Gibson scored on a 6-yard run with 4:47 left after trailing 21-20.
"It really came down to two or three plays we needed to make and didn't," Bison head coach Tim Janocko said. "But we played a great football game against a great team. We had a chance to win. "We're down 14-0 and we fought back, so I'm proud of our kids."
Indeed, the Bison trailed 14-0 with still a little more than three minutes left in the first quarter.
The Trojans didn't have much trouble moving the ball on their first two possessions and putting it into the end zone.
Clearfield won the toss and elected to kick off. Johnstown started at its own 33 and converted a fourth-and-1 when quarterback Austin Barber scrambled for 13 yards to the Bison 45.
Gibson rattled off a 20-yard run, then a few plays later, Barber hit Theo Tinsley for a 23-yard TD pass. Mike Marino's point-after kick made it 7-0 with 9:15 left in the first quarter.
Johnstown forced a punt and took over at its own 34.
The Trojans hit it big right off the bat when Barber connected with Rashaud Jordan-Mainess for a gain of 30 yards to the Bison 36.
But Clearfield got it to a fourth-and-8 before Barber and Jordan-Mainess got together again on a 17-yard pass play to the 17.
On the very next play, Barber's tackle-breaking and elusive run left him standing in the end zone to make it 14-0.
Johnstown forced another punt, but the Trojans were backed up their own 11. A pair of holding penalties kept the Trojans from getting much done. Then Barber hit West Virginia University recruit Exree Loe for a 10-yard pass play, but Loe got hit and fumbled with Bison Steve Sawyer recovering at the Trojans 1.
Three plays later, Seth Caldwell finally got in and Josh Serena's PAT kick halved the lead to 14-7 with 10:30 left in the first half.
The Bison had turned the tide and they kept the momentum going their way when they forced a Trojans punt.
Clearfield was backed up at its 10, but Rumery orchestrated a 15-play drive that ended with Micah Heichel catching a deflected pass that hit off a Trojans defender's hands for a TD.
The Trojans took the lead back in the third quarter after forcing a Bison punt. Loe returned the kick 59 yards to the Bison 15 and then caught a 9-yard TD pass from Barber on an inside screen pass to make it 20-14 when the PAT kick was missed.
But Clearfield battled back and retook the lead back with another long drive. This one covered 59 yards and lasted 14 plays. Caldwell capped it with a good-looking 15-yard run and Serena's kick made it 21-20 with 2:26 left in the third quarter.
The Trojans started on their own 18 and Loe got them out of poor field position with a 27-yard catch to the 45.
But three plays later, Bison Tae Lynch picked off Barber and the Bison had it on their own 49.
After one first down, Gibson picked off a Rumery pass that was intended for Lezzer.
Both teams traded punts and the Trojans caught a big break when Elijah Brehm fumbled the punt before recovering it at the Bison 48.
On the next play, Barber threw it deep and Loe made his presence known again with an outstanding 42-yard catch to the 6. Gibson ran it in to make it 26-21.
But the Bison weren't done, starting at their own 33 with 4:43 left.
Rumery was tackled for no gain by Trojans lineman Shamar Jones and didn't immediately get up. He did leave the field for one play under his own power and when he returned he hit Luke McGonigal for a 9-yard gain to the 50 on fourth down.
Three plays and two timeouts later, the Bison faced a fourth down at the Trojans 48. Rumery overthrew his receiver and Tinsley picked it off.
Janocko was questioned about Rumery possibly being affected on the play he was tackled.
"Isaac won't tell you that, but it could have been a factor. But I am still very proud of our kids. "Johnstown is a great team and Tony (Penna Jr) does a great job with them. We had a chance to win."
The Trojans picked up two first downs before Barber kneeled down twice to end the game.
JOHNSTOWN 26, CLEARFIELD 21
Score by Quarters
Johnstown 14 0 6 6 – 26
Clearfield 0 14 7 0 – 21
Scoring Summary
First Quarter
J – Theo Tinsley 23 pass from Austin Barber (Mike Marino kick), 9:15.
J – Austin Barber 17 run (Martino kick), 3:28.
Second Quarter
C – Seth Caldwell 1 run (Josh Serena kick), 10:30.
C – Micah Heichel 15 pass from Isaac Rumery (Serena kick), 2:32.
Third Quarter
J – Exreee Loe 9 pass from Barber (kick failed), 8:39.
C- Caldwell 15 run (Serena kick), 2:26.
Fourth Quarter
J – Bryce Gibson 6 run (run failed), 4:47.
TEAM STATISTICS
Johnstown-State-Clearfield
14 First Downs 13
30-87 Rushes-Yards 37-105
228 Passing Yards 111
11-15-1 Comp-Att-Int 12-24-2
43-315 Plays-Yards 61-216
2-1 Fumbles-Lost 0-0
6-50 Penalties-Yards 4-21
3-53.2 Punts-Avg 3-43.3
INDIVIDUAL STATISTICS
RUSHING – – Clearfield: Seth Caldwell 21-72, Ty Bender 1-5, Ryan Lezzer 1-6, Isaac Rumery 13-20, Eli Glass 1-2. Johnstown: Bryce Gibson 17-51, Austin Barber 11-32, Exree Loe 1-5, Rashaun Jordan-Mainess 1-(-1).
PASSING – – Clearfield: Isaac Rumery 12 of 24, 111 yards, 1 TD, 2 Int. Johnstown: Austin Barber 11 of 15, 228 yards, 2 TD, 1 Int.
RECEIVING – Clearfield: Micah Heichel 3-47, Ryan Lezzer 4-38, Seth Caldwell 1-7, Luke McGonigal 4-19. Johnstown: Exree Loe 5-102, Theo Tinsley 3-67, Rashaud Jordan-Maines 2-47, Elijah Brehm 1-12.
INTERCEPTIONS – Clearfield: Tae Lynch. Johnstown: Bryce Gibson, Theo Tinsley.