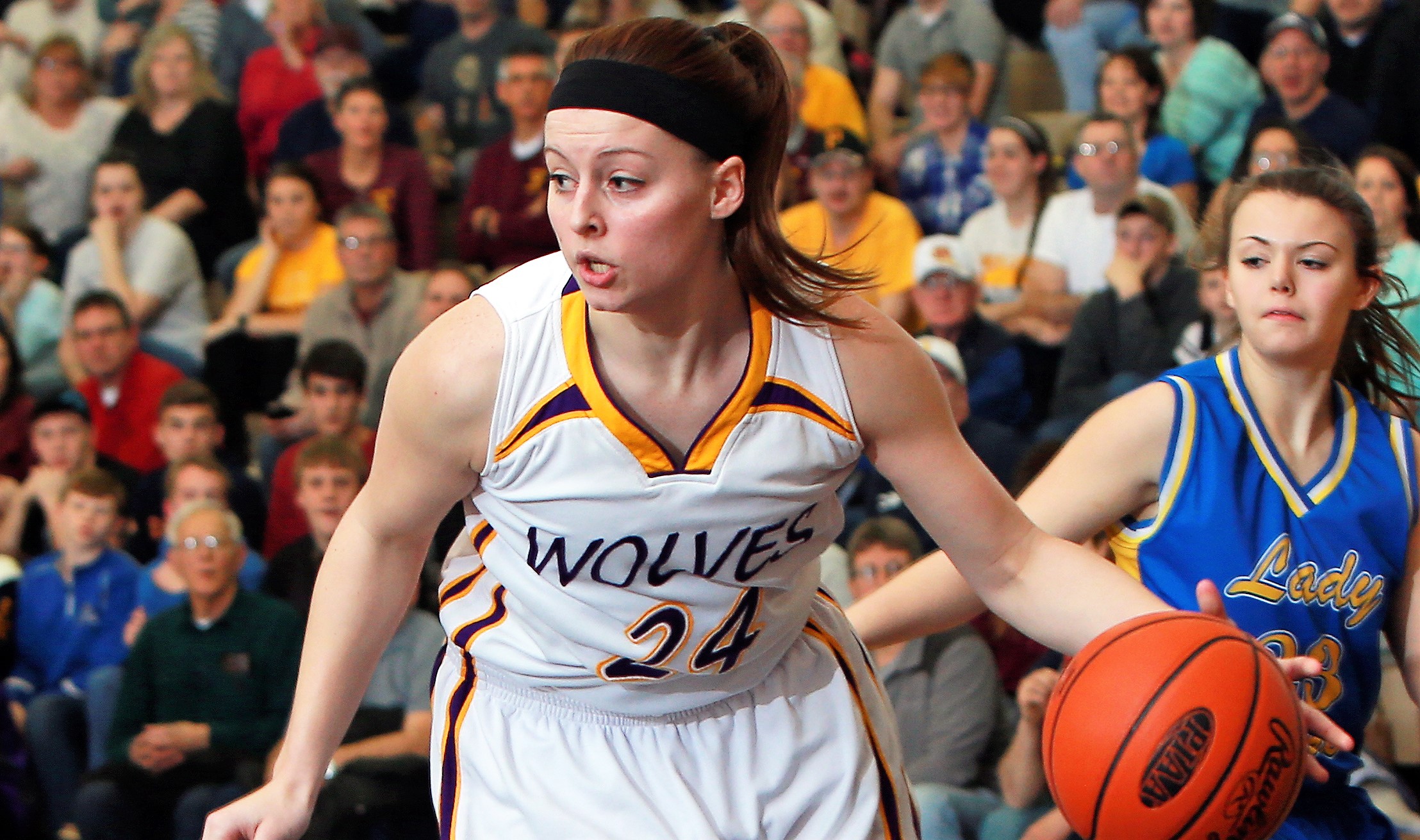 HARRISBURG, Pa. – Led by first-team Class 1A selection Tori Obenrader of North Clarion, District 9 had four players honored as Pennsylvania Sports Writers All-State in girls' basketball Saturday.
Joining Obenrader in being honored are DuBois' Ashley Hallowell, a third-team Class 5A selection, Punxsutawney's Leah Miller, a third-team Class 4A choice and Otto-Eldred's Camryn Thomas, a third-team Class 1A honoree. All four are juniors.
Obenrader, a second-team selection last year and the All American Awards & Engraving D9Sports.com District 9 Player of the Year, led North Clarion to a historic season this year. The She-Wolves won the District 9 Class 1A title, the KSAC crown, the KSAC North championship and advanced to the quarterfinals of the PIAA playoffs. All but the KSAC North title were firsts in school history and it marked just the second KSAC North crown, the other coming last year.
The forward averaged a season double-double of 23.6 points and 15.8 rebounds per game while adding 3.2 assists, 2.0 steals and 1.0 blocks per contest. She recorded a double-double in 28 of North Clarion's 29 games and twice scored over 40 points while grabbing at least 20 rebounds seven times. She also shot 51 percent from the field while making 53 3-pointers and will enter her senior season having achieved 1,000 points (1,438) and 1,000 rebounds (1,137) in her career after scoring a school-record 684 points in 2017 to go with 457 boards.
Hallowell, Miller and Thomas all joined Obenrader on the All American Awards & Engraving D9Sports.com First-Team All-District 9 squad after averaging season double-doubles.
Hallowell, who led District 9 in rebounding at 18 per game, also scored 16.8 points per contest and had 22 double-doubles on the year to help DuBois to the District 6-8-9 semifinals.
Miller paced Punxsutawney to the District 9 Class 4A title and the second round of the PIAA playoffs by averaging 16.3 points and 15.0 rebounds per game and posting 17 double-doubles.
Thomas was the key cog in Otto-Eldred finishing second in District 9 Class 1A and advancing to the second round of the PIAA postseason, as the Lady Terrors posted their first-ever PIAA victory in the opening round. She averaged 16.0 points and 10.1 rebounds per game and recorded 16 double-doubles along the way. She is 79 points shy of 1,000 going into her senior season.
2017 PENNSYLVANIA SPORTS WRITERS ALL-STATE TEAMS
CLASS 6A
Player of the Year – Amanda Kalin, Pine-Richland
Coach of the Year – Jason Bieber, Boyertown
First Team
Katie Jekot, Cumberland Valley, 5-9, Sr., 14.5
Amanda Kalin, Pine-Richland, 5-7, Sr., 23.0
Abby Kapp, Boyertown, 6-0, Sr., 15.5
Taylor O'Brien, Plymouth-Whitemarsh, 5-10, Jr., 22.1
Desiree Oliver, Penn Hills, 5-8, Sr., 18.0
Second Team
Aja Blount, Northampton, 5-11, Sr., 22.0
Tessa Brugler, Nazareth, 5-10, Sr., 17.4
Hannah Nihill, Cardinal O'Hara, 5-5, Sr., 13.0
Lizzie Oleary, Abington, 6-2, Sr., 13.9
Kiyea White, Emmaus, 6-0, Sr., 14.6
Third Team
Sam Carangi, North Penn, 5-9., Sr., 7.7
Kate Connolly, Souderton, 6-2, Jr., 10.8
Kenzie Gardler, Cardinal O'Hara, 5-6, Sr., 8.8
Rachel Martindale, North Allegheny, 5-8., So., 13.0
Mary Sheehan, Cardinal O'Hara, 5-11, Sr., 12.7
Hailey Zeise, North Allegheny, 5-11, Sr., 10.0
CLASS 5A
Player of the Year – Sierra Kotchman, Washington Trinity
Coach of the Year – Mike McDonald, Archbishop Wood
First Team
Johnasia Cash, McKeesport, 6-1, Sr., 18.0
Jenay Faulkner, Greencastle-Antrim, 5-11, Sr., 18.9
Sierra Kotchman, Washington Trinity, 5-7, Jr., 19.0
Katie May, Archbishop Wood, 5-11, Jr., 9.5
Michaela Porter, Obama, 5-11., Sr., 15.0
Second Team
Rajah Fink, Dover, 5-10, Jr., 19.5
Erin Gibbons, Wyoming Valley West, 5-8, Sr., 15.6
Megan McConnell, Chartiers Valley, 5-5, Fr., 15.0
Amanda Mobley, Southern Lehigh, 5-7, Jr., 12.4
Cassie Sebold, Archbishop Wood, 5-6, Sr., 8.8
Third Team
Dajahnae Brannon, Harrisburg, 5-10, So., 16.3
Ashley Hallowell, DuBois, 6-1, Jr., 16.8
Olivia Snyder, Southern Lehigh, 5-10, So., 15.5
Shannon May, Archbishop Wood, 5-5, Sr., 7.1
Courtney Warley, Bishop Shanahan, 6-2, Sr., 17.0
Kaylee Young, Fort LeBoeuf, 5-7, Sr., 21.5
CLASS 4A
Player of the Year – Sam Breen, Cardinal Wuerl North Catholic
Coach of the Year – Jose Medina, Bethlehem Catholic
First Team
Sam Breen, Cardinal Wuerl North Catholic, 6-1, Sr., 23.0
Courtney Cecere, Forest Hills, 5-9, Sr., 17.5
Madison Demski, Erie Villa Maria. 6-2, Jr., 12.5
Kiki Jefferson, Lancaster Catholic, 5-11, So., 22.1
Neila Luma, Bethlehem Catholic, 6-0, Sr., 10.2
Second Team
Molly Aulbach, Blackhawk. Blackhawk, 5-5, So., 14.0
Bella Posset, Beaver, 5-7, Jr., 20.0
Lisa Marchioni, Montoursville, 5-7, Sr., 14.4
Molly Mraz, Erie Villa Maria, 5-8, Jr., 9.2
Zoe Zerman, Northern Lebanon, 5-9, Sr., 13.1
Third Team
Kayla Aufiero, Nanticoke, 5-7, Sr., 16.2
Sunshine McCrae, East Pennsboro, 6-2, So., 16.2
Taylor Medina, Bethlehem Catholic, 6-0, Fr., 10.8
Leah Miller, Punxsutawney, 6-0, Jr., 16.3
Emily Shopene, Mercyhurst Prep, 5-7, Sr., 9.3
Allison Shuke, Bedford, 5-9, Sr., 19.5
CLASS 3A
Player of the Year – Chyna Nixon, Neumann-Goretti
Coach of the Year – Frank Nagy, West Shamokin
First Team
Kate Bauhof, York Catholic, 5-7, Jr., 23.2
Amani Johnson, East Allegheny, 5-5, Jr., 31.0
Ashley Jones, Neumann-Goretti, 4-5, Sr., 17.0
Kaley Kovac, Jim Thorpe, 5-10, Jr., 26.0
Chyna Nixon, Neumann-Goretti, 5-10, Sr., 16.0
Second Team
Brionna Allen, Bishop Canevin, 5-7, Jr., 14.0
Morgan Gentile, Troy, 5-11, Fr., 23.8
Halle Herrington, Philipsburg-Osceola, 5-4, So., 30.3
Natalie Kucowski, St. Basil, 6-3, Sr., 16.2
Maddie Martin, Dunmore, 5-6, Sr., 16.1
Third Team
Abby Anderson, Holy Cross, 5-11, Sr., 19.1
Alana Davidson, New Hope-Solebury, 5-2, Sr., 13.1
Kasey Engle, Tyrone, 5-7, Sr., 19.2
Olivia Fusaro, West Shamokin, 5-8, Jr., 18.4
Alexa Naessens, Germantown Academy, 6-2, Jr., 9.4
Nicole Varano, Mount Carmel, 5-7, Sr., 18.6
CLASS 2A
Player of the Year – Haley Thomas, Bishop McCort
Coach of the Year – Jared Homa, Minersville
First Team
Lili Benzel, Bishop Guilfoyle, 5-8, Sr., 19.1
Diamond Bragg, Camp Hill, 5-8, Jr., 21.4
Karson Swogger, Bellwood-Antis, 5-8, Sr., 26.7
Haley Thomas, Bishop McCort, 5-10, Sr., 23.5
Alexa Williamson, Chartiers-Houston, 6-1, Jr., 23.5
Second Team
Alli Campbell, Bellwood-Antis, 5-11, Fr., 17.6
Rena Enterline, Blairsville, 5-7, Jr., 18.2
Adrienne Kroznuskie, Minersville, 5-8, Sr., 16.1
Bronwyne Mellott, McConnellsburg, 5-10, Sr., 26.3
Abby Schoffstall, Minersville, 5-7, Sr., 11.4
Third Team
Megan Bisco, Mahanony Area, 5-9, Jr., 11.6
Mikayla Lovelace, Leechburg, 5-10, Jr., 23.5
Emily Mealy, Minersville, 6-0, Sr., 11.2
Olivia Sirnic, Jeannette, 5-7, Sr., 21.1
Maggie Wigoda, Minersville, 5-10, Jr., 12.4
Jade Young, Abington Friends, 5-10, Sr., 13.7
CLASS 1A
Player of the Year – Alexis Hill, Lebanon Catholic
Coach of the Year – Rachelle Hopsicker, Juniata Valley
First Team
Carmella Bickel, Lourdes Regional, 5-5, Sr., 15.8
Daeja Quick, Cornell, 5-8, Sr., 22.9
Alexis Hill, Lebanon Catholic, 5-10, Jr., 19.2
Tori Obenrader, North Clarion, 5-11, Jr., 23.5
Ayanna Townsend, Winchester Thurston, 6-2, Jr., 19.2
Second Team
Laura Barhacs, Williamsburg, 6-2, Sr., 20.2
Ashley Forker, Faith Christian, 5-10, Sr., 15.9
Alyssa Martinazzi, Bishop Carroll, 5-9, Jr., 16.6
Olivia Mottern, Southern Fulton, 5-9, Sr., 17.9
Gian Thorpe, Winchester Thurston, 5-9, Jr., 20.3
Third Team
Madison Lampe, West Greene, 5-5, So., 18.0
Shayna McNamee, St. John Neumann, 5-7, Jr., 17.3
Sarah Parrish, Sullivan County, 6-3, Sr., 11.4
Halee Smith, Juniata Valley, 5-10, Fr., 14.8
Camryn Thomas, Otto-Eldred, 6-0, Jr., 16.0
Emily Zocsin, Weatherly, 5-8, So., 19.3