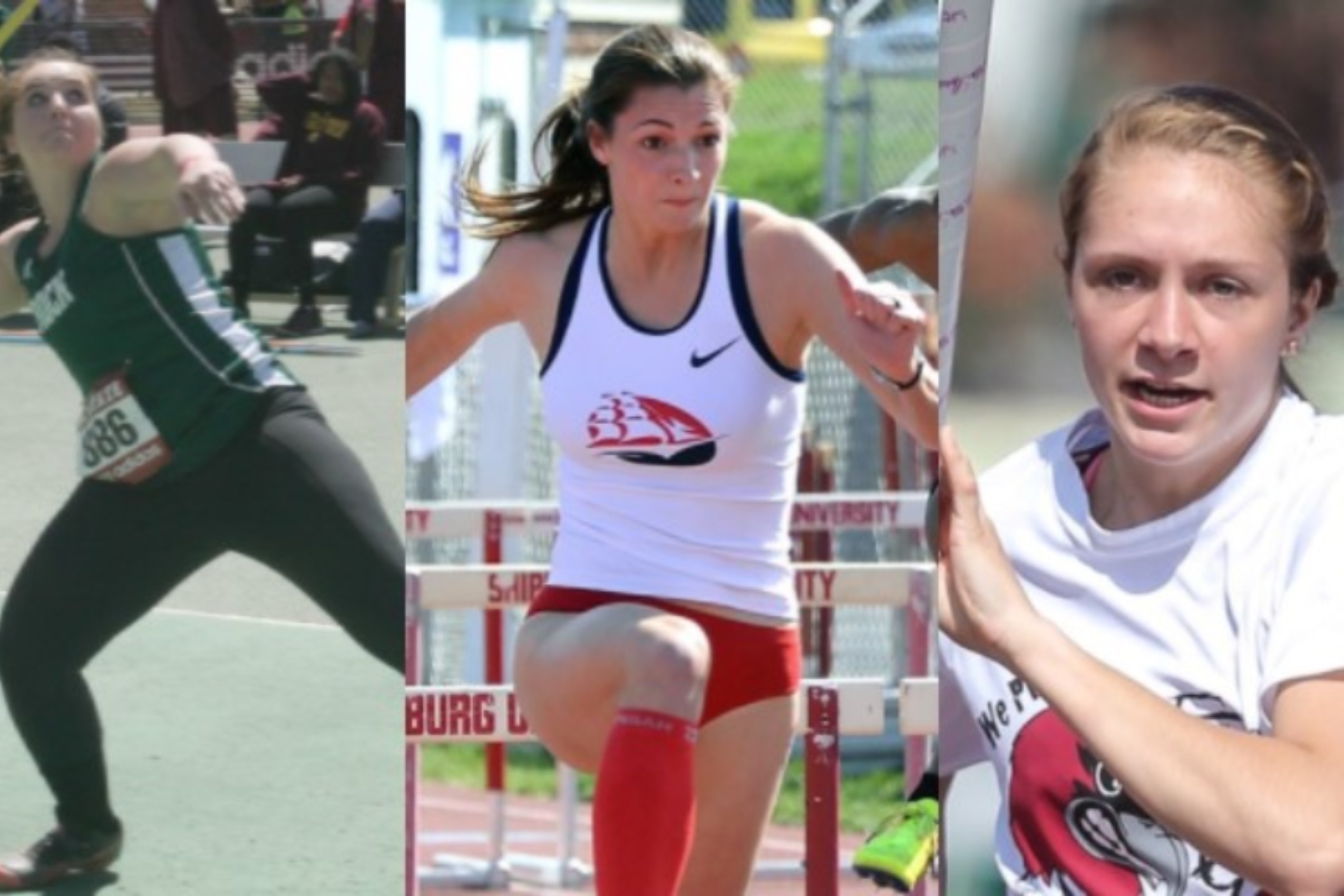 SLIPPERY ROCK, Pa. – Three District 9 alumnae made big splashes at the PSAC Women's Outdoor Track and Field Championships that wrapped up Saturday at Slippery Rock University with top three finishes.
(Photo of Danielle Sciremammano (center) and Elaina Powell (left) and Liz Coppella (right). Photos courtesy of Shippensburg, IUP and Slippery Rock Athletics)
DuBois graduate Danielle Sciremammano of Shippensburg won a pair of PSAC Titles taking home championships in the 100-meter hurdles and the long jump while also running a leg in the third-place 4×100-meter relay.
Brookville graduate Elaina Powell, meanwhile, was third in the javelin while provisionally qualifying for the NCAA Division II championships.
Bradford graduate Liz Coppella of IUP also took third in the pole vault.
Sciremammano, a senior, won the 100 hurdles in a time of 13.71, which was an NCAA Provisional Qualifying time and also took home the long jump with a leap of 18-feet, 7 1/4-inches. Her Shippensburg 4×100 relay team was third in a time of 46.96. She was joined on the relay by Aly Wyland, Lindsay Sheehan and Jill Bertino.
By scoring the 26 points, Scriremmano helped Shippensburg to the PSAC Title with 156 points easily overtaking second-place Millersville, who scored 98 points.
Powell, a sophomore and the daughter of Brookville girls' basketball coach Mark Powell, just missed a PSAC Championship in the javelin with her throw of 154-feet, 4-inches. The winning toss was 158-4 by Shippensburg's Hartman Crystal, while the second-place toss was 155-8 by Millersville's Amanda Myers.
Powell's efforts helped Slippery Rock to the fourth-place finish with 81 points.
Coppella, a senior, went over the bar at a height of 12-feet, 3 1/4 inches behind only Slippery Rock's Courtney McQuaide (13-3) and Shippensburg's Kali Hepner (12-11). IUP finished 11th in the team standings with 44.5 points.