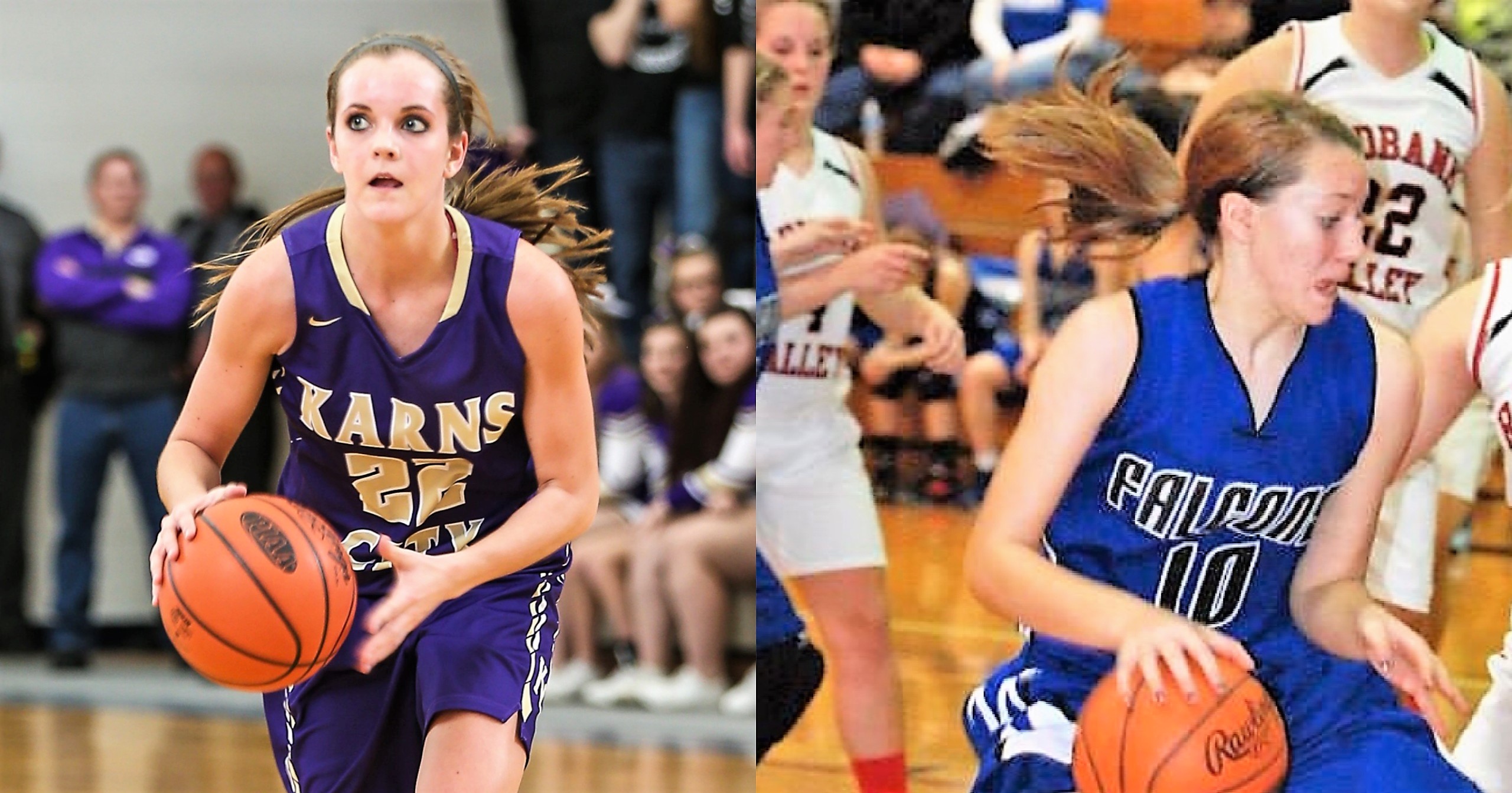 KARNS CITY, Pa. – Will it be new blood or will a familiar foe rule the KSAC South? Find out Friday night when A-C Valley travels south into Butler County to take on Karns City in a game that can be heard right here on Laurel Eye Clinic Friday Night Hoops via exploreRadio and exploreClarion.com.
(Photo: The all-time leading scorers for Karns City, Emily Hegedus (left) and A-C Valley, Ellie Thompson, go head-to-head with the KSAC South on the line Friday night)
Fans can listen to the game, which will most likely tip-off between 7:15 p.m. and 7:30 p.m. live on exploreClarion.com. Also, new, there is no need to use the app. You can go straight to the website and the player will work on any mobile device (you may need to hit the play button in order to get the stream to play). If you still have the Apple or Android app, it should work for you, and the Android app is still available to download. If you are on an Apple Device, you should just go straight to the site to listen to the game or click here to listen.
The Kerle Tire Pre-Game Show will start at 6:50 p.m. with Dustin Kifer and "The Governor" Bob Dunkle on the call with Chris Rossetti providing pre- and post-game interviews.
Everything is on the line in the second meeting of the year between these two teams.
An A-C Valley win will give the Lady Falcons their first-ever KSAC South title, while a Karns City victory would bolster the chances of the Lady Gremlins returning to the KSAC Championship game for the fourth time in the last five years – they would still need to beat Moniteau Monday to reach the title game even with a win over A-C Valley while A-C Valley could get to the game even with a loss to Karns City Friday if the Lady Gremlins lose Monday.
One can only hope for a game as great as the one these teams played in Foxburg Jan. 3 when Emily Hegedus' driving coast-to-coast layup with 6.6 seconds left in overtime lifted Karns City to a 51-50 win over A-C Valley.
Ellie Thompson had forced overtime with a bucket at the horn that tied the game at 45 just 4.5 seconds after Livia Andreassi had given Karns City a 45-43 lead with two free throws.
Hegedus had a monster game with 30 points and nine rebounds to lead Karns City, while Olivia Boocks led A-C Valley with 17 points and four rebounds. Thomas and Cami McNany each added 10 points and four boards.
A-C Valley won't have the services of Boocks Friday night, as the junior suffered a knee injury two games after the loss to Karns City and was lost for the year.
But the Lady Falcons have adjusted nicely without their point guard going 7-1 including a win over Union Thursday night.
It's been a team-wide effort to replace Boocks, who was averaging 9.8 points per game at the time of the injury.
Thompson, the school's all-time leading scorer with 1,361 career points, is averaging 19.0 ppg on the year and 19.5 since the Boocks injury. Kylee Eaton, Cami McNany and Brooke Irwin have all stepped up their games as well. Eaton, who is averaging 9.7 ppg on the season, is at 12.1 since the injury, McNany, who is scoring 9.1 ppg on the year, is at 11.9 since Boocks went down, and Irwin, who is scoring 4.4 ppg on the year, is averaging 6.4 since the injury.
While A-C Valley has been winning with the four above player plus Annie Viertel (5.1 ppg), Karns City is all about Hegedus.
The senior is also the school's all-time leading scorer at 1,610 career points and is the leading scorer in District 9 this season averaging 25.9 ppg. She has scored at least 20 16 times and has gone over 30 four times. She is coming off a season-best 33 points against Union a week ago, the last time the Lady Gremlins played thanks to a snowout Wednesday.
Andreassi is adding 8.5 points per game with Alyssa Stitt scoring 6.9.
The following local sponsors have signed on to make KSAC Hoops possible: