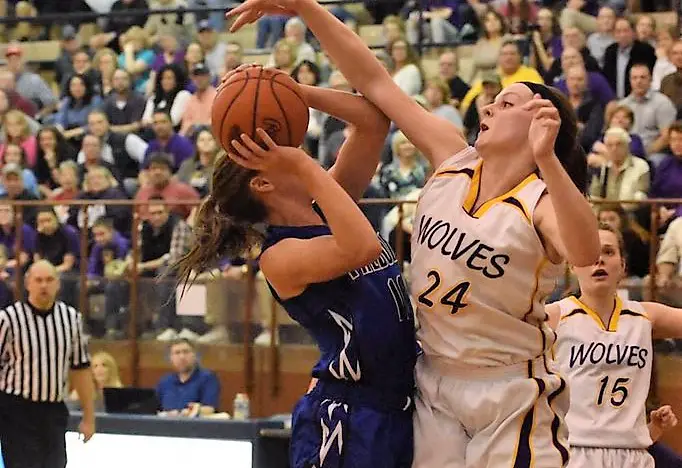 FRILLS CORNERS, Pa. -It's a showdown between two of the top three teams in District 9 Class 1A girls' basketball Friday night, January 18, when North Clarion entertains A-C Valley on the Laurel Eye Clinic Friday Night Hoops broadcast via exploreRadio and exploreClarion.com.
(Photo: Ellie Thompson (left) and Tori Obenrader (right) lead their teams into action Friday night. Submitted photo)
Fans can listen to the game, which will most likely tip-off somewhere around 7 p.m. live on exploreClarion.com.  Also, new starting this week, there is no need to use the app. You can go straight to the website and the player will work on any mobile device (you may need to hit the play button in order to get the stream to play). If you still have the Apple or Android app it should work for you, and the Android app is still available to download. If you are on an Apple Device you should just go straight to the site to listen to the game or click here to listen.
Tthe Kerle Tire Pre-Game Show will start at 6:20 p.m. with Mike Kalinowski and "The Governor" Bob Dunkle on the call with Chris Rossetti providing pre- and post-game interviews.
Both teams enter action in the Top 10 of the Allegheny Grille of Foxburg D9Sports.com District 9 Power Ratings with North Clarion checking in at No. 1 and A-C Valley at No. 7. The teams met three times a year ago with North Clarion winning in the District 9 Class 1A semifinals as well as defending home court and A-C Valley handing the She-Wolves one of just three losses with a last-second victory at A-C Valley.
North Clarion enters the game at 12-0, one of two unbeaten teams in District 9 (Otto-Eldred is the other one). The She-Wolves won at Moniteau Wednesday, 54-38, behind 26 points and 22 rebounds from Tori Obenrader. Obenrader is the unquestioned leader of North Clarion averaging 24.3 points and 15.3 rebounds per game ranking second in District 9 in scoring and first in rebounding. She is nearing the school record in scoring trailing her cousin, Wendy Obenrader Franty, by 93 points entering action Friday. Obenrader has scored 1,729 career points.
Obenrader isn't the only player opponents have to worry about on North Clarion. Abby Gatesman scores 11.8 points per game with Gabby Carll chipping in 7.2.
A-C Valley comes into the contest at 10-3 with the Lady Falcons getting a strong, 48-38, win over Cranberry Tuesday night despite being without the services of point guard Olivia Boocks (9.8 ppg), who is out with an injury.
Ellie Thompson leads the way for A-C Valley averaging 18.9 points per game. Thompson is just 37 points shy of the school record of 1,265 career points set by Hillary McCall in 2002. Kylee Eaton adds 8.5 points per game for A-C Valley with Cami McNany chipping in 7.4 ppg.
The following local sponsors have signed on to make KSAC Hoops possible: