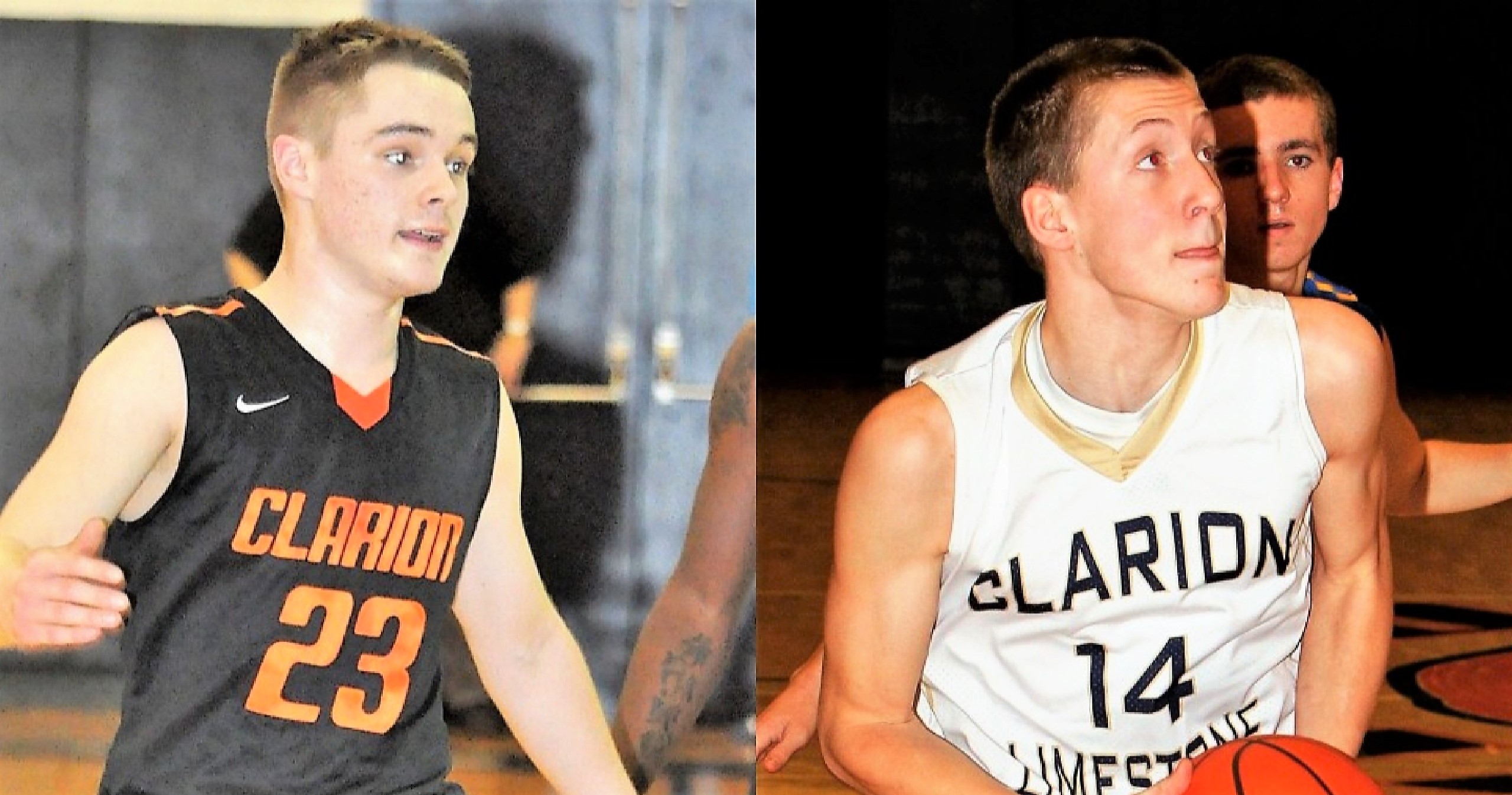 STRATTANVILLE, Pa – It' the basketball version – Part Two – of the Black and Blue Brawl when Clarion makes the short trip across Route 322 to take on Clarion-Limestone in KSAC North boys' basketball action that can be heard right here on Laurel Eye Clinic Friday Night Hoops via exploreRadio and exploreClarion.com.
(Photo: Cam Craig (left) and Ian Callen lead their respective teams into action Friday night)
Fans can listen to the game, which will most likely tip-off between 7:45 p.m. and 8 p.m. live on exploreClarion.com. Also, new, there is no need to use the app. You can go straight to the website and the player will work on any mobile device (you may need to hit the play button in order to get the stream to play). If you still have the Apple or Android app, it should work for you, and the Android app is still available to download. If you are on an Apple Device, you should just go straight to the site to listen to the game or click here to listen.
The Kerle Tire Pre-Game Show will start at 7:20 p.m. with Mike Kalinowski and "The Governor" Bob Dunkle on the call with Chris Rossetti providing pre- and post-game interviews.
The teams met Dec. 12 in Clarion with C-L claiming a 57-42 win behind 14 points from Ian Callen, 12 from Hayden Callen, 11 from Christian Smith and 10 from Julian Laugand. Clarion got 15 points from Cam Craig.
The loss dropped Clarion to 0-3 at the time, but the Bobcats have rebounded in a big way winning 10 of 11 and eight in a row to enter the game at 10-4 overall and 3-2 in the KSAC North.
C-L is still unbeaten in KSAC North action at 5-0, and the Lions are 12-3 overall. After losing two in a row between Jan. 15-17, the Lions have roared back with three straight wins and could inch closer to a fifth consecutive KSAC North championship with a win over the Bobcats.
Ian Callen leads C-L at 19.2 points per game and does so much more than score for the Lions. He also leads the team in steals and assists and has multiple double-digit rebounding games as well. Smith is adding 14.1 points per contest with Deas chipping in 13.9 and Hayden Callen, only a freshman, 9.6.
Cam Craig is the leader for Clarion averaging a KSAC-best 20.1 points per game. Austin Hummell is adding 14.7 points per contest with Spencer Miller adding 8.3. Miller missed the game against C-L in December as he hadn't decided to come out for basketball at that point.
The following local sponsors have signed on to make KSAC Hoops possible: