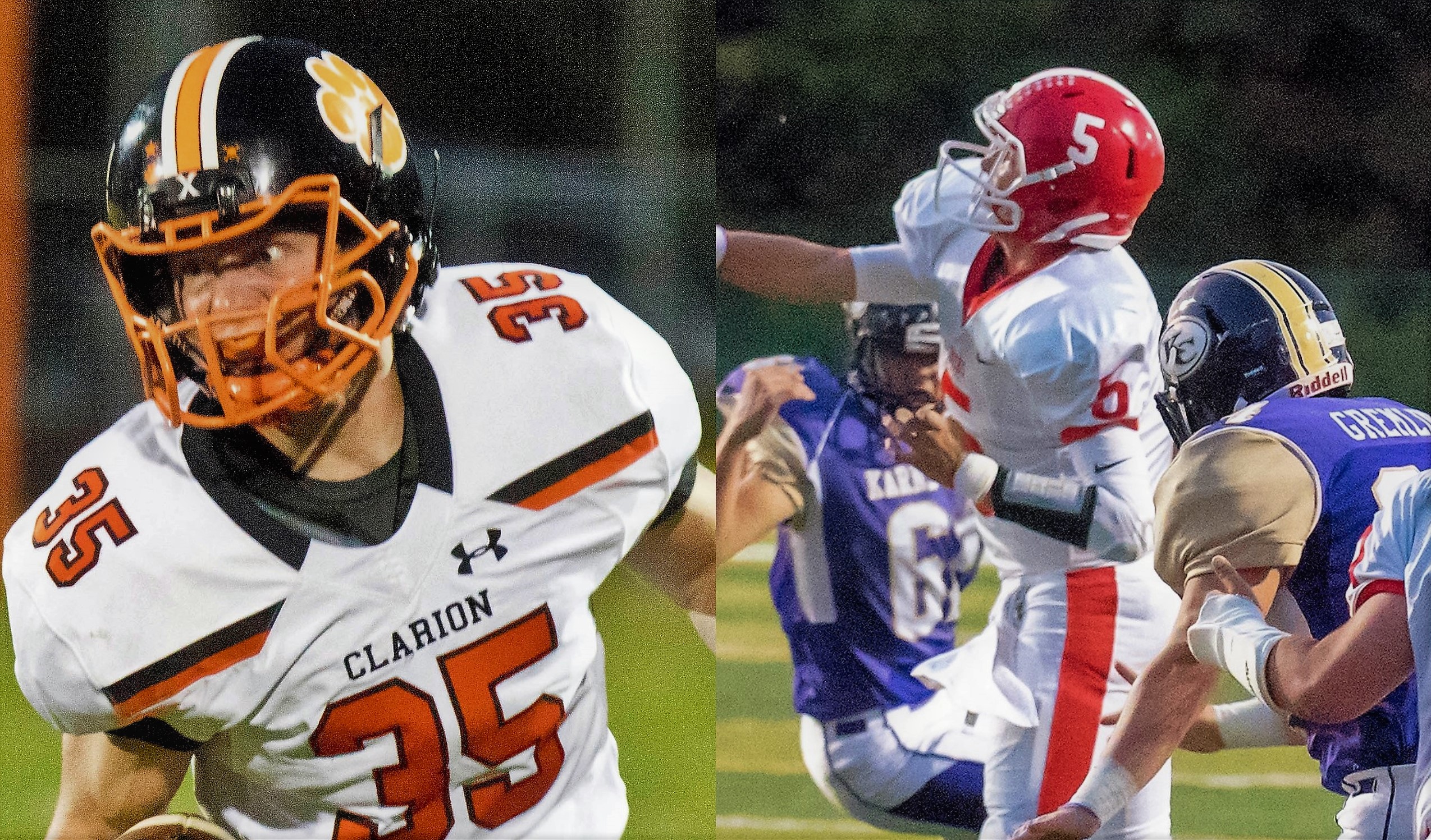 CLARION, Pa. – Local football fans get their first taste of the new District 9 Football League Friday night when Punxsutawney travels north to take on Clarion at Clarion University's Memorial Stadium on the Kerle Tire Football Game of the Week on exploreRadio.
(Photo: Camden Boggess of Clarion (left) and Dylan Ishman of Punxsutawney (right) meet on the exploreRadio Game of the Week)
Airtime for the Pregame Show is 6:30 p.m. with Bob "The Governor" Dunkle and Mike Kalinowski on the call. Kickoff is set for 7 p.m. Join Chris Rossetti and Dustin Kifer for a brand new video pregame show at 6 p.m. live on exploreClarion's Facebook and Twitter feeds as well as the D9Sports.com Twitter feed. Chris and Dustin will then be updating social media throughout the game as well as highlights, interviews and much, much more.
Fans can listen to the game, which will most likely tip-off between 7:45 p.m. and 8:00 p.m. live on exploreClarion.com. Go straight to the website and the player will work on any mobile device (you may need to hit the play button in order to get the stream to play) or click here to listen.
Clarion is coming off a fantastic season that saw the Bobcats win the District 9 Class 2A title, while Punxsutawney went 4-7 in 2017 losing in the District 8-9 Class 3A title game.
Some faces remain the same for Clarion, although many key components of last year's title team are gone, most noticeably the Jm Kelly Award Winner as the District 9 MVP, Spencer Miller. Logan and Sam Minich both return to lead the skill players, while Archer Mills, who got a taste of the QB spot two years ago, will be under center.
Punxsutawney returns Dylan Ishman at quarterback, Carter Newcome at wide receiver and Alex Gianvito at running back as well as three offensive linemen. The Chucks do need to replace top receiver Tyler Richardson.
Last year, Clarion blew past Punxsutawney, 43-0, in Punxsutawney.
The following local sponsors have signed on to make this year's Kerle Tire KSAC Game of the Week possible: