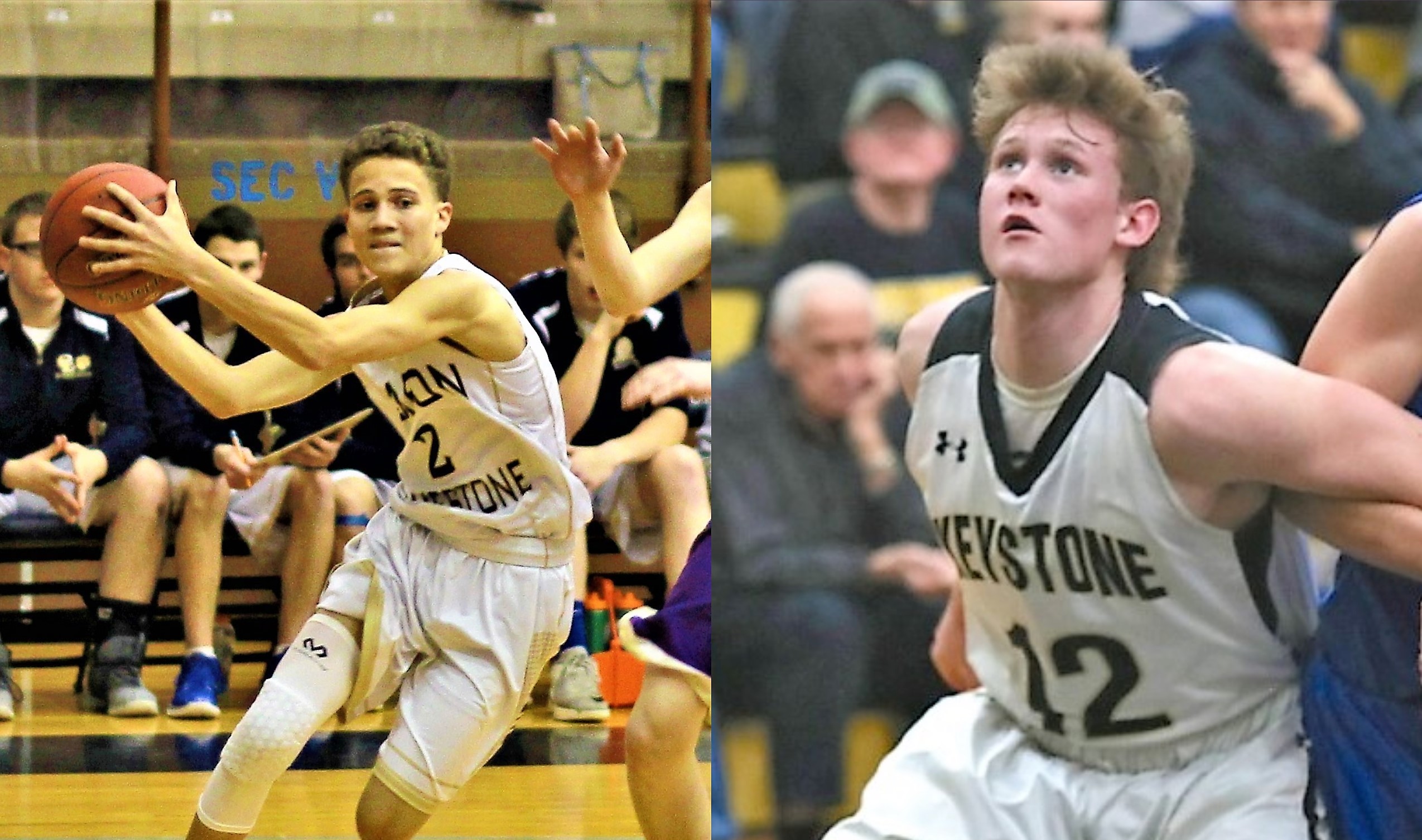 CLARION, Pa. – It's a Special two-game Friday Night on Laurel Eye Clinic Friday Night Hoops via exploreRadio and exploreClarion.com with Clarion-Limestone at Clarion and A-C Valley at Keystone both being broadcast.
(Photo: Deion Deas of C-L (left) and Isaak Jones of Keystone (right). Deas photo by Jared Bakaysa. Jones photo by Mary Rearick)
A-C Valley at Keystone: CLICK HERE TO LISTEN
C-L at Clarion: CLICK HERE TO LISTEN
HOW TO LISTEN: CLARION-LIMESTONE AT CLARION
Airtime for the Kerle Tire Pregame Show for Clarion-Limestone at Clarion game is at 6:50 p.m. with Mike Kalinowski and Bob "The Governor" Dunkle on the call from Clarion High School. Tip for the game is approximately 7:30 p.m.
Fans can listen to the game live on exploreClarion.com. Go straight to the website and the player will work on any mobile device (you may need to hit the play button in order to get the stream to play) or by going to D9Sports.com.
HOW TO LISTEN: A-C VALLEY AT KEYSTONE
Airtime for the Kerle Tire Pregame Show for the A-C Valley at Keystone game is set for 6:50 p.m. with Dustin Kifer and Chris Rossetti on the call. Tip-off for the game is approximately 7:30 p.m.
Fans can listen to the game by clicking here or click here to listen
ABOUT THE GAMES
This is the second matchup for the year for C-L and Clarion with the Lions taking the first one, 71-62, at C-L Dec. 12 behind a 17-0 first-half run. Curvin Goheen had a double-double for the Lions with 13 points and 16 rebounds with Deion Deas scoring a game-high 22 points and Julian Laugand also adding 13 points and Hayden Callen 10. Ian Callen, who has since returned from an injury didn't play in the game for C-L.
For Clarion, Cal German and Josh Craig each scored 13 points with Nick Frederick adding 10.
On the season, Deas leads C-L (11-3 overall, 4-1 KSAC North) averaging a KSAC-best 24.0 points per game. Hayden Callen adds 15.5 ppg, and Ian Callen has scored 40 points, for 13.3 ppg, in his three games since returning from injury.
German leads Clarion (7-7, 3-2 KSAC North) at 19.1 ppg with Frederick adding 13.2 ppg.
Clarion is 7-7 overall and 3-2 in the KSAC North with C-L coming into the game at 11-3 overall and 4-1 in the North.
Over in Knox, history could be made as Keystone's 35th-year head coach Greg Heath goes for win No. 600 when the Panthers entertain A-C Valley. Heath is 599-277 in his career at Keystone with 26 winning seasons.
This is the second meeting of the year between the KSAC South neighbors with Keystone needing overtime to take the first one, 51-44, at A-C Valley Dec. 12.
In that game, Troy Johnson scored seven of his team-high 14 points in overtime after A-C Valley had rallied from an 11-point deficit, 38-27, in the fourth quarter to tie the game. The Falcons outscored the Panthers 13-2 in the fourth quarter.
Eddie Stevanus, whose free throw late in regulation tied the contest, led all scorers with 16 points for A-C Valley with Levi Orton adding 12 and Tanner Merwin nine.
Brooks LaVan chipped in 11 points for Keystone with Isaak Jones scoring eight and Dawson Steele seven.
Johnson (10.9 ppg), Jones (10.6 ppg), Steele (8.2 ppg) and LaVan (7.1 ppg) lead a balanced Keystone charge.
Orton, the second-leading scorer in the KSAC, paces A-C Valley at 22.3 ppg with Stevanus, who missed three games with an injury, adding 13.1 ppg.
Keystone is in a first-place tie in the KSAC South with Karns City at 4-1 in division play. The Panthers are 11-3 overall,
A-C Valley is 4-9 overall and 0-5 in the KSAC South.
The following local sponsors have signed on to make KSAC Hoops possible: