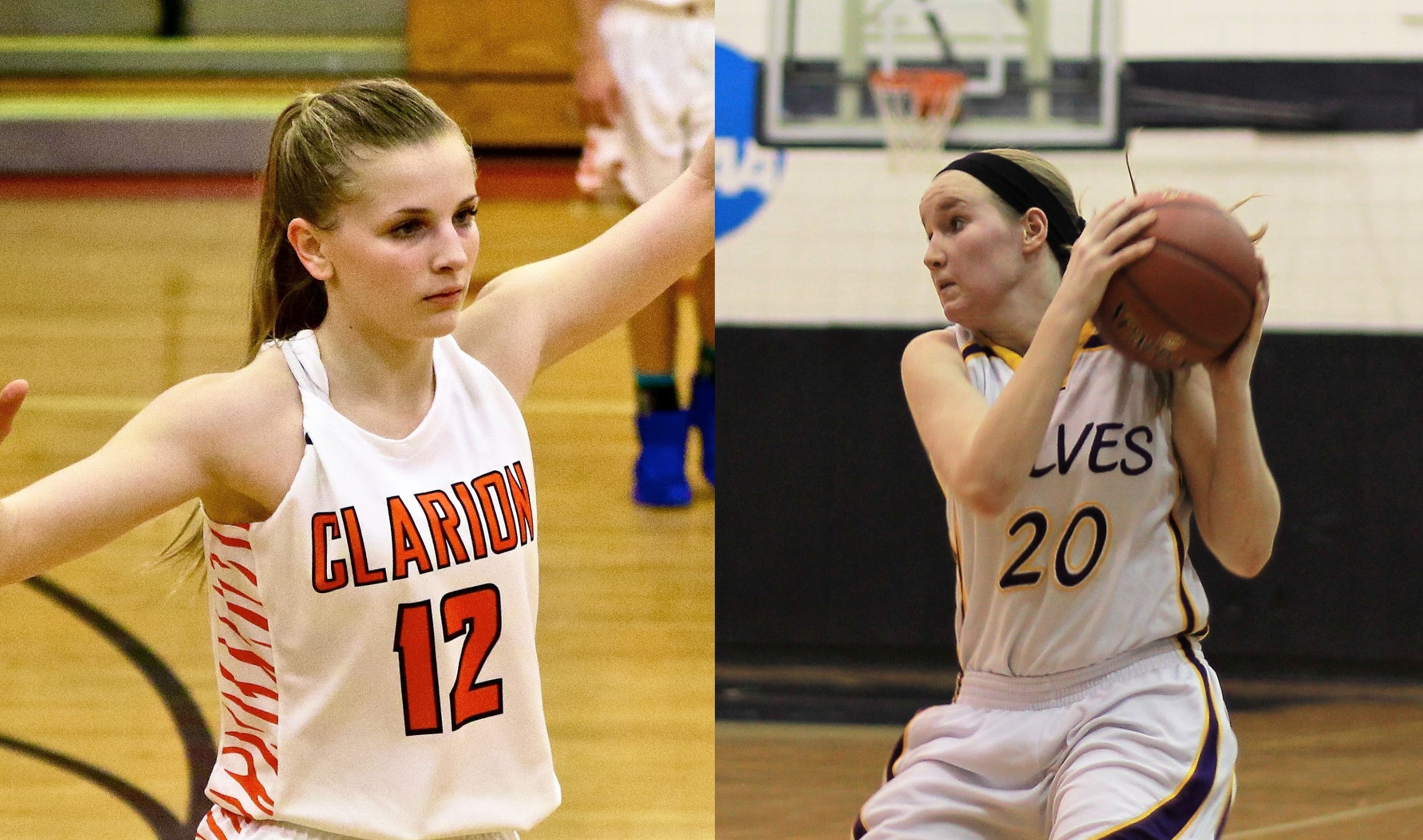 FRILLS CORNERS, Pa. – North Clarion is looking to wrap up its fourth straight KSAC North title when it hosts Clarion in a game that can be heard right here on Laurel Eye Clinic Tuesday Night Hoops via exploreRadio and exploreClarion.com.
(Photo of Clarion's Kait Constantino and North Clarion's Abby Gatesman. Constantino photo by Matt Lerch. Gatesman photo by Jared Bakaysa)
Fans can listen the game from North Clarion High School live on exploreClarion.com. Go straight to the website and the player will work on any mobile device. (You may need to hit the play button in order to get the stream to play) or click here to listen.
The Kerle Tire Pre-Game Show starts at approximately 6:50 p.m. with tipoff happening at approximately 7:30 p.m. with Mike Kalinowski and Bob "The Governor" Dunkle on the call with Dustin Kifer providing pre- and post-game interviews.
North Clarion holds a one-game lead over Clarion in the KSAC North standings with this game being the final KSAC North contest for both teams. The She-Wolves are 14-4 overall and 5-0 in league play with Clarion coming in at 12-6 and 4-1 in the league.
A win by North Clarion gives the She-Wolves their fourth straight KSAC North title, while a loss isn't necessarily damaging.
While a Clarion win would create a tie at the top of the standings, the Lady Cats appear that they would need a lot of help to even possibly win a tiebreaker over North Clarion. The teams would have split their regular-season meetings, so that tiebreaker would be out. Any tiebreakers vs. the KSAC South wouldn't break the tie, as both teams are 5-1 vs. the South with the only loss coming to A-C Valley for both teams. That means going all the way to tiebreaker No. 6, which is victories vs. teams at over above .500. As currently situated, North Clarion is guaranteed four (Clarion, Kane and Cranberry twice) while Clarion is guaranteed three with a win over North Clarion (North Clarion, Cranberry twice). The only hope for the Lady Cats to push it into the seventh tiebreaker, which is the overall winning percentage of all opponents played (win or loss), is for Union, which currently sits at 8-9 to finish at .500 or better. Even then, considering the schedule both teams have played that tiebreaker could easily go North Clarion's way as well. Of course, all of this is unofficial, and the conference will make the final decision.
The first meeting this year was Dec. 20 in Clarion with North Clarion coming away with a 49-45 win thanks to a game-closing 10-4 run after Clarion had taken a 41-39 lead with just under five minutes to play.
Haley Sherman led North Clarion with 11 points and 16 rebounds while Abby Gatesman had 15 points and Mackenzie Bauer 11 points.
Wendy Beveridge led all scorers with 19 points and added six rebounds for Clarion with Best contributing 10 points and six boards.
The following local sponsors have signed on to make KSAC Hoops possible: