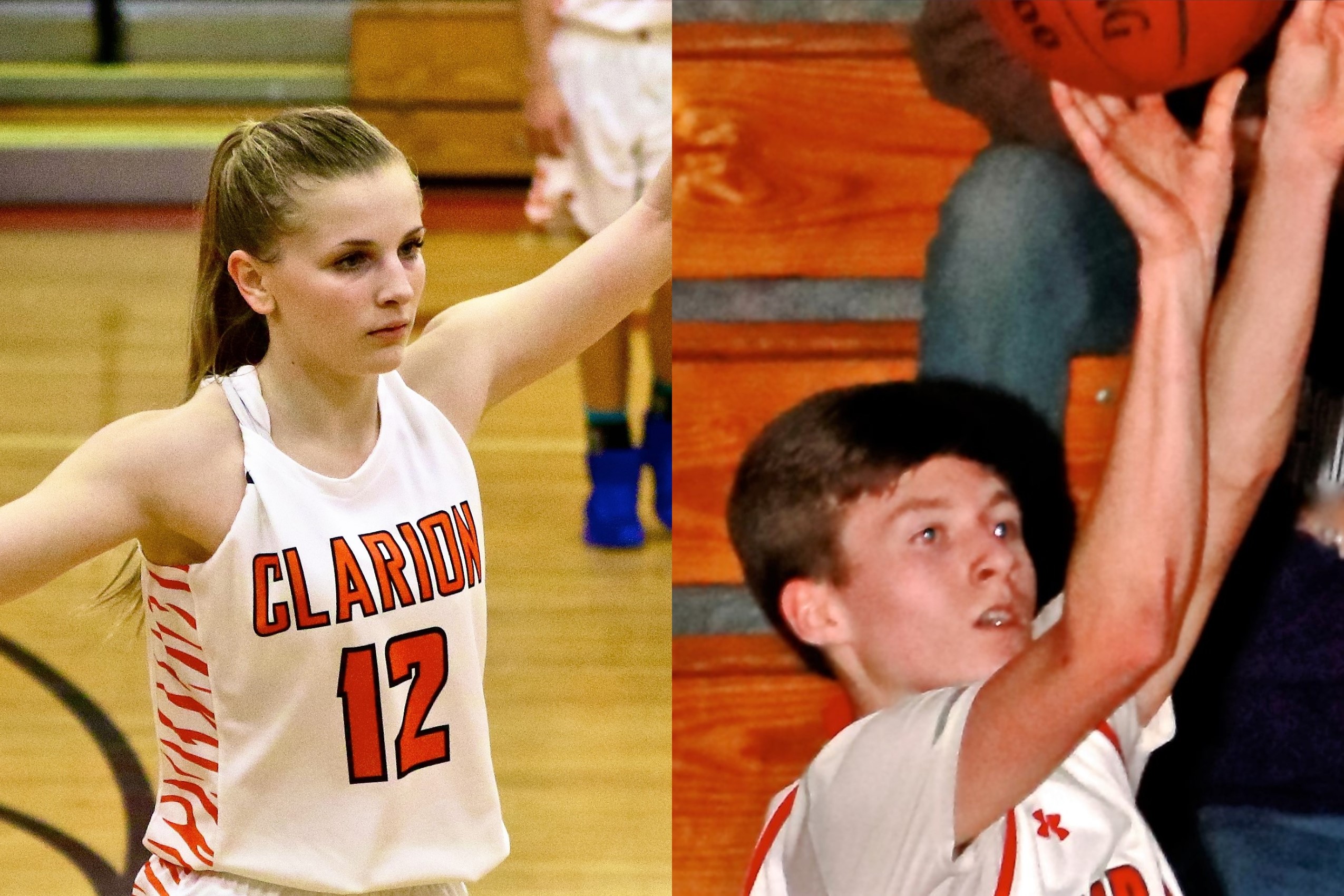 NEW BETHLEHEM, Pa. – It's a boys' and girls' doubleheader when Clarion heads down Route 66 to take on Redbank Valley on Laurel Eye Clinic Monday Night Hoops via exploreRadio and exploreClarion.com.
(Photo: Kait Constantino (left) of Clarion and Nick Smith (right) of Redbank Valley lead their teams into action Monday on a boys'/girls' doubleheader on Laurel Eye Clinic Monday Night Hoops. Constantino photo by Matt Lerch. Smith photo by Mike Maslar)
Fans can listen to both games from Redbank Valley High School live on exploreClarion.com. Go straight to the website and the player will work on any mobile device. (You may need to hit the play button in order to get the stream to play) or click here to listen.
The Kerle Tire Pre-Game Show for the 6:00 p.m. tip boys' game will start at 5:30 p.m. with Mike Kalinowski and Bob "The Governor" Dunkle on the call with Chris Rossetti providing pre- and post-game interviews. The girls' game will follow at approximately 7:30 p.m.
Both games have significance as the season heads towards its final stretch with all four teams battling for .500 records and a shot at the District 9 playoffs.
In the boys' contest, Clarion enters the game at 6-7 while Redbank Valley is 7-6. The Bobcats have won two in a row and three of five, while Redbank Valley has won three straight.
Clarion is paced by sophomore Cal German's 18.7 ppg while Nick Frederick adds 12.9 ppg.
Redbank Valley has three players scoring in double digits paced by Nick Smith's 15.4 ppg. Smith recently set the school record with a 49-point game in a win over Venango Catholic. Also for the Bulldogs, Keaton Kahle adds 13.0 ppg and freshman Chris Marshall, the son of head coach Manny Marshall, adds 11.5 ppg.
The girls' game features a Clarion team that enters at 7-6 in the first year back for head coach Roger Walter, while Redbank Valley is 5-7 under second-year head coach Chris Edmonds.
The Lady Cats featured two players in double digits in scoring for the season with Kait Constantino averaging 12.0 ppg and KK Girvan 10.5 ppg. Wendy Beveridge chips in with 8.9 ppg.
Redbank Valley is paced by Tara Hinderliter, who is averaging 19.3 ppg, the second-best mark in the KSAC. Kelsie Elmer chips in 7.5 ppg.
The following local sponsors have signed on to make KSAC Hoops possible: