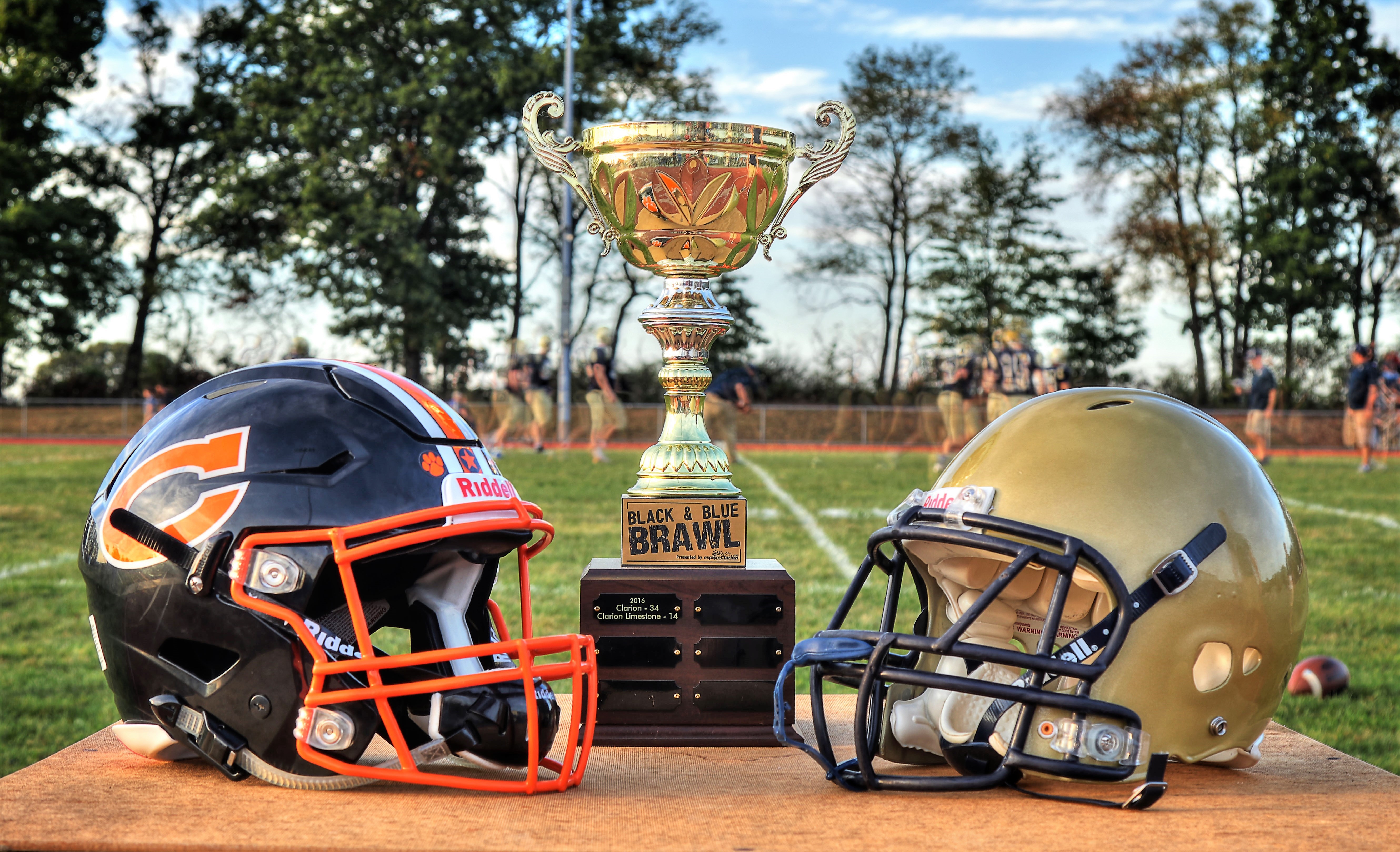 CLARION, Pa. (D9Sports) – For the 48th and perhaps final time, Clarion-Limestone and Clarion will hook up for the Black & Blue Brawl presented by ExploreClarion.com, and we will have all the action as part of Explore Radio's Kerle Tire Game of the Week.
(Photo by Kyle Yates www.facebook.com/YatesPhoto)
The Bobcats have dominated the series, which started playing for the Black & Blue Brawl Trophy three years ago, winning 14 straight games since C-L's last victory, 28-12, in 2004.
With the schools having merged junior high football this year and numbers for both programs dwindling, there might be no choice but for the varsity programs to merge as well and perhaps as soon as next year considering C-L graduates double digits off a roster that has featured just around 20 kids all season long.
That could mean Friday's game might be the last in a series that started when C-L started football in 1972. They have played every year since then except for 1979 when C-L forfeited the game because of a lack of players. The teams have also met in the postseason twice with each team winning once. Overall, Clarion leads the series 31-17 including that forfeit victory.
HOW TO LISTEN: CLARION-LIMESTONE AT CLARION
Airtime for the Kerle Tire Pregame Show for this matchup is at 6:30 p.m. with Mike Kalinowski and Bob "The Governor" Dunkle on the call. Kickoff is set for 7 p.m. Join Chris Rossetti and Dustin Kifer for the video pregame show at 6 p.m. live on exploreClarion's Facebook and Twitter feeds as well as the D9Sports.com Twitter feed. Dustin and Chris will then be updating social media throughout the game as well as highlights, interviews and much, much more.
Fans can listen to the game live on exploreClarion.com. Go straight to the website and the player will work on any mobile device (you may need to hit the play button in order to get the stream to play) or click here to listen.
ABOUT THE GAME
This might be C-L's best chance at victory in a decade and a half.
The Lions enter the contest at 7-2 and arguably have District 9's best player in running back Austin Newcomb.
Clarion is 6-3 but after a 6-0 start, the Bobcats have dropped three straight games, two of them at home. It is Clarion's first three-game losing streak since 2007 and just the fifth time since 1992 that the Bobcats have dropped three in a row. Clarion hasn't lost four in a row since losing four straight in 1993.
Newcomb is coming off a 416-yard, five-touchdown performance in the win over Curwensville last week. On the season, the junior speedster leads District 9 in rushing with 1,798 yards and 22 touchdowns while adding a team-leading 22 catches for 511 yards and four scores. A two-way player, he also is tied for third on the team with 41 tackles while picking off a pass. A kick returner as well, Newcomb has returned three kicks for touchdowns giving him 29 totals TDs on the season.
Ayden Wiles is nearing 1,000 yards himself on the ground with 917 and 14 touchdowns for the Lions.
Clarion has been beseeched by injuries this year.
The Bobcats have lost their best offensive/defensive lineman Nick Porciello to a season-ending leg injury suffered three weeks ago against Ridgway, and star running back Logan Minich has been in and out of the lineup because of an ankle injury which he reaggravated two weeks ago at Bradford forcing him to miss last week's game with Brockway.
With so many pieces out of the lineup, head coach Larry Wiser switched things up last week moving starting quarterback Archer Mills to wide receiver and inserting sophomore Cal German at quarterback. The move wasn't made because of anything Mills didn't do, his numbers were strong – 79 of 126 for 1,096 yards, 14 TDs and 6 Ints – but Mills gives Clarion another threat on the outside, something the Bobcats need with the inside running game limited.
German is 20 of 39 passing on the year for 269 yards, six touchdowns and two picks. Last week against Brockway he went 13 of 24 for 116 yards two touchdowns and two picks.
Mills, who still saw enough time at QB last week to go 8 of 13 for 82 yards, a touchdown and an interception, also caught six passes for 27 yards in the loss to the Rovers.
Sam Minich, Logan's twin brother, is the top target for Clarion with 40 catches for 656 yards and 11 touchdowns while also rushing 308 yards and four scores. Ethan Burford adds 18 catches for 284 yards and six scores.
Logan Minich leads the ground game when healthy and has 419 yards and four scores.
Both teams are headed to the postseason with C-L aiming for the No. 2 seed in the District 9 Class 1A playoffs with a win over Clarion or a Curwensville loss to Brockway. Clarion is trying to avoid being the No. 4 seed in the Class 2A playoffs, which will most likely only see five teams meaning if they could get into the top three the Bobcats would get a bye. But to do that, they need to win and get help from DuBois in the Beavers game against Brookville. A Brookville victory and the Bobcats are stuck at No. 4 no matter what they do vs. C-L and looking at a home date with Moniteau next week in the postseason.
CLARION/CLARION-LIMESTONE THROUGHOUT THE YEARS
All-time Series Record: Clarion leads 31-17
Clarion Head Coach Larry Wiser in the series as head coach: 17-14
Clarion-Limestone Head Coach Dave Eggleton in the series as head coach: 0-5
Last Clarion Win: 2017 – 25-20
Last Clarion-Limestone Win: 2004 – 28-12
Clarion's Longest Series Win Streak: 14 (2005-present)
Clarion-Limestone's Longest Win Streak: 9 (1988-1995)
Closest games: 1 point (1975 – Clarion 7-6; 1991 Clarion-Limestone 7-6
Playoff record vs. each other: 1-1 (C-L won D9 1A title in 1990, 21-14 in overtime; Clarion win D9 1A semifinal in 2004, 14-6)
YEAR-BY-YEAR RESULTS
2017 – Clarion 25-20
2016 – Clarion 34-14
2015 – Clarion 41-6
2014 – Clarion 67-0
2013 – Clarion 74-0 (Dave Eggleton's first game as head coach)
2012 – Clarion 57-0
2011 – Clarion 52-6
2010 – Clarion 39-13 (Wiser didn't coach this game)
2009 – Clarion 48-0
2008 – Clarion 46-6
2007 – Clarion 45-0
2006 – Clarion 56-6
2005 – Clarion 14-6 (District 9 Class A Semifinals)
2005 – Clarion 41-6
2004 – Clarion-Limestone 28-12
2003 – Clarion-Limestone 27-6
2002 – Clarion-Limestone 44-0
2001 – Clarion-Limestone 30-20
2000 – Clarion 34-0
1999 – Clarion 51-0
1998 – Clarion-Limestone 19-6
1997 – Clarion 46-0
1996 – Clarion 41-0
1995 – Clarion-Limestone 30-6
1994 – Clarion-Limestone 13-7
1993 – Clarion-Limestone 22-7
1992 – Clarion-Limestone 21-0
1991 – Clarion-Limestone 7-6
1990 – Clarion-Limestone 21-14, overtime (District 9 Class A Championship Game)
1990 – Clarion-Limestone 10-0
1989 – Clarion-Limestone 20-7
1988 – Clarion-Limestone 21-0 (Larry Wiser's first game as head coach)
1987 – Clarion 7-0
1986 – Clarion 63-8
1985 – Clarion 14-8
1984 – Clarion 16-0
1983 – Clarion 21-7
1982 – Clarion 36-6
1981 – Clarion 35-0
1980 – Clarion 29-0
1979 – Clarion – Won by forfeit
1978 – Clarion 25-8
1977 – Clarion-Limestone 12-8
1976 – Clarion-Limestone 8-0
1975 – Clarion 7-6
1974 – Clarion-Limestone 12-8
1973 – Clarion 36-0
1972 – Clarion 47-6
The following local sponsors have signed on to make this year's Kerle Tire KSAC Game of the Week possible: